Glød Glas Studio: The spark of creation
By Signe Hansen | Photos: Kristoffer Linus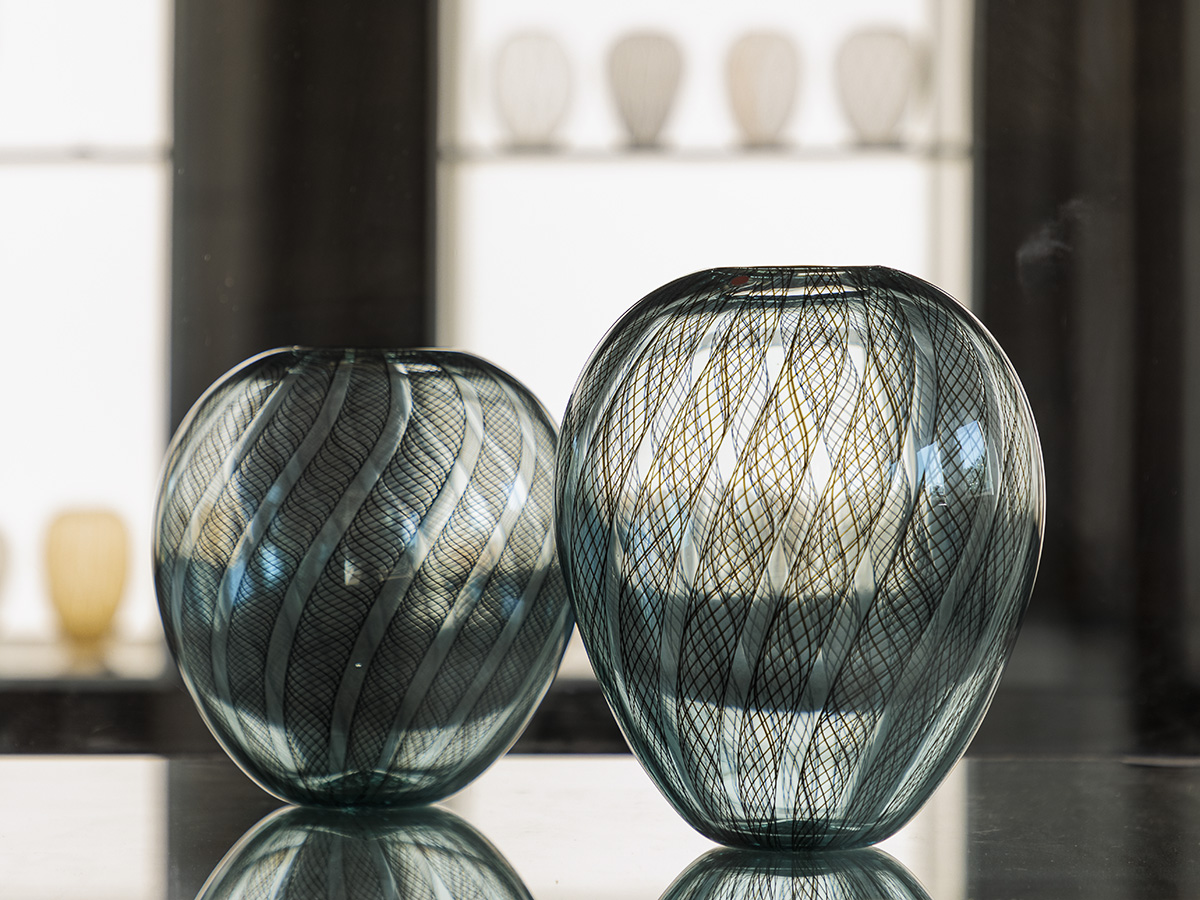 Entering Glød Glas Studio just outside Nexø is like walking into a candy store for the eyes. Underneath the wooden beams in glass cases soaked in natural light, are striking displays of the owners' unique glasswork. More art than craft, the vases and bowls combine colours, translucent patterns and soft shapes into unique little demonstrations of human creativity and century-old handcraft.
Directly translated, the name Glød means 'ember', but it also carries within it the meaning of a spark that keeps something alive; that spark is what has nourished Danish Tobias Sode and Norwegian Lene Dahl Jacobsen's passion for glass for decades. Last spring, it ignited fully as the couple opened their own glass studio.
"Since opening, we have had a lot of people who seem quite blown away when they enter our studio; they are surprised by what they see. That's a good feeling when people see the beauty in what you do," says Sode. "There is a lot of glass on Bornholm, and many people walk in here expecting a display of glasses and water carafes, and we don't have that at all – we do vases and bowls. But what really captures people's attention is the technique."
The technique which creates the striking colours on display is known as the Venetian technique and has been practised for centuries on the small island of Murano in Italy. It is, however, a highly challenging technique, which it has taken the two glassblowers years to refine.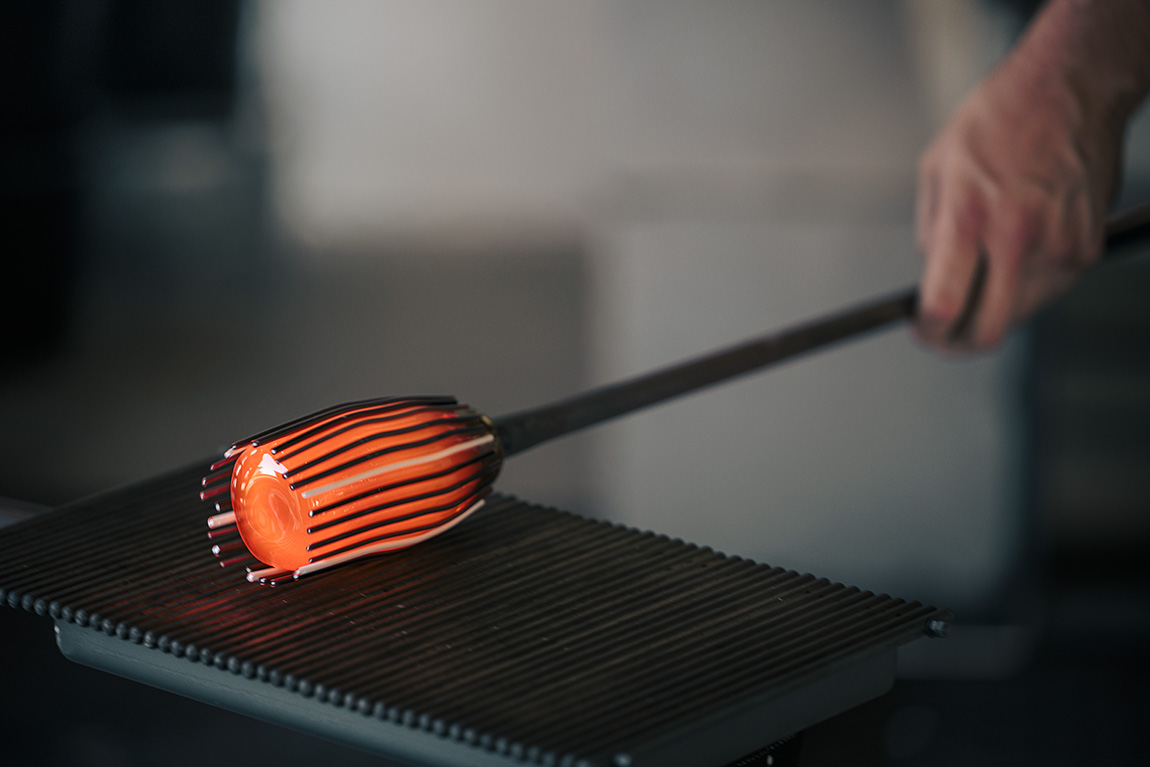 A journey of learning
Having met at the Swedish glass-blowing school in Kosta (now closed) in 2001, Sode and Jacobsen quickly realised that they were both keen to do more with their craft than work in a regular glass factory. Thus, after graduating, they set out to explore new schools and techniques around the world. Along the way, they got more experience with the Venetian technique. "We worked with glass blowers that worked with the Venetian technique, and took a number of courses in the US and Venice," explains Sode. "I have always been fascinated by that way of working with glass; it is extremely advanced, and I longed to master it. But it takes a lot of practice, and practice is hard to get when it costs 2500 kroner a day," he says, referring to the cost of energy used by the high-energy ovens necessary in glass manufacturing.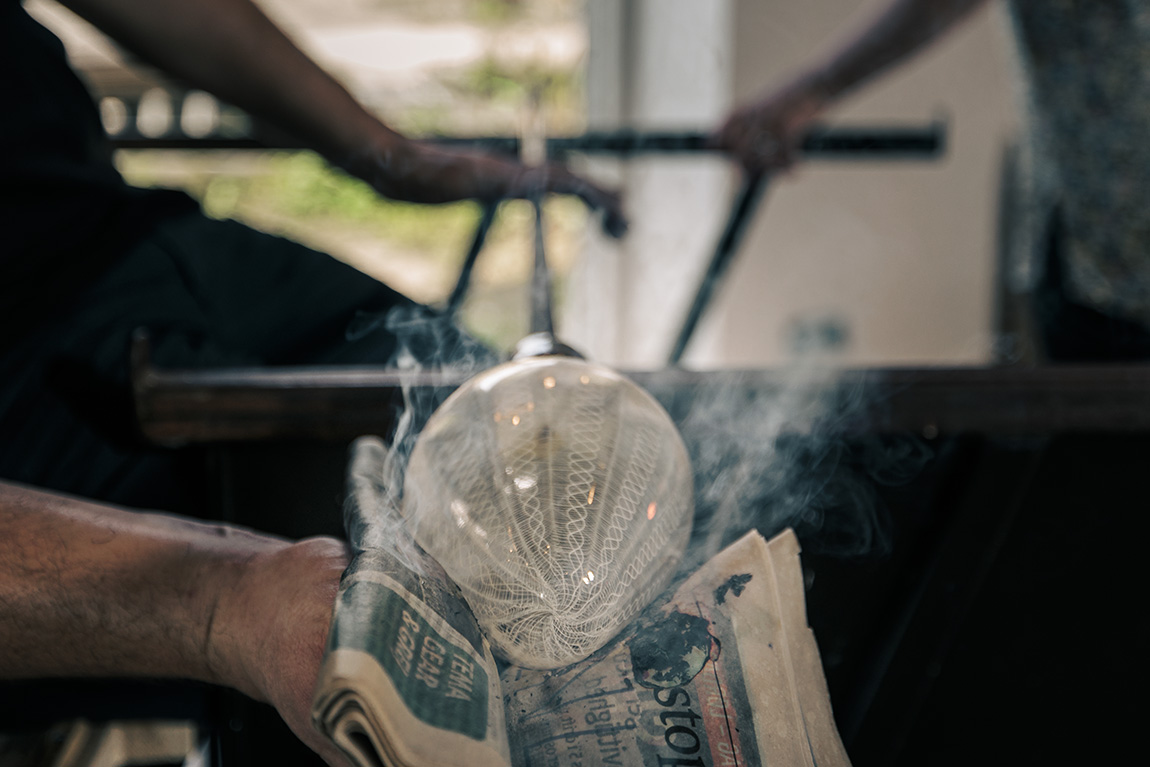 Glass as an art form
Upon completing their travels, the couple ended up in Ebeltoft in Denmark, where Sode worked with Finn Lynggaard, one of the first Danes to work with glass as an art form. "All of a sudden, a new type of highly insulated ovens had made it possible to make glass outside the big factories, but none of the people working with glass within 'the studio glass movement' in Denmark were glassblowers, they were ceramicists and sculptors," explains Sode. "Lynggaard was a ceramist, but he became the leader within the movement and published several books, so I just knew that I had to work with him."
Jacobsen too found work with another glassblower in Ebeltoft, and soon after the couple had their first son. However, as Jacobsen started to long for her home country, the couple decided to look for work in Norway. They ended up in Ålesund, but soon realised that it was nothing like Northern Norway where Jacobsen grew up. "I realised we might as well be in Denmark, and as Tobias was keen to move back to Bornholm, where he lived as a child, I agreed to give it a chance," says Jacobsen.
Fifteen years and three more children later, the trial can only be said to have been a success, with the couple well-settled in the famously artistic community of the island.
The Studio
Seven years ago, Sode and Jacobsen bought the old bus garage on Balka beach, just outside Nexø, which they have, today, turned into a stunning glass studio. Here, visitors can view not only their work but also the workshop and work process. "We love having visitors and are very happy to answer questions and explain stuff as we work," says Jacobsen.
In the studio, the glassworks are artistically presented in glass cases lined with the smooth sand of the neighbouring beaches. "When you work with glass the way we do, it is inevitable that each piece turns into a unique little work of art," explains Sode. "And that is also the way we see and present them."
Along with the unique glassworks, the studio also presents a design line of stylish craft pieces affordable for everyone. Works can also be viewed via the studio's Instagram and website, and if you are interested in a product, but not able to visit the studio, the makers can be contacted via email.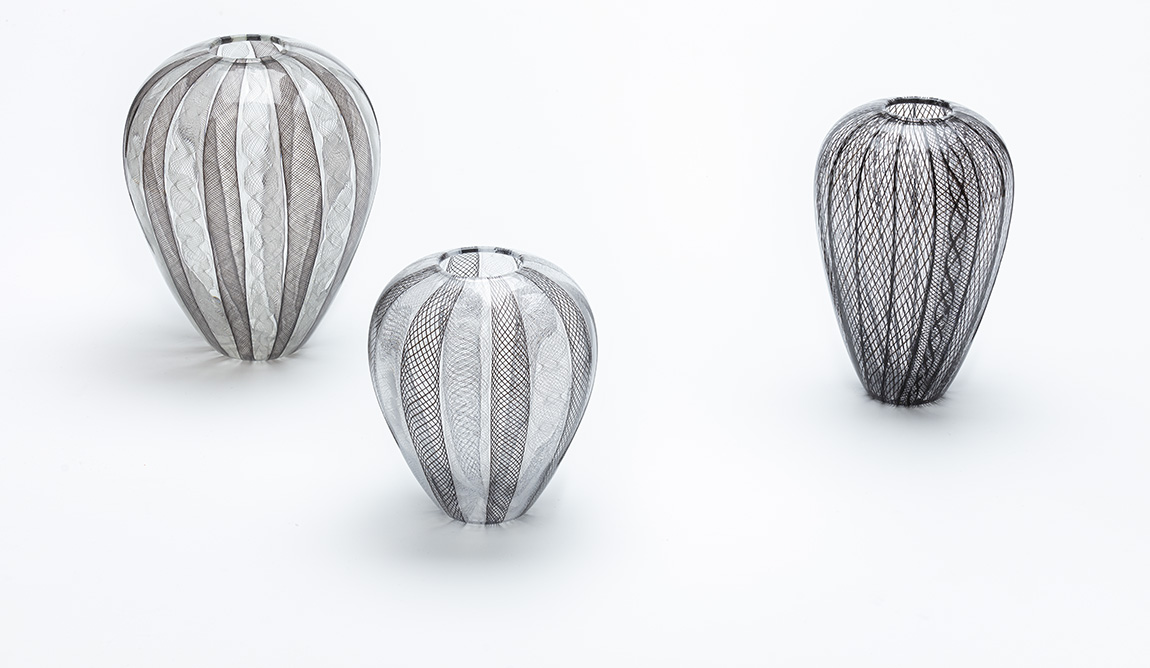 Web: www.glodglasstudio.dk Instagram: @glodglasstudio Facebook: glodglasstudio Email: balkaglas@gmail.com
Subscribe to Our Newsletter
Receive our monthly newsletter by email