Göta Canal
Quintessentially Swedish: 190 kilometres of boats, bikes and shrimp sandwiches
TEXT: LINNEA DUNNE | PHOTOS © GÖTA CANAL
Think waffles, water, endless cycling paths and children busy enjoying ice cream in the sun. Along Göta Canal, one of Sweden's largest construction works, you can experience all of this and much, much more.
Göta Canal was originally built as a transportation route between east and west, from Stockholm to Gothenburg, starting in 1810. It was based on an idea from the 1500s and later became crucial to the defense forces, but today it is a tourist attraction above all else, attracting three million visitors every year.
In recent years, the canal has been undergoing somewhat of a facelift, as it became apparent that maintenance had been neglected for some time and the security had to be looked at. "Security is crucial to us," says Anna Adolfsson, marketing coordinator. "Now the Swedish state, which owns the canal, has invested 500 million SEK in a project dubbed Göta Canal 2.0 to fund all the work necessary to guarantee that the canal is in top shape and will remain so for future generations. Among other things, visitors during the off-peak season have been able to watch some fascinating projects including an entire house in Forsvik being lifted and relocated and the build of a brand-new canal bank in Söderköping."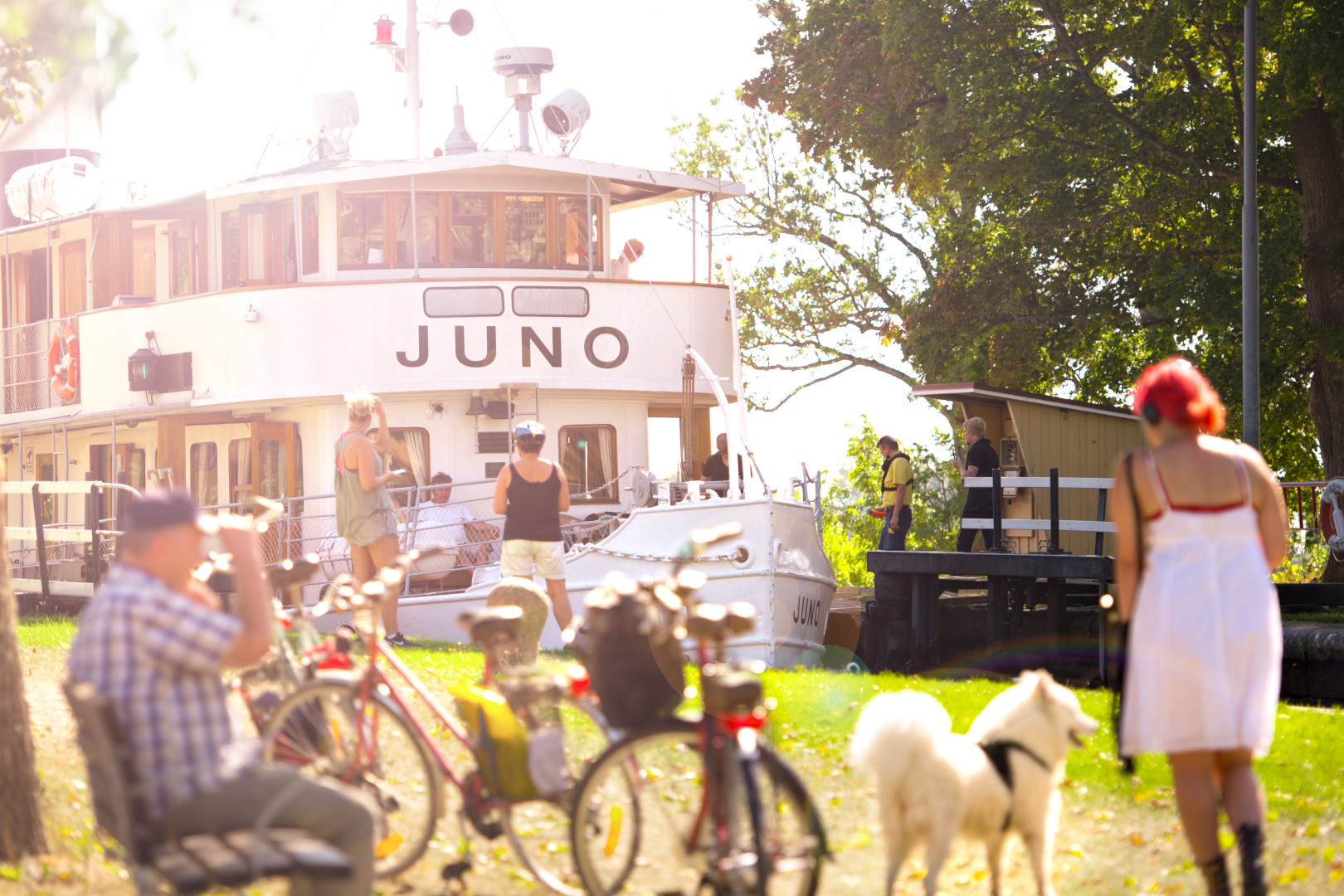 A typical Swedish summer experience
The 187th canal season kicked off on 2 May this year, opening the door to pure nature experiences, ferry package deals, reasonably flat cycling paths along the canal and a long line of cafés and restaurants for pit-stops. "We get all kinds of visitors: families with children who go cycling and stop to look at the boats and chat to the sheep or play a round of mini golf, and older visitors who are fascinated by the history and interested in the technical side of things, or perhaps they have memories of family members who have spent time by the canal," Adolfsson explains.
Nine passenger boats operate on the canal, ranging from classical boats such as M/S Juno and M/S Diana, running between Stockholm and Gothenburg, to those taking passengers on day trips or just out for a couple of hours. Extended cruises come with all-inclusive deals while the shorter trips come with the option of buying a traditional coffee and 'fika' or lunch on board if you so wish. In many ways, this is a quintessentially Swedish summer experience, mirroring many Swedes' dearest childhood summer holiday memories and famous Swedish film settings alike.
Canal-side activities and picturesque nature
"A campaign project we undertook last year showed that this is exactly what people love about Göta Canal: the experiences by the water, whether by bike or boat, complete with waffles or a shrimp sandwich," says Adolfsson. The Wilhelm-Tham ferry, traditional Swedish food and canal-side cycling came back as visitors' top-three picks from a holiday at Göta Canal, closely followed by popular activities such as fishing, canoe paddling and Färjan Lina, the shortest ferry line in the world. "Of course, many people also mention Bergs Slussar, the biggest flight of locks, and Söderköping is also a hugely popular pit-stop in the summer, renowned for, among other things, its ice cream parlour."
With 190 kilometres of canal-side experiences, Göta Canal could not possibly be more accessible – you simply cannot travel north or south through Sweden without crossing it. If cycling the whole way seems like an impossible or too time-consuming mission, driving is a good way of hand-picking the destinations you want to visit. A large number of visitors from both Sweden and beyond choose to experience the canal as part of a caravan holiday.
Adolfsson, who herself lives right by the canal, shares her personal favourite hidden gem: "There's a little place called Lanthöjden in the county of Västergötland where our highest point has been marked with an obelisk. It's almost like an island as a result of the canal being dug one way and then having to be moved around the other side," she says. "It's a little bit different from the classic wide fields of around here, almost more like a magical troll's forest. I love it there!"
For top tips of set-down locations, quaint boutiques, historic boats and other things you should not miss, see the website, where you will also find interesting facts and all the information you need to plan your trip.
The destination guide is also available to download in English and Swedish for iOS as well as Android.
Destination guide: gotakanal.se/destinationsguide
Facebook: gotakanal
Instagram: @gotakanalofficiell
Twitter: @Gotakanal
YouTube: TheGotakanal
Subscribe to Our Newsletter
Receive our monthly newsletter by email