Gumbostrand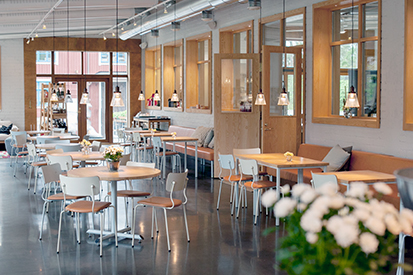 All under one roof:
See a new exhibition, buy art for your home, and enjoy a meal
TEXT: SOFIA SCRATTON | PHOTOS © GUMBOSTRAND KONST & FORM
Gumbostrand Konst & Form is home to one of the largest art galleries in southern Finland, with a design shop, bistro, and conference centre all under one roof. Their goal is to make buying art a less intimidating experience for the customer.
"Many people outside the art world find buying art an uncomfortable process, and we want to remove that feeling of intimidation. For those who are new to the art-buying world, we are here to help," says Charlotta Björkendahl, gallerist at Gumbostrand Konst & Form.
Gumbostrand Konst & Form is home to one of the largest art galleries in southern Finland, inside the restored K. Hartwall factory, where ceramic bottle caps were once made. The production line is gone, and in its place, visitors can walk around the art gallery, visit the design shop, buy art for their home, and enjoy a meal in the bistro. Located in the countryside near the coast, only a 30-minute drive from Helsinki city centre, Gumbostrand Konst & Form exhibits contemporary art from selected artists from the Nordic region.
Their design shop is not a museum shop, but one where people come to find art or design for their homes. "Quite often, our customers are after something special for their home. Occasionally, they want something to make a statement and need assistance in finding that special piece. It could be a painting to be hung on a wall, or textiles, or ceramics. The collection in our design shop is carefully curated, and the items are often made by Finnish or Nordic brands and designers whose products are not available in high-street shops. We also offer a service to help our customers hang their newly purchased art on their wall," explains Björkendahl.
Gumbostrand Konst & Form also offers corporate conference and event facilities to businesses wanting to escape the hustle and bustle of the city. The close proximity to Helsinki makes it an attractive location for events and conferences surrounded by inspiring art in a beautiful setting.
Subscribe to Our Newsletter
Receive our monthly newsletter by email