Hallaus Architects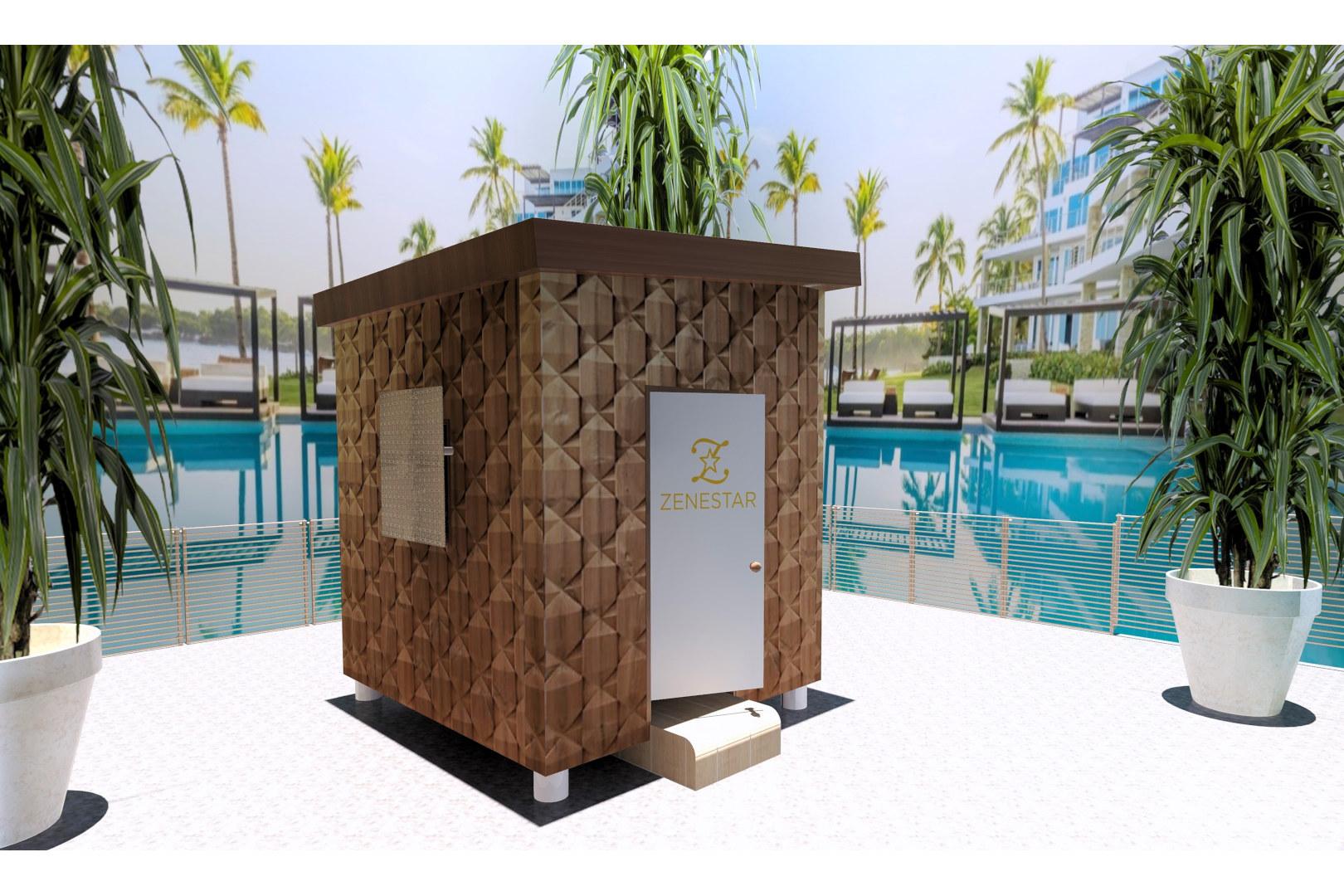 A sauna like no other
TEXT: MARIA PIRKKALAINEN | PHOTOS © ZENESTAR
Taking the sauna experience to the next level, Hallaus Architects' new innovation, Zenestar, mixes a traditional sauna with other wellbeing essentials and smart tech. Scan Magazine spoke to the CEO of the company, Susanna Halla, about what is next in line for the award-winning start-up.
Imagine a private space of sheer luxury, where your wellbeing is the number-one priority. A smart-tech exercise mat plays music, while a virtual personal trainer is there for you at any time of the day. Natural cosmetics, a non-alcoholic sparkling drink made of hand-picked spruce sprouts, and other Finnish luxury goods are always available – and in true Finnish style, you can also use the space as a traditional sauna.
Zenestar is a wellness space solution created by Hallaus Architects, a Finnish interior and product design company specialising in wellness and healthcare and led by CEO and interior architect Susanna Halla. "When it's not being used, a sauna doesn't usually have a function, and they are often almost entirely identical to each other. With Zenestar, we wanted to diversify the idea of a sauna as a wellbeing space and make it a true healing environment," Halla explains.
Combining Nordic wood design with technological solutions, physical exercise and the finest Finnish products, Zenestar pampers all of your senses. Not too familiar with how to use a sauna? There is even an instruction video for that. With Zenestar, your comfort and privacy are everything.
A solution for your every need
Zenestar is currently targeting hotels and spas in the United Arab Emirates, with ski resorts around the world being another potential client. "It's a really great initiative for hotels, as it brings something new to their usually empty, characterless gyms," says Halla.
Zenestar comes with two different but equally handy solutions. If you do not have a sauna cabin to start with, Cabana is the package for you, while renovation solution Reno gives you the option to add a Zenestar wellness experience to already existing saunas. In turnkey style, everything will be designed, delivered and installed on behalf of your company.
Having just won the Idea Mining business competition of the city of Heinola, Hallaus Architects is currently looking for new investors and interested in bringing more awareness to Zenestar, with a launch at the Expo 2020 Dubai as their next big goal.
Subscribe to Our Newsletter
Receive our monthly newsletter by email