Haltia – The Finnish Nature Centre: Finnish nature on display
By Mari Koskinen | Photos: Finnish Nature Centre Haltia
H altia – The Finnish Nature Centre showcases Finnish nature in all its many forms, from the world's largest archipelago to the snowy fells of Lapland, as well as the beautiful forests and lakeland in between.
The nature centre is conveniently located by Nuuksio National Park, Espoo, right next to Helsinki. You can reach Haltia easily by public transport, bicycle, car or by hiking. Haltia gives you an interesting and accessible first encounter with Finnish nature. "We have recently updated our permanent exhibition, which presents the annual cycle of six different types of nature on a huge panorama display, including sound and light art," explains Tom Selänniemi, director of Haltia. "Visitors also get to explore the wonders of surviving in the harsh winter conditions, and how the nature explodes back to life, just weeks after the snow is gone."
There are also temporary exhibitions and an outdoor exhibition area. "Currently, we have a special exhibition called In the Land of the Snow Leopard, which allows you to follow the footsteps of the famous nature photographer Frédéric Larrey, when he tracked the snow leopard at the rugged Tibetan plateau," Selänniemi explains. "Our next temporary exhibition will concentrate on the rare flying squirrel. Visitors will learn a lot about its secret life in the Finnish forests."
The admission fee includes an audio guide, which is available in four languages, and it is possible to book a guided tour on request. "There are also special annual events celebrating the Finnish nature, like the Finnish Nature Day in August and Winter Nature Day in February," Selänniemi adds.
Restaurant Haltia on the top floor of the museum offers a beautiful view over the Nuuksio National Park and serves traditional Finnish dishes with a modern twist, prepared mainly from local ingredients. There are also conference facilities for meetings and other private events.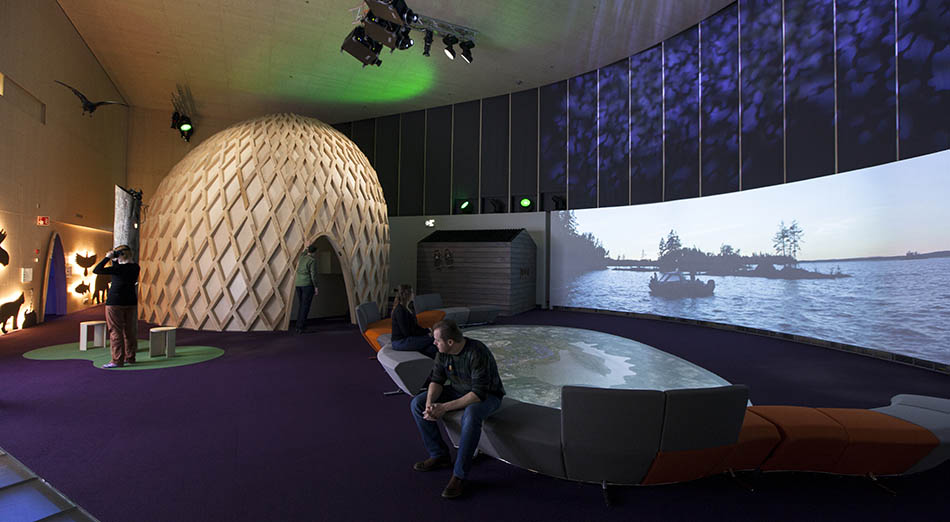 Haltia also functions as a living laboratory for sustainable and eco-friendly building technology. It boasts many advanced eco features designed to minimise its carbon footprint, like, for example, wood construction, energy-efficient heating, cooling and lighting, and easily convertible spaces that are suitable for multiple purposes, aiming for a high utilisation rate.
Both the building and its versatile exhibitions attract many visitors, who leave impressed by the spectacular Finnish nature. "Many visitors start to plan their next trip to get to experience the Finnish wilderness, after seeing it first here," concludes Selänniemi.
www.haltia.com Facebook: haltiacom Instagram: @haltiacom
Subscribe to Our Newsletter
Receive our monthly newsletter by email