Hansen & Jacob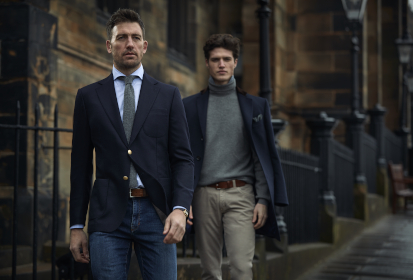 Have yourself a very stylish Christmas
TEXT: LIZ LONGDEN | PHOTOS © OSCAR FALK
If you are looking for a Christmas gift for a discerning man in your life, look no further than Hansen & Jacob, the Swedish brand that has established itself as a byword for sophistication and quality in menswear.
The festive season is soon upon us and, for those men who aim to see in 2019 in style, what better Christmas treat than an item of timeless sartorial craftsmanship?
Hansen & Jacob caters for modern men of all ages and, since its launch in 2006, has gone on to become a leading ultra-premium clothing brand in northern Europe. Offering products ranging from tailored jackets to distressed jeans, but with a particular emphasis on 'smart casual' wear, the company prides itself on producing men's clothing of the highest quality, where detail is paramount and shortcuts are anathema.
"We make our clothes, quite simply, for men who appreciate and understand high quality, and who like to be well-dressed, whether at work or relaxing. And we see them as classics — clothes which, thanks to the quality of our fabrics, design and production, will continue to look great over a long period of time," says Hansen & Jacob's founder and CEO, Johan Hansen.
Timeless collections
Hansen & Jacob brings out two collections each year, autumn/winter and spring/summer, along with the smaller winter and summer sub-collections, and its product groups include trousers, knitwear, shirts, suit jackets, coats and shoes. In addition to these staples, there is also a range of accessories including belts, bags, cufflinks and scarves, which make a perfect present for any style-conscious man.
Every piece is an example of individual craftsmanship, yet items in the collection are also designed to complement each other, enabling customers to easily match and combine. And while a timeless feel is achieved through the use of recognised colours and patterns, the brand is not afraid to be innovative. The shirt range, for example, not only includes classic, business-style shirts, but also printed designs and shirts with contrasting stitching and sleeves.
In addition to the premium quality of fabrics and manufacture, Hansen & Jacob also prides itself on its tailoring. "We're renowned for the fit of our clothes, especially of our trousers and also our suit jackets, which have really grown in popularity in recent years," Hansen notes. "It's something which we feel distinguishes us as a brand, and which our customers very much appreciate."
Meeting a global market
Until now, Hansen & Jacob's clothes have only been available to buy from selected premium stockists. However, this autumn the company launched an online shop, enabling both stockists and individual customers to explore the Hansen & Jacob range with ease.
"The premium retailers who stock our clothes obviously buy-in elements of our collection that they feel fit in with their own style and clientele, but this has meant that individual customers haven't often been able to see our collections in their entirety," Hansen explains. "Now, thanks to our online shop, we can bring our whole collection to the market."
In presenting potential customers with another way to browse the brand's collection, Hansen also sees advantages in the new online shop for existing stockists, pointing out that the price of products online is the same as when sold by retailers. At present, online purchases are only available to customers in Sweden, however the company plans to open up the web shop to a worldwide clientele within the year.
There is also good news for those who prefer to hold a garment in their hands before committing to a purchase. With year-on-year growth of between 15 and 20 per cent, and having already established itself in Sweden, Norway, Denmark, Finland and northern Germany, Hansen says that the company is ready to expand into further export markets. The brand already has an agent in the Benelux countries and is now looking to secure agents in the UK, other regions of Germany and Canada.
"I started the company in 2006 because I felt there was a gap in the market for a very high-quality brand, aimed at discerning customers who appreciate craftsmanship, with clothing made without compromise," Hansen explains. "Our growth, in what is a really tough market, shows that demand for these premium products is there, and we will continue to develop to meet that." Good news for discerning gents everywhere.

Web: hansenandjacob.com
Subscribe to Our Newsletter
Receive our monthly newsletter by email