Happy Fluffy Cloud: Sweet dreams with fluffy clouds
Text: Malin Norman | Photos: Happy Fluffy Cloud
Born out of a desire to get a good night's sleep, new Swedish brand Happy Fluffy Cloud provides duvets that feel softer and fluffier than you could imagine – reminiscent of traditional down duvets in the Alps, like a warm hug easing you into a comfortable and dreamy night.

Behind Stockholm-based Happy Fluffy Cloud is daydreaming trio Stina Barkow, Anna Röstlund and Philip Björkqvist. "Between us, and based on our different personal experiences, we were talking a lot about the importance of sleep," says Barkow. "Even though people have different sleep cycles, most of us long for a good night's sleep. Our vision was to be able to fall asleep comfortably warm and tucked in like a child."
The trio were dreaming of a fluffy duvet, a cloud to embrace you in a big hug when going to bed. At the time, Sweden did not have the pillow-like duvets without channel seams that they were looking for. Instead, they searched abroad and eventually found what they were looking for in the Alps: the much-loved traditional duvets with fantastic qualities that then became the inspiration for Happy Fluffy Cloud.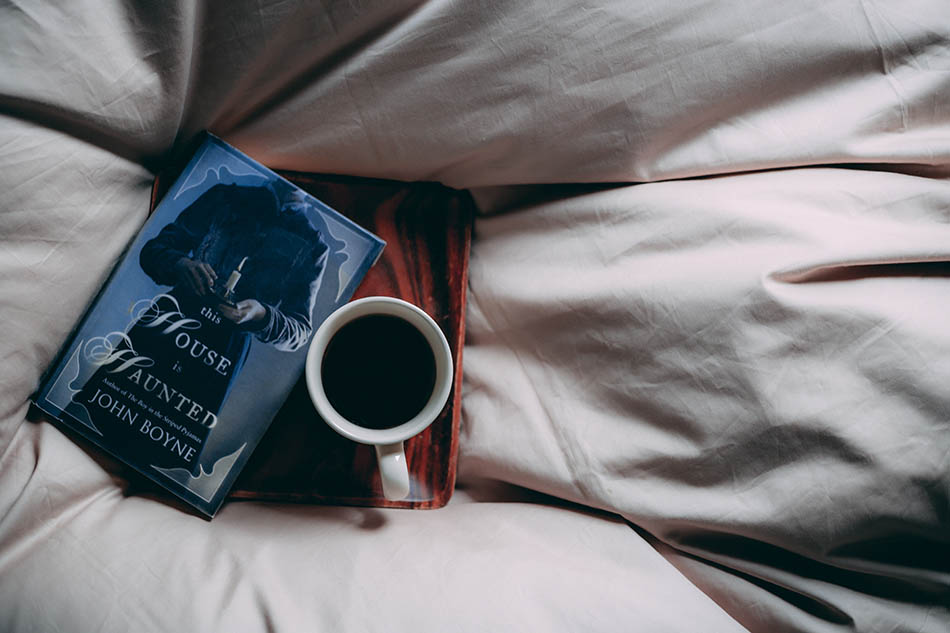 High-quality goose down
Down is nature's way of keeping ducks and geese warm, like a thermal insulator and padding. The loose structure of down feathers traps air, which helps to insulate the birds against heat loss. Goose down is often chosen for its warmth, softness, resilience and insulating properties and is popular in, for example, jackets, sleeping bags, pillows and, of course, duvets. "Down is an incredible insulation material that also breathes and transports away moisture," Barkow explains. "A high-quality duvet will keep warm during cold nights without losing that lovely, soft feeling."
The trio learnt about the traditional duvets and the importance of getting the mix of down and feathers just right. Happy Fluffy Cloud uses 50 per cent down and 50 per cent feathers from goose, a mix that makes the duvets warm yet soft and fluffy. Only European poultry is used, and production is strictly regulated with traceable farms and suppliers. Animal care is important for the team at Happy Fluffy Cloud, and they have made sure to use feathers and down from birds that are to become food, which means that the whole bird is being used.
At the end of last year, the brand's first product was ready and received a positive response and plenty of orders straight away. Containing more filling than most other duvets on the market and with a weight of five kilogrammes, the duvet from Happy Fluffy Cloud is like a big, soft pillow, which brings a sense of comfort and relaxation – and ultimately better sleep. "It feels like being tucked in and going into hibernation," smiles Barkow. "We have the duvets in our family, and nowadays nobody wants to get up in the morning!"
Dreaming of the perfect sleep
When we sleep, our pulse goes down, we breathe more slowly and our energy consumption goes down, which makes our temperature drop, too. So-called heavy duvets have become trendy recently, for their claim to improved sleep. This impressive duvet from Happy Fluffy Cloud is a unique product on the market, naturally heavy with five kilogrammes of down and feathers, making it super soft without any added materials. A duvet from Happy Fluffy Cloud is an investment. If taken care of properly, it can last a lifetime. You can wash the duvet in 60 degrees and tumble dry with a few tennis balls.
The duvets from Happy Fluffy Cloud are available in the web shop, which is open 24/7. "Early on, we discovered that a lot of purchases were made during the night, as people with sleeping problems came to us in search of a solution. So sometimes we keep our customer service open during the night too, and we have had a night campaign with a special discount between midnight and 3am," Barkow says, and concludes: "Customers have come back and told us that they have finally found the solution to good sleep, and others love the duvet for the stylish look and the fluffy feeling it adds to the bedding."
www.happyfluffycloud.se Facebook: Happyfluffycloud Instagram: @happyfluffycloud
Subscribe to Our Newsletter
Receive our monthly newsletter by email