Happy Socks: Spreading happiness, one colourful sock at a time
Text: Linnea Dunne | Photos © Happy Socks
Gone are the days of dull socks under the Christmas tree. How are you feeling today: stripy, chequered, bright yellow? Simply open your sock drawer and choose – express yourself, have fun. Happy Socks has been on a mission to spread happiness with colourful socks since 2008, and the world is beginning to look like quite the happy place indeed.
It all started back in 2008, when old friends Mikael Söderlindh and Viktor Tell had a bit of a thing for colourful socks, or 'happy socks', as they called them. One day, when lying on Mikael's floor chilling in his colourful socks, Viktor had an idea. "He said, 'What if we'd set up a business making happy socks?'," Söderlindh recalls. "So we started chatting and got carried away, and we couldn't believe it when we saw that the name Happy Socks wasn't registered." And the rest, as they say, is history.
The friends wasted no time, but immediately emailed upwards of 100 factories presenting their plan to conquer the world with colourful socks. "Only one replied," Söderlindh laughs. "So we went down to this factory in Turkey, where a father and son ran a factory. It was a bit of a struggle as it was the son who had replied, while the father was sceptical of the idea of making what he thought of as kiddie socks for adults – but we managed to come to an agreement, so we stayed for a few days and learnt everything there is to know about making socks."
Once informed of their options and colour choices, the former graphic designer and advertising veteran went back to their hotel room to start the creative process, resulting in 100 different designs in three different sizes. "They said the minimum order was 200 pairs per style and size – that's 60,000. So we ordered 60,000 – three weeks after first having the idea."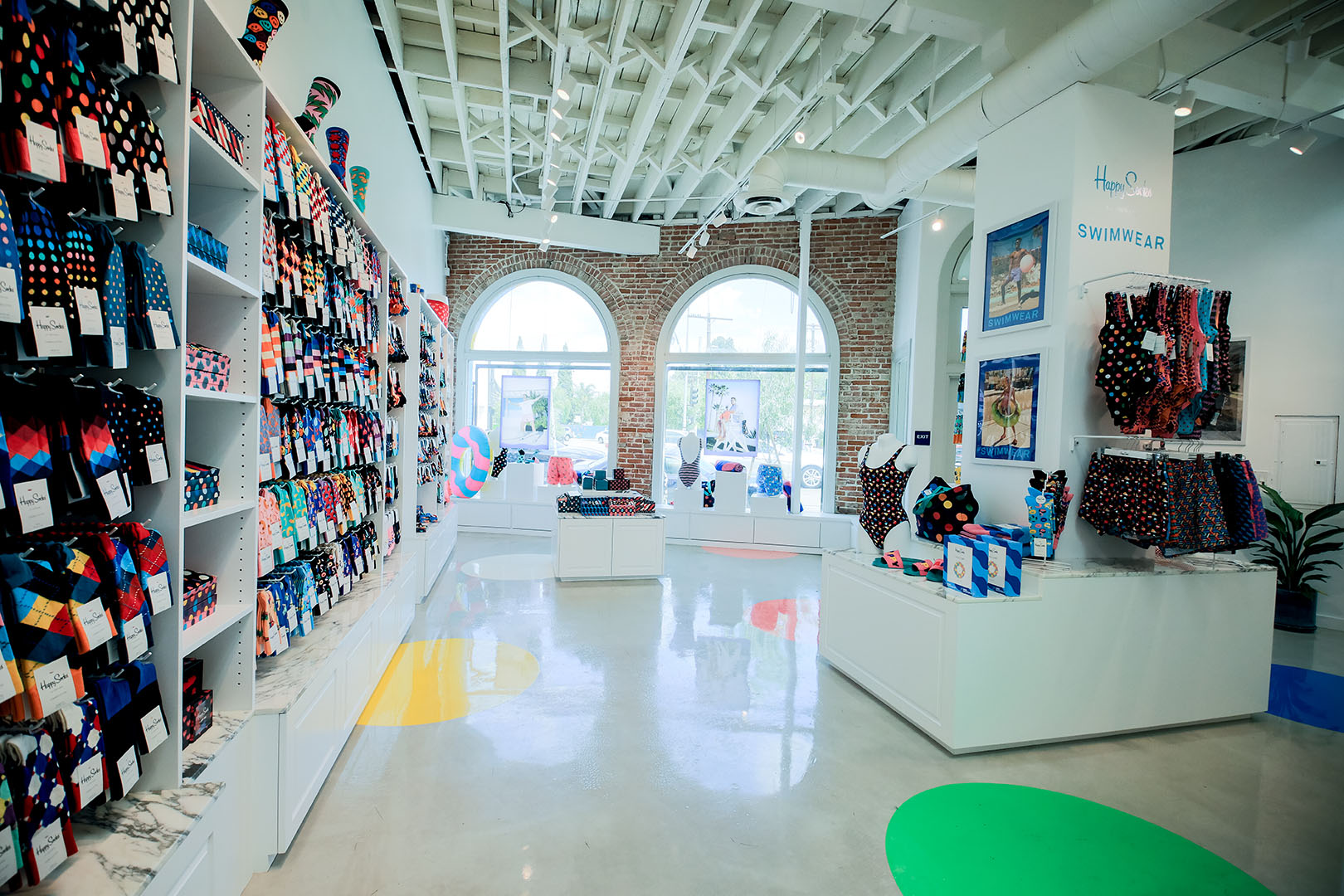 A winning strategy
The swift start was a sign of things to come. Within the first year, the now business partners had travelled to and established their brand in 18 different markets, and more than twice that by the end of year two. "After initially thinking that the web shop would do the work for us, we soon found a strategy that really worked: we identified the key shops in each market and worked hard to sell in to them, which gave us a huge advantage when negotiating with local distributors, as we'd already done the hardest bit," Söderlindh explains. "Also, social media hadn't quite kicked off back then, and it was all about bloggers. So we approached key bloggers, and between that and winning over the key shops, we quickly got the press on our side too."
In 2009, the entrepreneurs decided to open up their very first Happy Socks shop – something that at first concerned the distributors, who worried that their buyers would suffer as a result. On the contrary, sales peaked across the board, and there is now a total of more than 110 Happy Socks shops globally, in addition to more than 15,000 resellers. "It's basic business sense," says Söderlindh. "Open a shop, strengthen the brand and come up with creative window displays, and it'll boost both boutique, retail account and online sales – it just snowballs."
Swimwear ft. Hoff
A move to Los Angeles became the trigger for branching out. By the poolside, Söderlindh and Tell realised that many of the patterns from their socks were also popular on swim trunks, something that seemed almost too convenient considering sales in socks tended to dip during the summer. "So we thought, we have the best boutiques in the world – why not trial swimwear?" Söderlindh explains. Next: a swimwear collaboration to add to the brand's previous illustrious collaborations with celebrities such as The Beatles and Snoop Dogg. "Who is swim trunks personified? David Hasselhoff, of course – Baywatch. We thought we'd get him to get out of those red trunks and get into Happy Socks on his day off." And like with so many things before, the pair succeeded.
Call it guerilla marketing or creative disruption – according to Söderlindh, it's all about having fun. The story of taking the dullest item in the wardrobe and turning it into a fashion item, almost overnight, is certainly inspiring, but perhaps what's even more heartening is the creative minds' laid-back approach to it all. Recently, they sold off majority ownership of the company in order to keep having fun – "all play, no work," as the founder puts it. Not very Swedish, perhaps, but then that was always exactly the plan. "We always wanted to get away, from Stockholm, from all the norms – and now, we can keep working with all this fun, surreal stuff we're passionate about," he says. "Can we create a sock bar – a sock boutique meets bar? What can we do with the idea of the washing machine sock monster who eats all our socks? It doesn't always have to make sense. The possibilities are endless."
Web: www.happysocks.com Facebook: HappySocks Instagram: @happysocks
Subscribe to Our Newsletter
Receive our monthly newsletter by email