Helsingborg: The culinary destination with a big-town buzz
By Malin Norman | Photos: Visit Helsingborg
Helsingborg is an interesting mix of cosy and vibrant. The culinary hub has several vineyards, renowned restaurants and something for the sweet tooth – and, for balance, plenty of cycling routes and opportunities for sea bathing.
Helsingborg has a beautiful centre with small alleys and cobbled streets, yet with the buzz of a big town. It's renowned as a culinary hub, and you can find a broad range of restaurants here, several of which are listed in the White Guide. "Helsingborg has developed a lot over the last couple of years," says Evelina Johnsson, sales and marketing manager at Visit Helsingborg. "It's a fantastic destination with lots of culinary experiences awaiting; it's a bit of a gastronomic mecca, actually."
It might surprise some that there are a number of vineyards here, however, northwest Skåne has a mild climate, which is beneficial for vines. One of the successful vineyards is Lottenlund Estate in the small village of Allerum. Inspired by the vineyards of Toscana in Italy, Lottenlund Estate was established by Tina Berthelsen in 2016 and offers wine tasting and tours, but also an apple farm, a honeybee farm, and a culinary garden – a dream for wine aficionados and foodies.
Delicious culinary experiences and sweets
For anyone with a sweet tooth, Chocolatte is a must. This small chocolate boutique and café has won several medals in the International Chocolate Awards. Centrally located, it tempts with luxurious 'fika' and pralines, as well as chocolate tastings and a sneak peek of the production.
Continuing on the sweet theme, Lakritsfabriken is a gem for lovers of liquorice. Here, you can taste, smell, touch and experience liquorice like never before. You can see how it's made and also enjoy a liquorice coffee with some – you guessed it – liquorice treats. "It's a fabulous place," says Johnsson. "And they're actually growing liquorice root themselves, which is quite unusual and a first in Sweden."
Fredriksdals open-air museum and botanical garden is a lovely destination for the whole family. Here, time has stood still; animals graze in the fields and hay is harvested in the meadows. You can visit the old farm, stroll through the old neighbourhoods and enjoy a tasty 'fika', brunch or lunch at the café. The mansion's kitchen garden is quite special too and not to be missed.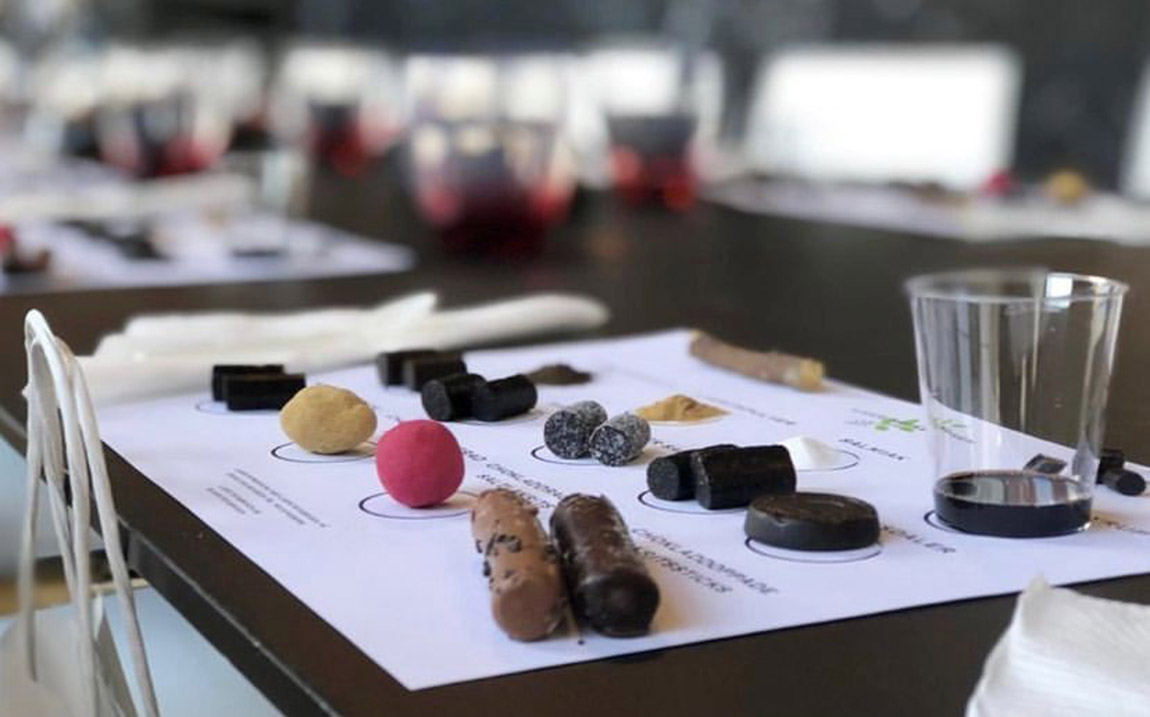 Cycling north, south and among the vines
The region is great for cycling, whether for day trips or longer adventures. Sweden's first national cycling path, Kattegattleden ('the Kattegatt trail') starts in Helsingborg, covering 390 kilometres along the beautiful coast, all the way up to Gothenburg. You can cycle parts of it, or why not attempt the whole route?
If you feel like heading south instead, Sydkustleden ('the south coast trail'), with its 260 kilometres stretches from Helsingborg along the coast, passing some of Sweden's most beautiful beaches, down to Simrishamn and Österlen. Along this route, you can explore historical environments and yellow rapeseed fields, and stop at one of the local gems for a well-deserved break.
And returning to wine, you can even go on a cycling tour among the vineyards. It's a superb combination of spectacular nature, beautiful coastline and tasty wine from six vineyards, including Lottenlund Estate. "Visiting the vineyards brings the mind to Tuscany in Italy," says Johnsson. "You can stroll among the vines, deepen your knowledge of wine production in the Nordic climate, and taste fantastic wines."
One of the vineyards also offers glamping, so you can spend the night among the vines, if you wish.
An old distillery and some sea bathing
Another must-see highlight is Spritan, an old distillery in Ödåkra built in 1897, now turned into a creative space for arts, fashion and food. The historical building houses boutiques with a focus on interior design, as well as a restaurant and a café, an art gallery, and even a local microbrewery, Ødåkra Brygghus – all with an entrepreneurial community spirit. "It's a great day trip with something for everyone," confirms Johnsson.
Another popular activity in the area is sea bathing, a tradition with great health benefits dating back to the 1800s. There are plenty of opportunities to go for a dip in the sea, with no less than three popular sea baths: Rååbaden to the south, the brand-new Kallis right by the beach in the town centre, and Pålsjöbaden slightly further north.
Kallbadsveckan (sea bathing week), 26-31 January
Helsingborg hosts Kallbadsveckan, a week wholly dedicated to the culture around sea bathing, including sea baths, lectures and sauna experiences.
H22 City Expo, 30 May to 3 July
With H22 City Expo, Helsingborg invites the world to explore the newest innovations and the smartest ideas for a city that puts people and the planet first. Experience the town with your senses and open up for new tastes, encounters, music and adventure.
Getting to Helsingborg By air: Ängelholm Helsingborg Airport (34km), Copenhagen Airport (97km), Malmö Airport (87 km) By car: highways E6 and E4 By train: Skånetrafiken and SJ Web: www.visithelsingborg.com Facebook: visithelsingborg Instagram: @visithelsingborg
Subscribe to Our Newsletter
Receive our monthly newsletter by email