Helsingborgs stad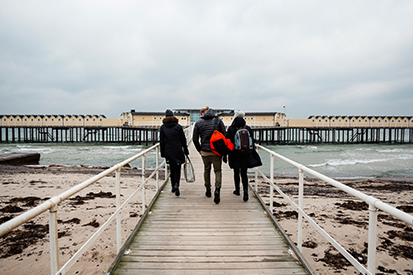 Sea baths, saunas, and superb shopping
TEXT: LINNEA DUNNE | PHOTOS © LISA WIKSTRAND
Charming, perfectly sized, and full of ways to just kick back and relax, Helsingborg is a small city at the foot of Sweden that truly offers the best of both worlds: urban shopping and dining experiences combined with sandy beaches, nature reserves and three popular sea baths. This is where culture vultures, nature lovers and weekend escapees meet to just unwind and enjoy life.
"If you ask Swedes where they'd live if not in their current hometown, a huge amount of them say Helsingborg. And it's funny, because some of them mightn't even have been here – but there's something about the location: the closeness to Denmark and the continent, and the fact that we've got a beach in the heart of the town," says Helen Back, marketing coordinator at Visit Helsingborg.
Complementing the city beach, and very much central to the city's identity, are three sea baths: Rååbaden to the south, the brand-new Kallis right by the beach in the town centre, and Pålsjöbaden slightly further north.
"The sea bathing tradition here in Helsingborg goes back to the 1800s," Back explains. "Still, early in the mornings, way into the late autumn and sometimes early winter, you'll see people strolling down to the sea baths in their bath robes for a cold morning dip followed by a sauna. It has plenty of health benefits too; a cold bath has the same effects on the body as a five-kilometre run!" She pauses. "There's something about the meetings that take place in our saunas… You're offline and completely naked, it doesn't matter what class you're of or what clothes you have – in the sauna, everyone's equal."
In fact, nature lovers are spoilt for choice in and around Helsingborg, including plenty of options for raising the pulse and reaping all the benefits of both fresh air and an active lifestyle. "Because of our location down south, spring comes here before it comes to the rest of Sweden," says Back. "And spring is a really beautiful time here." If you are into walking, you will be able to really take it all in, thanks to the Kullaleden walking trail, which brings you all the way from Helsingborg up to Ängelholm. If you prefer wheels, try Kattegattleden, the 395-kilometre national cycling trail that was opened three years ago, stretching all the way up to Gothenburg, and named Cycling Trail of the Year in Europe in 2018. Or how about exploring the nature reserve Kullaberg and the Kullen lighthouse in Mölle?
A culinary and cultural buzz
Do not be fooled by Helsingborg's generous outdoor offering though; this nature mecca boasts all the culinary and cultural experiences of a small metropolis. Indeed, it is one of the fastest-growing cities in Sweden. "It's a city, yet small – it's very manageable somehow," says Back. "The town centre is charming, the shopping streets atmospheric, and we have great shopping with a range of boutiques and independent designers. Moreover, Helsingborg is one of Sweden's most restaurant-dense cities."
Back talks about her hometown as having 'extra everything': a concert hall with its very own permanent symphony orchestra, an arena with countless big gigs and events, Dunkers culture house with everything from fascinating art exhibitions to music and dance tuition – a buzzing culture offering, in other words. Culinary enthusiasts and those who like to kick back with a nice-quality drink will also be spoilt for choice, not least considering the surrounding areas boast vineyards and micro-breweries as well as farm shops. And that is in addition to everything Denmark's Helsingør and surrounding areas have to offer, as the neighbouring country is just a 20-minute ferry ride away.
For a royal touch, head for Sofiero Castle, a popular visitor attraction and perfect destination for some lush springtime exploration. Think beautiful flowerbeds and breath-taking rhododendrons, all in addition to a castle dating back to the 1870s. Perhaps that combination of natural beauty and impressive, charming culture is exactly what makes not just Sofiero, but the entire area so memorable. As Back puts it: "Few cities have a beach in the middle of town, but we do. You can be shopping in the morning and just head straight for an afternoon on the beach – without leaving town. It's quite special."
Subscribe to Our Newsletter
Receive our monthly newsletter by email