Herkkujuustola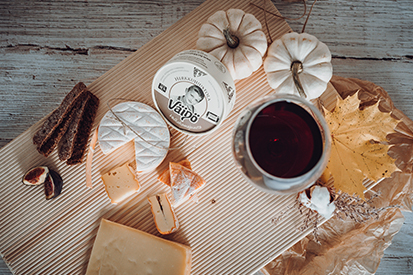 Say cheese
TEXT: HANNA HEISKANEN | PHOTOS © HERKKUJUUSTOLA
If you are a cheese aficionado and want to witness your cheese being made first-hand, head to Herkkujuustola in Sastamala, south-western Finland. Not only does the company give you the opportunity to observe the production line and buy a little something to take home with you, it is also about to open a restaurant that serves even more cheesy delights.
"A journalist who visited us said, 'cheese that takes up to a year to mature is about as sexy as food can be'," says Herkkujuustola's founder and director, Peter Dörig. Originally from Switzerland, Dörig moved to Finland in 1996, after receiving a job offer for a year – and never left. Life in his new home was good, but soon enough, he began to miss the many Alpine quality cheeses. "My dad ran a cheese business for decades in Appenzeller. I couldn't find any of the strong-flavoured, locally-produced cheeses here that I was used to back home. Naturally, I resolved to make my own, and to master Finnish on the side," Dörig explains.
Herkkujuustola, founded in 2002, now employs five staff in addition to Dörig and his wife, who keeps check on the quality of the produce. The company produces a handful of different types of cheese that take from three weeks to a year to mature. Everything begins with milk from surrounding dairy farms. Multiple steps are required for the cheese to take shape: the milk is pasteurised before the lactic acid bacteria kick in. The bulk of cheese is then cut, stirred, heated and rinsed with salty water until squeezed into a mold and left to mature. "It's a lengthy process and a craft, which means we can't compete on price – for us, it's all about quality and the 'wow' factor," says Dörig.
Even if the cheeses are inspired by Switzerland, Dörig praises the raw material, Finnish milk. "Nine months of the year it's freezing outside, which keeps it exceptionally fresh. I also like the fact that cows here are still treated responsibly, and many even have a name." Herkkujuustola's PunaHeidi, a red mouldy cheese, won the award for Finland's Best Blue Cheese at the 2012 Suomen parhaat juustot (the best Finnish cheeses) competition with a full 100 points – only the second time the score was reached in the 100 years of the contest. Dörig himself was the cheesemaster of the year in 2016. His favourite way of devouring cheese? Get it up to room temperature, then eat it with good bread and a good drink, in good company.
Subscribe to Our Newsletter
Receive our monthly newsletter by email