HJARK: Looking outside for the future of architecture
A technological advancement in sustainable design
By Karin Blak | Photos: HJARK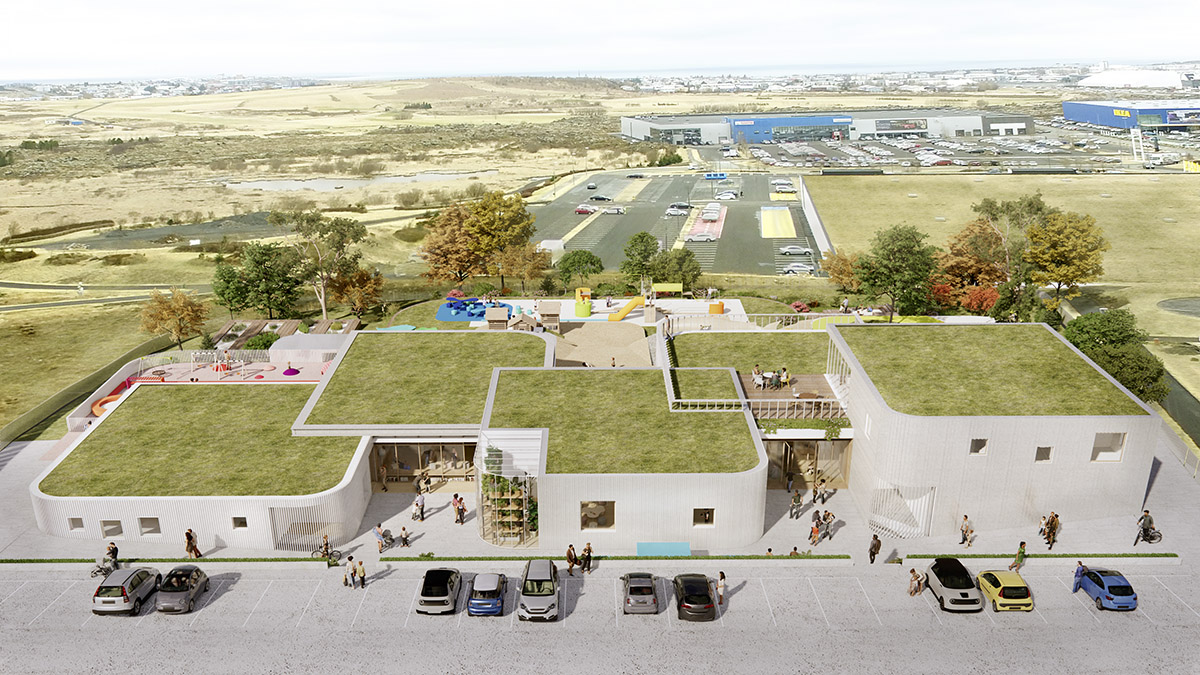 Architecture is becoming more than designing beautiful buildings; finding a way to include sustainability and ecological considerations has never been more important. Using the latest technology, HJARK, an Icelandic architecture firm, works outside the traditional boundaries to achieve designs that benefit both nature and people.
Hulda Jónsdóttir, director of HJARK, spent 12 years studying architecture and gaining experience in Strasbourg, France, Barcelona, London and Copenhagen. In 2019 she returned to her home country to set up an architecture practice. "Experiencing other cultures and landscapes is enabling me to work outside the box, taking ideas that might be seen as a little crazy and making them possible" she says.
Her innovative approach to architecture is strengthened by her prestigious Master's qualification in Parametric Design from The Royal Academy of Fine Arts School of Architecture in Copenhagen. The project for her Master's research, Beyond Structure: (in)formed finding of new shell morphologies, received the VELUX award for innovation in the use of daylight, Hulda's first taste of winning an award, but not her last.
Parametric design allows other factors such as weather and unusual architectural shapes to be considered at the design phase, making the best of light and avoiding problems such as wind tunnels.
Two years into running her own company, Hulda won an architectural competition to design a Kindergarten in Iceland, a nursery with spaces for up to 124 children. HJARK architecture went from Hulda working alone to having 10 employees within a few months including collaborating Tiago Sa, a fellow architect from Sastudio in Portugal.
Kindergarten Iceland in Reykjavik
Hulda believes that winning the Kindergarten Iceland project was not just down to following the requirements of the Nordic Swan Ecolabel, which set high environmental and sustainability standards for the materials used. In addition, the project's design fully integrates its environment, with a focus on the internal flow and optimal use of daylight, calculated using parametric design programming.
The challenges of the steep slope of the plot designated for this project were soon turned into advantages as the building pours over the side, allowing it to sit low in skyline, while blending in with the landscape and giving residents in the surrounding houses uninterrupted views over the lake. With a completion date estimated for January 2024, the nursery places are already fully booked.
This is the first nursery in Iceland to achieve the Nordic Swan Ecolabel, and a point of pride for HJARK.
Leiðarhöfði community park
Shortly after winning this competition, HJARK won (again in collaboration with sastudio and Landmótun) the competition for Leiðarhöfði community park. HJARK's design for this challenges the existing planning for private housing and includes a community hall, a public building with many purposes. It also encourages outdoor activities, with a pier from which to enjoy the sunset in the summer and the northern lights in winter.
Situated on the south coast of Iceland, the chosen area is rich in history and beautiful nature and provides an extension to the nearby town. With a green roof rising gently from the ground covered with local flora, the buildings are designed to create a new plaza shielded from the dominant northeast winds while maximizing the effect of light and sun.
Growing success
This is just the beginning of Hulda's success as she ventures into the tricky Icelandic landscape. Equipped with the latest architectural technology, she creates complex structures that benefit nature as well as people, while taking weather and landscape into consideration.
With the two latest achievements, HJARK has received further requests for architectural design. Among these are various residential projects in Iceland, small and large, retail such as collaboration with Frasers group UK, and specialised projects such as a complete rebuild of a house from the 1800s in Reykjavik.
The future
Asked about what she sees in the future, Hulda says "We're just going to keep going, enter competitions and submit tenders. My Master's in Parametric Design programming is still quite unusual within architecture and is proving pivotal during the design phase for optimal final results."
Hulda is humble in her achievements and remembers the World Architect Festival of 2022 in Lisbon, where HJARK entered both the above projects. Hulda and Tiago were honoured to be asked to present their designs to the panel, competing against some of the biggest architects in the world. They didn't expect to win, but simply found the experience amazing. As the winners were announced, to their complete surprise HJARK won the highly respected 1st prize with the design of the Leiðarhöfði community park.
Hulda is utilising her experiences and training, creating and shaping new design ideas and, as it says on her website, she will be looking outside to become the future of architecture. She is already on this trajectory and has much more to offer the world of architectural design.
Web: www.hjark.is Instagram: @hjark_architecture Facebook: hjark_architecture LinkedIn: hjark_architecture
Subscribe to Our Newsletter
Receive our monthly newsletter by email