Hotel At Six: Where will you be at six?
By John Sempill | Photos: Hotel At Six
Open your eyes to a world of art and a vibrant city pulse. The choice is yours when staying at Hotel At Six. Its clever location on one of Stockholm's oldest squares offers tranquillity wrapped in a five-star package, within stepping distance to shopping and business.
Hotel At Six is more than a name. It is a breaking point. It's where day meets night and chores are exchanged for after-work activities. And, as it happens, the Brutalist building rises from the Brunkebergstorg square, originally a plaza for the gentry at the end of the 19th century.
"It was an exclusive market place, where ladies handpicked a variety of goods and products," says general manager Therese Mårtensson. "These are cues we've taken into account at Hotel At Six; it's thought-through and purposely handpicked. This includes materials and the day-to-day service."
A living feel through art and music
One of the first things you'll notice when you step inside, apart from the custom-made Hotel At Six scent, is the giant marble head at the foot of the staircase. This is a piece made by renowned Spanish artist and sculptor Jaume Plensa – a characteristic marker for the hotel.
Art is an important and integral part of the hotel. "It is created throughout by our curator Sune Nordgren," Mårtensson continues. "The marble staircase then takes you up to floor two, where everything happens. There, you'll find our restaurant and cocktail bar and our listening lounge."
This area is "more playful" and a place for up-and-coming artists to display their work, as well as a place for musicians to set the tone for endless evenings. "We collaborate with local artists and rotate the art in the cocktail bar on a regular basis," says Mårtensson. "We recently had a collaboration with Sonny McCartney, who had an exhibition here with his amazing photo art. Depending on the collaboration, we'll change the display a few times a year. The concept helps us achieve a living feel brought together by, in this case, art and music."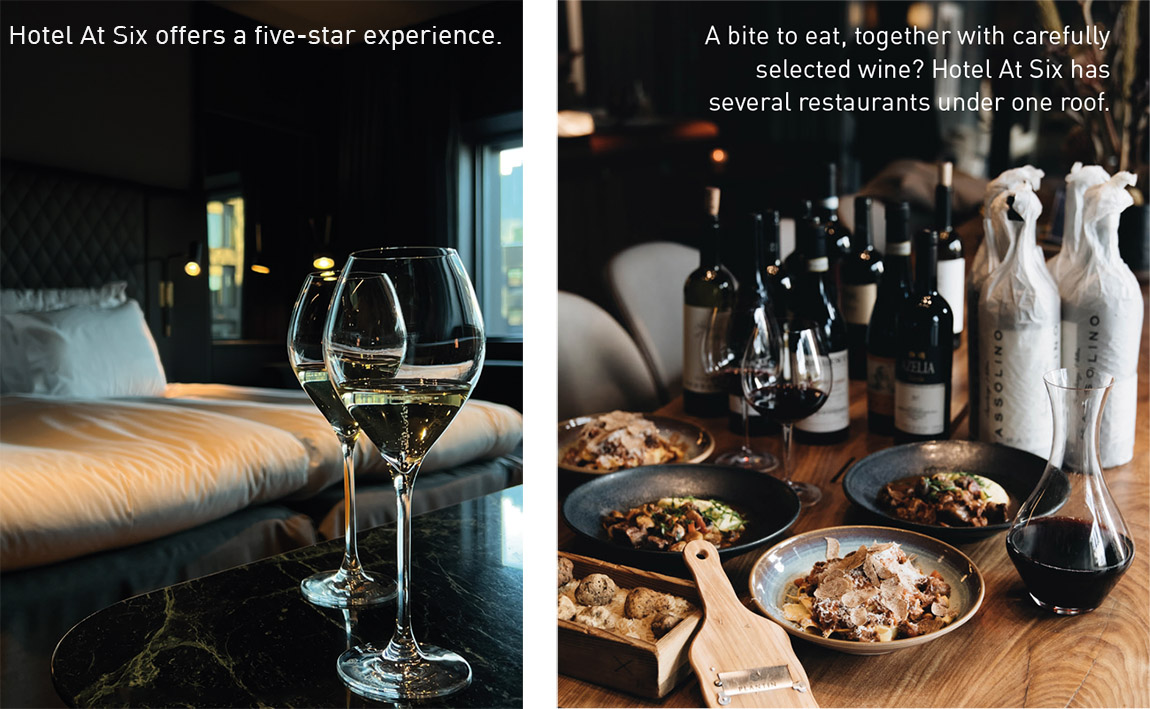 International influences
The architecture firm behind Hotel At Six is Universal Design Studio. Their work includes the Ace Hotel and the Natural History Museum in London. "We wanted it to feel international, which they really managed to achieve here," Mårtensson says. "And that comes across in our food concepts as well. We receive a lot of feedback on our international vibe from our guests."
A perfect example is the wine bar, with different themes every month. Menus are put together with complementary, carefully selected wines. "At the moment we have a Portuguese theme, partly due to the fact that a lot of our staff are from Portugal. It's a way for them to display their favourites, and put together wines with a great menu. It's also a way for us to let our staff show off their expertise. It gives our hotel a genuine atmosphere – and it also makes it more fun for them to come to work."
There are several reasons to stay here. Another unique feature is the rooftop bar – Stockholm Under Stjärnorna ('Stockholm Under The Stars'). It offers amazing views over the city, a great bar, and top-class entertainment from local and international DJs and musicians. "Our guests never need to leave the building," continues Mårtensson. "We have several restaurants under the same roof. And the area is right in the middle of town, but still slightly hidden. Hotel At Six is close to shopping, restaurants and culture. And perfect for our business guests, too."
Thought-out, handpicked, and always in movement
How does it feel to stay here? This is an important question, central for the staff at Hotel At Six. "What's the first thing our guests actually touch? It's the key card," Mårtensson notes. "And how would it feel 'to touch At Six'? That took a while for us to decide. This is an example of how everything is well thought-out and handpicked."
Although still secret, the hotel has several exciting collaborations lined up. "Construction projects, among others," Mårtensson hints. "We never stand still; we are always in movement. And we always strive to think about what our guests might have missed. To be able to anticipate that – that's something we push hard for."
Web: www.hotelatsix.com Facebook: HotelAtSix Instagram: @hotelatsix
Subscribe to Our Newsletter
Receive our monthly newsletter by email