Hotel Sisimiut: Where the adventure begins
By Signe Hansen
Hike on the legendary Arctic Circle Trail, dog-sled through Greenland's majestic wilderness, and watch the northern lights dance on the night sky – located in Sisimiut, Greenland's adventure capital, Hotel Sisimiut offers much more than just a place to rest your head.

As a tour arranger, conference venue, spa and restaurant, Hotel Sisimiut is the natural starting point for any kind of visit to Greenland's captivating Sisimiut region. But not only does the hotel invite its guests to explore the country's magnificent surrounding landscape and nature; its distinct features have also been incorporated inside the hotel. "When I took over the hotel ten years ago, I started renovating to create an interior that was faithful to the region," explains hotel owner Anette Lings, who has lived in Sisimiut for most of her life. "We're located in Greenland, surrounded by stunning, rocky wilderness, and I want that to be evident in every single room."
The local culture and nature are also reflected on the menu of the hotel's restaurant, which serves a string of distinctly local products, such as reindeer, snow crab and musk ox.
Not just for fun
With flexible four-star conference facilities, Hotel Sisimiut is not just a popular venue for the travellers, adventurers and sports enthusiasts eager to explore the surrounding landscape, but also for companies looking to provide employees with a one-of-a-kind experience. "Many companies visit in connection with a strategy meeting or conferences; some start the day with a hike and then begin brainstorming and so on, or they do it the other way round, with a hike or another activity in the afternoon," explains Lings.
Among the many hikes starting more or less on the doorstep of the hotel is Greenland's most popular trail, the 165-kilometre-long Arctic Circle Trail from Sisimiut to Kangerlussuaq. But the area also boasts an array of shorter trails, leading trekkers past current and past settlements, stunning viewpoints, and angling spots. Among other popular activities arranged and guided by Hotel Sisimiut's in-house tour department are dogsledding, angling tours, snow scooting, mountain safaris, and whale safaris. All can stretch from a casual afternoon of sightseeing to days of exploring.
Upon their return to Hotel Sisimiut, weary explorers can rest and recharge with a bit of well-deserved indulgence in the hotel's endorphin-inducing Arctic Spa. In other words, Hotel Sisimiut not only provides a starting point for the adventure – it offers to complete it.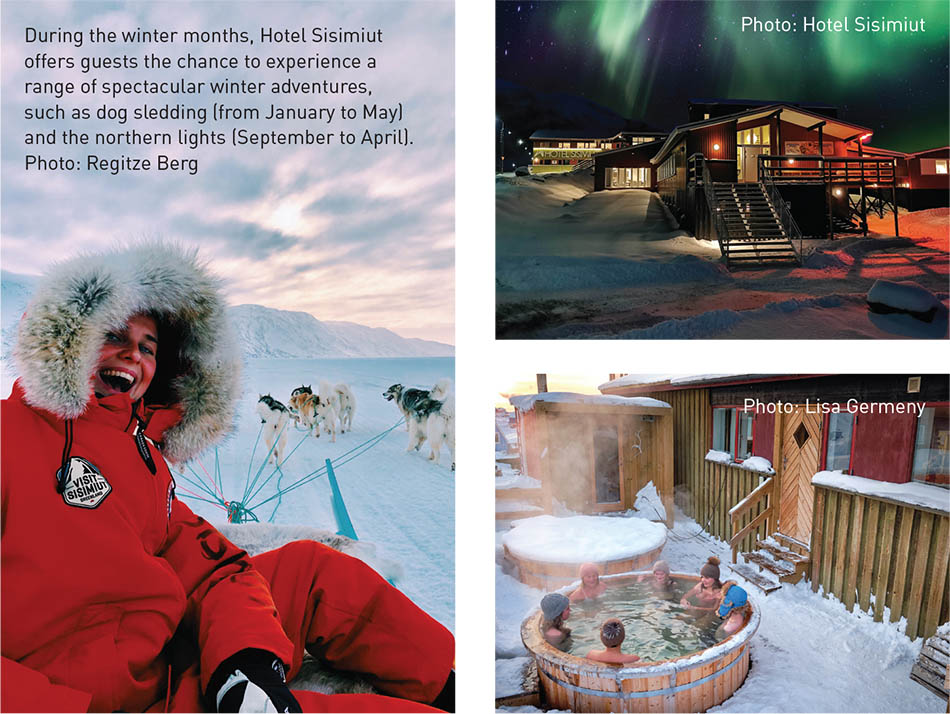 Subscribe to Our Newsletter
Receive our monthly newsletter by email