Hotel Tylösand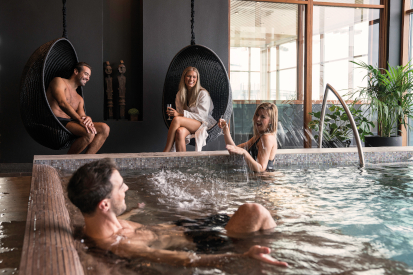 Spa and Wellness: The Best Spas in Sweden
TEXT: PAMELA HANNÉ | PHOTOS © HANNA ANDERSSON
Does walking through a spa with the likes of She's Got The Look playing in the background seem like something you might only experience in the spa of your dreams? Well, at Hotel Tylösand you can do just that. The Swedish west coast hotel is one of the very few prize-winning resorts that gives you both relaxation and entertainment.
"I once heard one of our guests talk on the phone and he said, 'This is not an ordinary hotel, this is something extra.' That's exactly how I want our guests to feel," says CEO Elisabeth Haglund.
Hotel Tylösand has something for everyone, a social spa that combines entertainment with pleasure, an art gallery with photos from some of the best photographers in the world, two restaurants with quality products, and music that leads the way throughout the resort.
Haglund confirms that music and entertainment is what brings the whole experience together. "When our guests arrive at the spa they get to pick the music they want to listen to. We have created a list with a mix of familiar tunes, like Roxette mixed with Frank Sinatra, but you can also pick your own and only listen to, let's say, classical music. We have big screens in our pool area, so our guests can watch a film while relaxing in the water. Later, towards the evening, we broadcast musicals or music documentaries."
The activities are endless, but you do not have to do them all in order to have a fulfilling stay. "When you're here, you're here, and there's so much to do. We have 50 coached sessions per week, but we want our guests to do everything at their own pace. They can take a walk, enjoy the spa, take a round at the golf course, or just enjoy our bars and restaurants," says Haglund.
Hotel Tylösand wants their guests to enjoy the whole experience, including every meal served at the hotel. The resort has two restaurants; Leif's Bar & Grill and Restaurang Tylöhus, led by chefs Henrik Andersson and Andreas Niklasson. Leif's Bar & Grill gives you rock n' roll in a rustic setting, whilst Restaurang Tylöhus invites you to enjoy Swedish flavours with a west coast view. Haglund elaborates: "We focus a lot on the food, where it comes from, and the quality. We keep developing our restaurants and want to offer the best meals possible."
The resort's underline is Be Inspired. Hotel Tylösand wants businesses, companies, and guests to feel the energy flow, and for ideas to come with it. Every business trip or conference is built around the guests. Some want a long day of team building, with a relaxing spa evening afterwards, whilst some guests want a break midday, to take a walk or maybe a session in the gym. "We want it to be relaxed, even the meetings. Once we had a group that wanted their own zumba course. Another time we hosted a kubb tournament in the middle of their visit. We are happy to create an experience that fits our guests' needs," Haglund says.
With so many activities and things to see and do, you might wonder how they stay so close to their guests and maintain a personal approach. Haglund explains: "It is important for us to see the guests, to know what they want and to help them reach it. Some guests want to relax and combine their spa visit with nature. Others like a lively meal and a night out. We are looking for the perfect combination for each and every guest. Our staff is also well educated and passionate about the services we provide."
The resort proudly boasts that their art gallery is the biggest in Sweden, and displays photographs by artists such as Terry O'Neill, Mary McCartney, Henry Diltz, and Anton Corbjin. The art is then featured throughout the resort and combined with what you can see outside the window. "We have Sweden's biggest art gallery, but we also have art outside the window. The nature surrounding our hotel is truly a work of art."
Hotel Tylösand's vision is clear; to give you that holiday feeling, any time of the year. "It doesn't have to be 28 degrees, sunshine and summer, for our guests to really get into the holiday mood. We have an outside Jacuzzi, and to sit there while the snow is falling is just as relaxing as watching the waves hit the beach. We want to take our guests away from reality, like only a holiday does."
Subscribe to Our Newsletter
Receive our monthly newsletter by email