Hotell Albert
Gastronomic sensations on the ledge of a mountain
TEXT: KRISTINE OLOFSSON | PHOTOS: PATRIK ARNEKE
Surrounded by the calming Swedish nature with its pine trees and lakes, yet conveniently close to the town of Trollhättan, Hotell Albert welcomes its guests to a modern but classic setting.
"Hotell Albert is a small, personable establishment with a strong gastronomic profile. We follow our own vision and are extremely engaged and passionate about what we do," says Rickard Halleröd, chef and owner. He and co-owners Christoffer Florén and Svante Tengblad started the business nearly 20 years ago with the ambition to maintain the legacy of the premises and marry it with their love for culinary experiences and hospitality.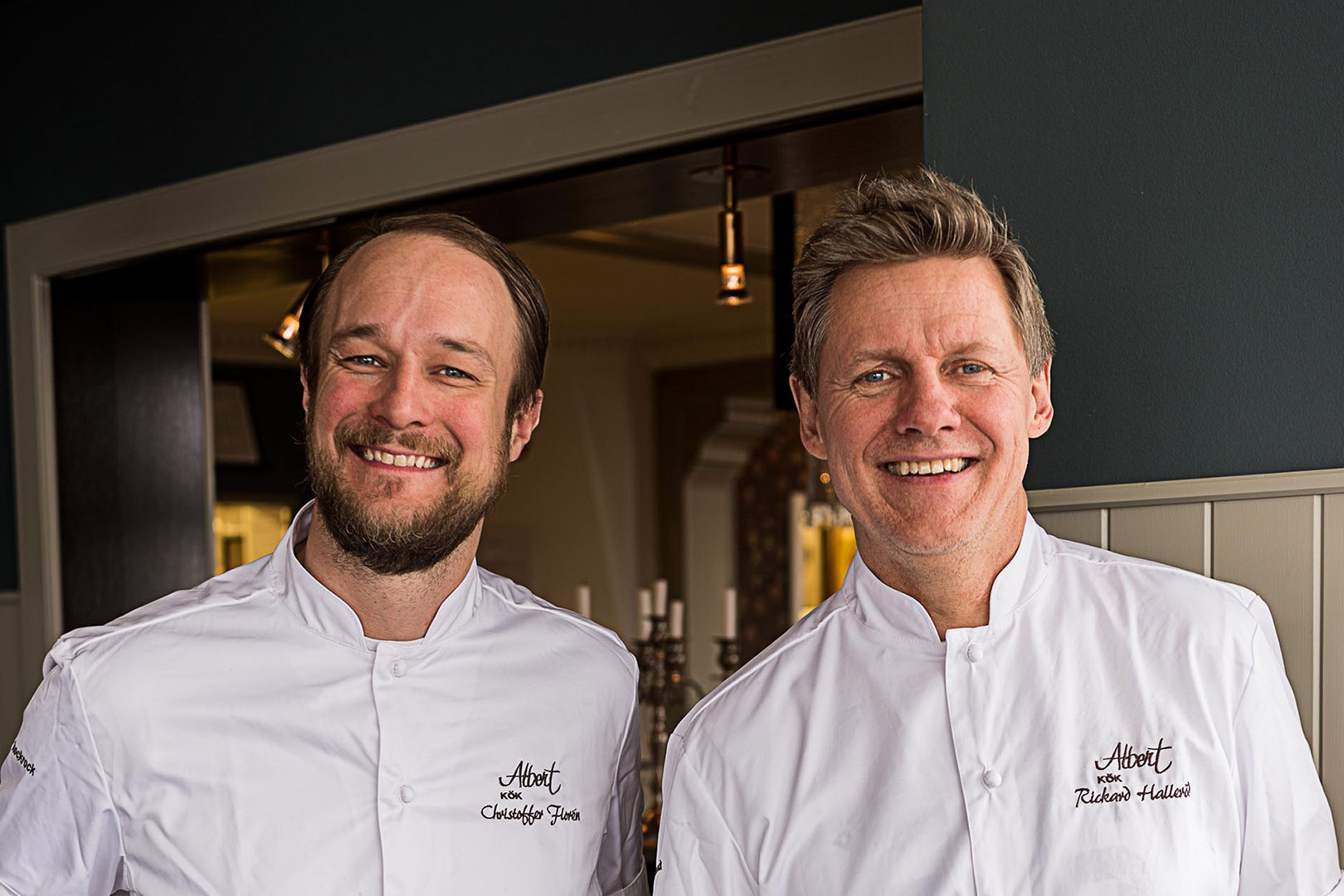 Christoffer Florén and Rickard Halleröd
The name of the hotel dates back to 1880, when high-profile engineer Albert bought the grounds, and he would surely be proud to see what it has turned into. The kitchen has continuously been scored by the White Guide and proudly introduces fresh, seasonal products from the ocean and the forest. The wine cellar offers a mix of classic tastes and new, excitingly modern flavours, just as the hotel itself.
Local produce and high-quality food at Albert Hotell.
"All rooms are light and airy, with modern yet classic décor, and the majority have private balconies with views over the dramatic landscape and Trollhättan itself," says Halleröd. Some suites are equipped with a private sauna, and one peak through the door makes it easy to understand why the hotel is so popular among celebrities. Trollhättan has long been a hub for filmmaking, and many actors are regulars at this tranquil gem designed for relaxation.
Web: alberthotell.com
Facebook: albertkok.hotellkonferens
Subscribe to Our Newsletter
Receive our monthly newsletter by email