HUS arkitekter AS: The architecture firm transforming Trondheim
By Alyssa Nilsen | Photos: Matthias Christoph Herzog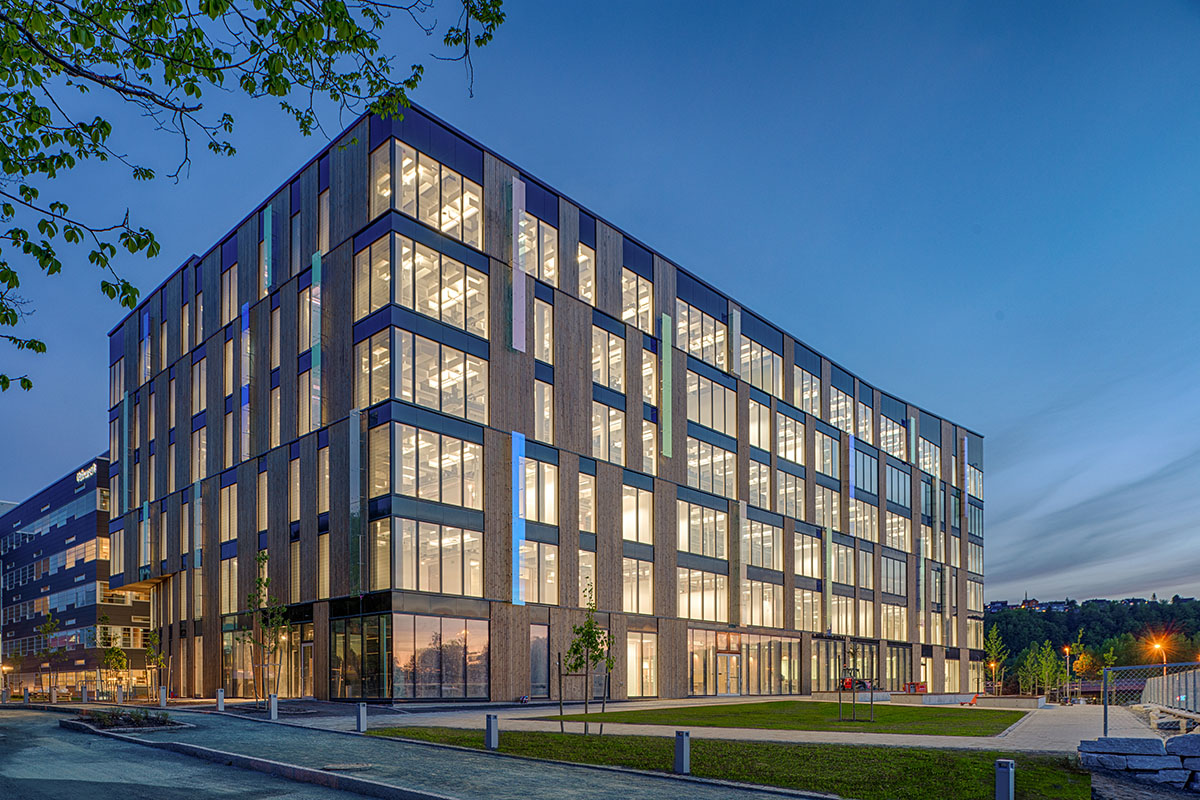 From art centres and schools to office buildings and town square features, Trondheim-based architecture firm HUS arkitekter AS has designed spaces for people to work, live and thrive in since 1993. Centring their work around four pillars – health, education, living spaces and offices – HUS designs sustainable and functional buildings and surroundings that inspire, engage and excite.
The Trondheim district of Sluppen is currently undergoing changes through rejuvenation projects, quickly becoming a vibrant and youthful area. Here, HUS arkitekter AS, in collaboration with R Kjeldsberg AS and Veidekke Entreprenør AS, will be building the ALO office building.
BREEAM NOR Outstanding and Paris Proof certified, the 15,000-square-metre, seven-floor ALO building will be designed to have a low environmental footprint. Built as an atrium surrounding a courtyard, and with light, greenery and air as important features, ALO will be of a Gold level WELL certified building standard, a space focusing on human health and well-being.
Another office building in the same area is Lysgården, an impressive construction in glass, light and colours. A beacon of light along the motorway in Trondheim, Lysgården is made to be eye-catching as well as functional, with a changeable interior that can be easily adapted to suit different purposes. Through natural and artificial light as well as thermal and acoustic comfort, the building is designed to be a pleasant place to work. Wooden features
balance out the glass and concrete. A collaboration with Veidekke Entreprenør AS and R Kjeldsberg AS, Lysgården opened in 2019 and is as much a piece of art as it is a functional office building.
Building vibrant and playful spaces
The playful nature of HUS is even more evident in their other projects. HUS has also transformed an old storage hall in Sluppen, turning it into Lager 11, a hub for food, culture, experiences and social gatherings. This includes space for eight food trucks run by immigrant entrepreneurs, allowing people without work experience within the restaurant and culinary field to create and run their own workplace – all while introducing Trondheim locals to food from all corners of the world.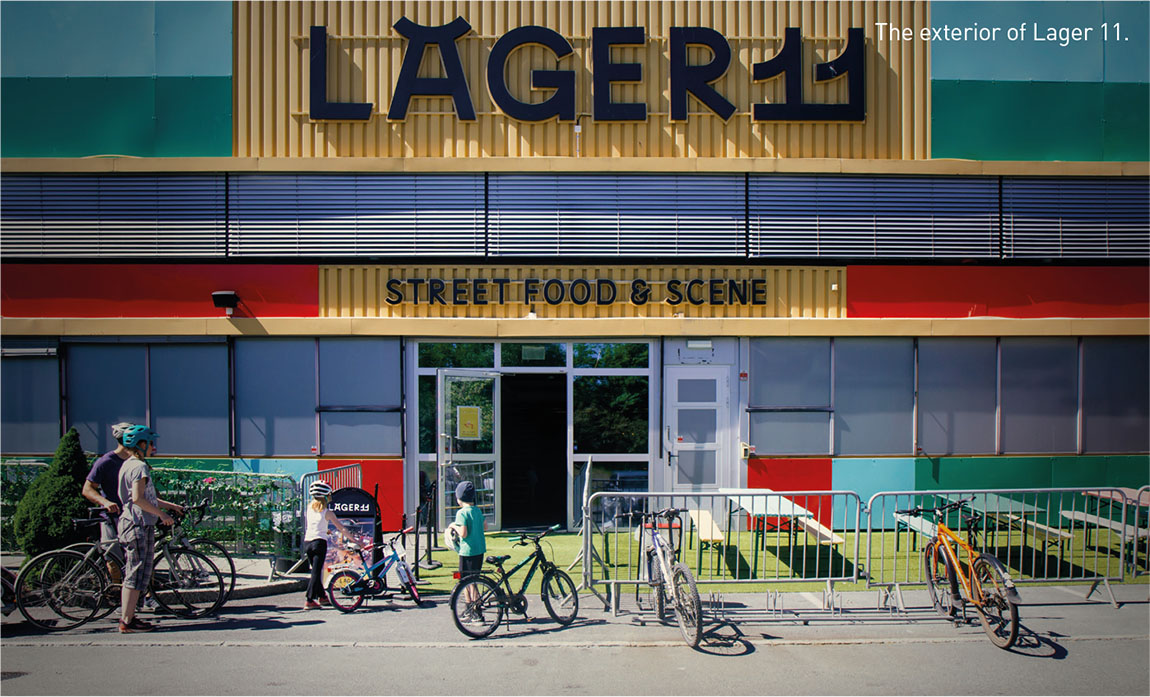 In addition to the food court, Lager 11 has a stage, a bar and a black box with arrangements and activities. "Reusing and redesigning old buildings is important to us," explains CEO Øyvind Hegvik. "It's much more sustainable and eco-friendly than tearing down and building new, the way it was done in the past."
Another of HUS' latest projects is Trondheim art and culture centre K-U-K (for 'Kjøpmannsgata Ung Kunst', or Kjøpmannsgata Young Art), in collaboration with Key arkitekter AS and Veidekke Entreprenør AS.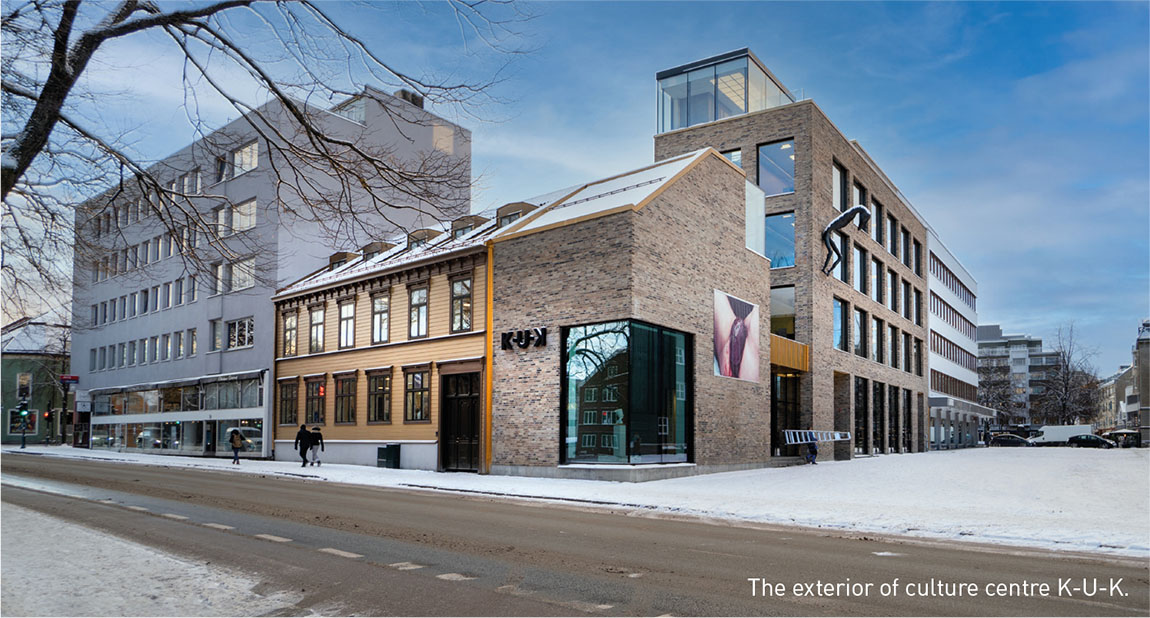 Gifted to the city by artist Kjell Erik Killi-Olsen, and officially opened by Her Majesty Queen Sonja in 2021, the building is set to become an epicentre of art and culture. Bult in natural and timeless materials, the art centre contains galleries, offices, workshops and a stage, as well as a glass-roofed courtyard allowing for year-round concerts, markets, outdoor serving and other happenings.
Large windows blur the lines between indoors and outdoors, letting passersby take part in what is happening inside. Some of the facade and courtyard dates back to the 1800s and has been rehabilitated as part of the project. And to top it all off, a rooftop sculpture park creates a skyline with intriguing silhouettes against the sky and the rest of the city.
Enhancing public spaces as well as residential areas
In 2012, HUS won a competition to design a stage and furniture series at Trondheim's main square, Trondheim Torg, as a part of the square's rejuvenation project. This resulted in a directionless stage crowned by a large, lamp-like construction made from perforated layers of metal – an eye-catching addition to the historic square. Furniture made from wood and concrete surrounds the stage and the square, making it a welcoming and vibrant public area.
In addition to the public spaces, HUS also designs and rehabilitates residential spaces. Lilleby in Trondheim is an old industrial area that has been given new life. There, HUS has built colourful and vibrant apartment buildings, adding to the area's new identity. Built around a green courtyard, the apartment buildings make for an inviting neighbourhood with plenty of light, air and privacy for the residents. Lilleby's popularity has grown exponentially, making several city-centre based businesses, including Michelin-star restaurant Credo, relocate there.
Web: www.husark.no Instagram: @husarkitekteras For enquiries: ohe@husark.no
Subscribe to Our Newsletter
Receive our monthly newsletter by email