Idre Fjäll: Time to head for the mountains
Text: Liz Longden | Photos: Idre Fjäll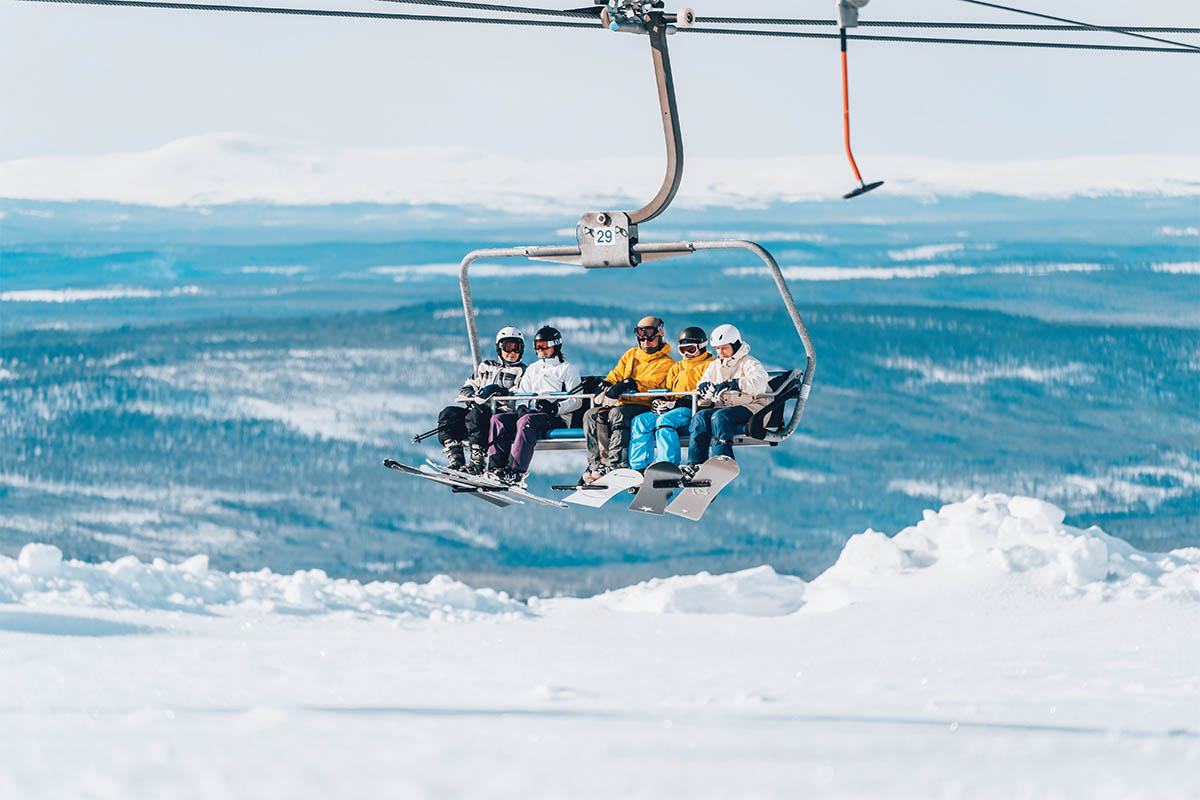 W hether you're looking for a soul-soothing escape to the wilderness or a fun-packed family break, Sweden's southernmost mountain resort promises an experience to remember, with stunning scenery and wildlife, top-class ski facilities, and activities to suit every age and taste.
"Being in the mountains is a different experience; it's very special. Here, you're out in the wilderness, with the wildlife – you're in among the reindeer grazing freely," explains Tommy Halvarsson, Idre Fjäll foundation's head of marketing and sales. "It really is like coming into a different world, and incredibly beautiful."
Halvarsson and his colleagues are, he admits, extremely proud of the resort, which marks the start of Sweden's breathtaking mountain landscape (or 'fjällen'), and it's perhaps not so surprising – established in 1968 in an attempt to stem the depopulation of the local area, from the very beginning, Idre Fjäll has been a labour of love. Since that time, the resort has grown from just two pistes to 41, and last year recorded 600,000 guest nights.
One obvious reason for Idre Fjäll's popularity is the quality of its pistes. Ranging in difficulty from gentle to exhilarating, the resort caters for all levels, making it the perfect destination for groups of mixed ability, and especially families. Not only that, but because it has slopes facing every direction, the chances of great skiing conditions are maximised. Whether it's to escape a nippy north wind or to make the most of the early spring sun, guests can simply head for wherever the weather and snow are best.
Perhaps just as importantly, however, the complex has been designed to minimise stress and maximise ski time. "The resort has been developed around the principle of making things as easy as possible and of not needing to bring a car," Halvarsson explains. "All the shops, restaurants, pistes and other activities are situated very close to each other, all within easy walking distance. And while we have a very wide offering of accommodation – everything from camper van parking to hotel and spa – they are almost all 'ski in-ski out', so there's no having to lug about skis and equipment."
Thanks to a practice of saving and storing snow from the previous season, Idre Fjäll is also able to offer an unusually early start to the snow season – this year, the season began in October – making it popular for those wishing to get a head-start on training, as well as those who just can't wait.
Beyond skiing
There is, however, more to life than just skiing, and Idre Fjäll also boasts a comprehensive range of entertainment facilities. The resort prides itself in particular on its family-friendly ethos, and offers a host of activities for children, ranging from indoor games and a children's club to horse-pulled sled rides and a reindeer snowshoe hike. More generally, the resort complex also has a swimming pool with Jacuzzi and adventure pool, a sports hall, gym and bowling facilities, and hosts high-profile events throughout the year. Winter 2020 will see Idre Fjäll hosting no less than three Word Cup Finals – Mogul Skiing, Speedski and Skicross – while in August, runners will flock to the resort for one of Sweden's biggest mountain marathons.
When it comes to food, drink and evening entertainment, too, visitors are unlikely to be disappointed. For example, Idre Fjäll offers not one but three different takes on 'after ski'. Along with the 'classic' programme, guests can also enjoy a chilled-out acoustic set in the 'soft' variation, while those who like a little more sophistication in the evenings can head to the Lounge Bar and swap the music for Cava.
The resort has also expanded its food offering with the opening of two new restaurants this month. Understället offers sustainable gourmet burgers made with Swedish ingredients and a local touch, while Swedish celebrity chef Melker Andersson has helped to develop a new meat and fish bar. These will complement the existing restaurants and cafes, bringing the total to nine, and presenting guests with everything from sit-down fine dining to grab-and-go snacks and fast food.
"These new establishments mean that we now have a really good choice of food outlets to satisfy all our guests' tastes and budgets," Halvarsson notes. "And that's in keeping with our philosophy of making Idre Fjäll a place that everyone can enjoy."
Web: idrefjall.se
Subscribe to Our Newsletter
Receive our monthly newsletter by email