IKEA Museum: Rethought, redone and reopened in the spirit of IKEA
By Malin Norman | Photos: IKEA Museum
This year, IKEA celebrates its 80th anniversary. The world's only IKEA Museum has recently opened two brand new exhibitions, providing unique insights into the company's heritage and the playful entrepreneur Ingvar Kamprad.
The IKEA Museum is located in what was the very first IKEA store in Älmhult. It tells the story not only of the famous home furnishing company, but also of Sweden's journey into modern times. "At IKEA, we have always been curious about life at home, and we know that many are curious about us and our story," says Pär Gustafsson, managing director of IKEA Museum and IKEA Hotell. "So, we created this meeting place where people can find out about our roots and how we work."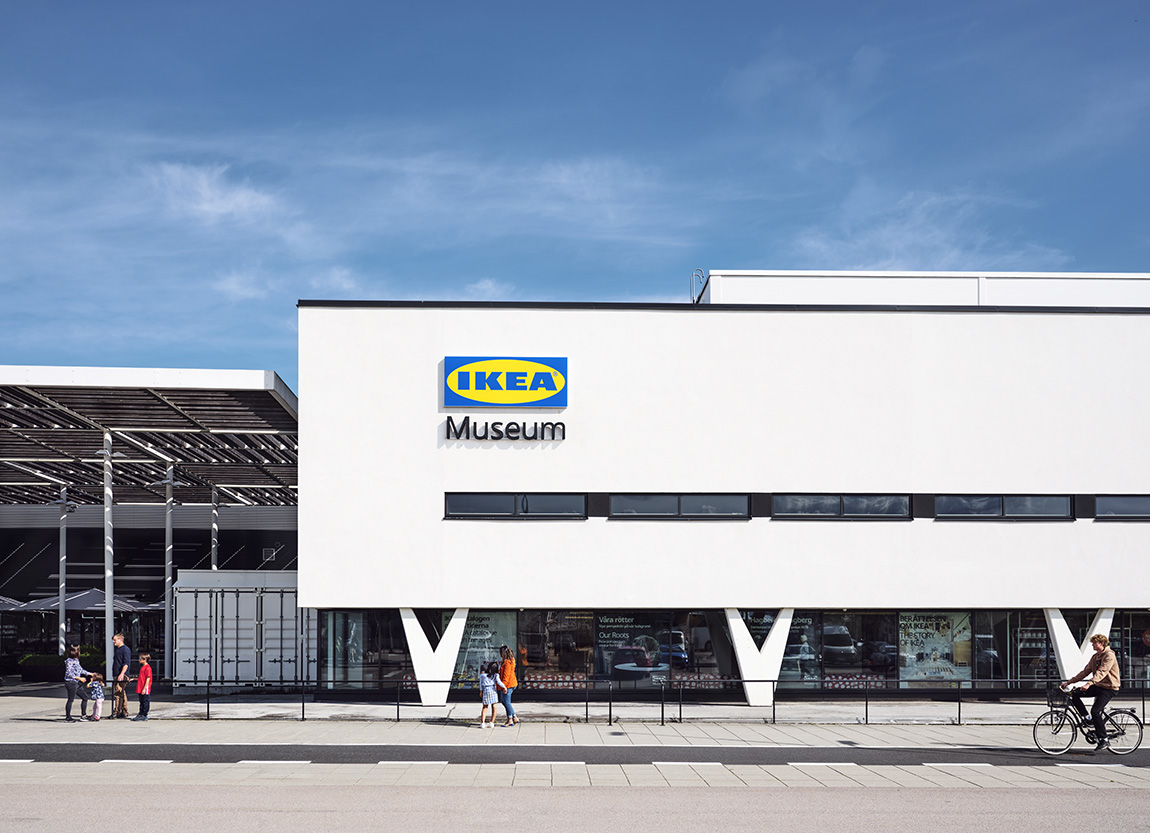 The IKEA Museum has recently opened two new exhibitions. In IKEA Through the Ages, visitors go on a journey through the company's history from the 1950s to the present day – from the very first store in Älmhult, to a global brand with the vision of creating a better everyday life at home. It shows examples of innovations and insights, magnificent catastrophes, fantastic ideas and innovative designs.
In Hej Ingvar! we get an intimate, personal glimpse into Ingvar Kamprad's life and how he became one of the world's most successful entrepreneurs. It includes stories, myths and anecdotes about the playful entrepreneur's drive, curiosity and creativity, and the ability to see opportunities where others saw problems. One part shows Ingvar's desk, from which he managed the work on IKEA, refined the concept, wrote endless letters and memos, and planned trips and store visits.
80 years of doing things differently
Last year, the exhibition Democratic Design was expanded and now focuses on how IKEA develops products based on the five core principles of form, function, quality, sustainability and low price. The interactive journey is an opportunity to discover and explore design challenges in life at home and to find out how product development on the factory floor can make a difference.
As you may know, the region Småland is known to be thrifty and creative. In Our Roots, you can learn more about the region's entrepreneurship. It explores what it was like to live here in the old days. Last year, the IKEA Museum also launched a collection of garments focusing on the post code 343 36, the location of the first IKEA store, as an homage to its roots.
With these four main exhibitions – IKEA Through the Ages, Hej Ingvar!, Democratic Design and Our Roots – the museum offers visitors a red thread through IKEA's story until today. "Over the past 80 years, we have certainly learnt a lot and visitors will be able to take part in this journey," promises Gustafsson. "Understanding what has been achieved is embedded in our spirit, but it's important also to find solutions to our needs. We will keep on building on our heritage and well into the future."
Us & Our Planet and Existence Maximum
IKEA Museum hosts a number of temporary exhibitions too. In Existence Maximum, showing until 3 September, you can investigate big ideas for small spaces. "The majority of the world's population live in cities," explains Gustafsson. "The need for smart solutions is huge when living spaces are minimal." The exhibition includes 14 rooms with inspirational solutions for widely differing purposes – and the rooms also change character depending on need and activity.
The exhibition and book titled Us & Our Planet, showing until 15 January 2024, focuses on social and environmental changes to how we live. You will get to know homes, workplaces and shared spaces from Mexico to Moscow, from Bali to Beirut, to inspire improvements in the way we live. The exhibition highlights the small things we can all do to make the world a little better.
Visitors can also take part in a range of activities related to the ongoing exhibitions, such as talks, workshops, and after-work events. The museum is ideal for conferences and corporate events too, with customized programs and workshops.
Stay at the world's only IKEA Hotell
Just across the street from the museum is the only IKEA Hotell in the world. All hotel rooms, public areas and meeting rooms are, of course, furnished with IKEA products. The restaurant serves a menu based on high-quality local produce from Småland, and there are plenty of events such as live music.
The region has a lot more to discover: this is a hub for furniture and glassware, with a lot to explore in terms of design, but it's also surrounded by beautiful untouched nature, unique fishing waters, hiking and biking trails, and much more.
Web: www.ikeamuseum.com Instagram: @IKEAmuseum Facebook: IKEAmuseum LinkedIn: IKEAmuseum Älmhult is a small town in the middle of the deep, Swedish forest, but is a convenient two-hour direct train ride from Copenhagen airport, and 3.5 hours by high-speed train from Stockholm. The closest airport, in Växjö, is less than an hour's drive away.
Subscribe to Our Newsletter
Receive our monthly newsletter by email