Ishavskatedralen
Text: Ingrid Opstad | Photos © The Arctic Cathedral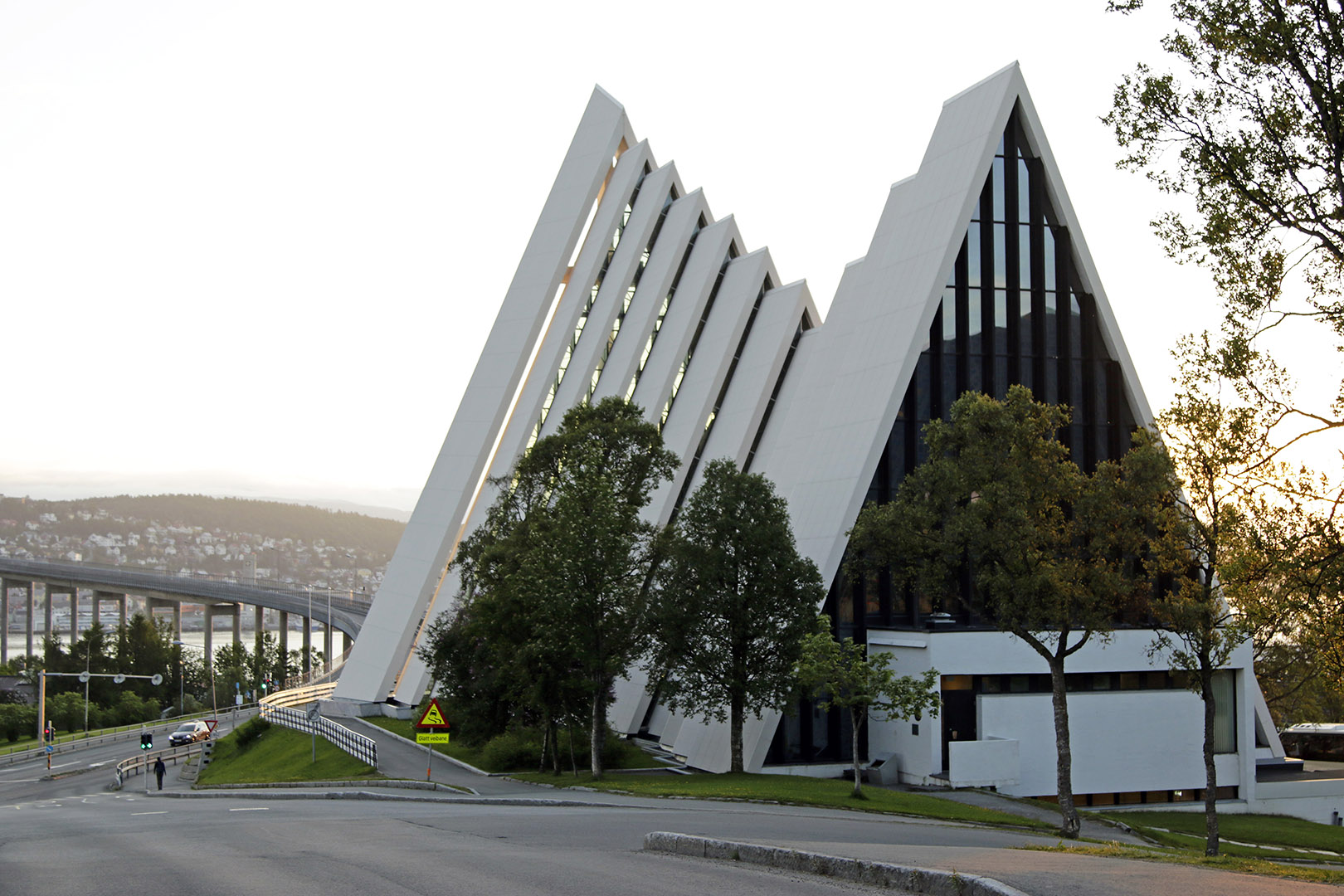 A unique concert venue in the Arctic
W hen visiting northern Norway, a striking landmark in Tromsø appears to take one's breath away. Thanks to its wonderful acoustics and impressive architecture, the Arctic Cathedral, also know as Tromsdalen Church, is a unique and wonderful place to experience spectacular performances during all seasons, with the midnight sun or northern lights as a backdrop.
With musical performances almost every night all year round, the Arctic Cathedral is at the forefront when it comes to concerts in Tromsø. "We are proud to be one of Norway's most-used concert venues, with a suitable and varied programme of beautiful Norwegian folk tunes, classical music, traditional hymns and ballads," says Åse Dons Lindrupsen, congregation worker in Tromsøysund.
The cathedral offers captivating concerts and spectacular performances every day – on bright, tender summer nights under the midnight sun, or during the winter months while the aurora borealis dances across the sky, both creating a stunning backdrop for magical events. Many tourists and locals visit the church to see and feel for themselves the beautiful ambiance with candles and sound, and to draw inspiration from the deeply moving musical experiences on offer.
"There is hardly a better way to experience Tromsø than to be present at one of our midnight sun or northern lights concerts in the Arctic Cathedral. Here, you can listen to beautiful music performed by our talented musicians in a truly unique and unforgettable setting," Lindrupsen says. "Its the perfect way to end the day." The midnight sun concerts are happening every night from 1 June to 15 August at 11pm, offering a combination of vocals, piano and organ music, as well as additional trumpet, flute, saxophone and cello performances. In addition, every day this summer, the cathedral will host organ concerts, with musicians who have made their mark locally, nationally and internationally.
Built in 1965 and designed by Norwegian architect Jan Inge Hovig, the cathedral is today both an important symbol and a landmark for the city of Tromsø itself. The magnificent stainedglass window is 23 metres high, covering 140 square metres, and was designed by Viktor Sparre to give more soul to the church. In 2005, the new and impressive modern organ was inaugurated during the church's 40-year anniversary.
The Arctic Cathedral has become a masterpiece of architecture, which was designed to reflect the nature, culture and faith in its region. "It is a multifaceted church with a lot of activity for all age groups, but has also become one of Tromsø's largest tourist attractions with more than 100,000 visitors each year," says Lindrupsen.
Subscribe to Our Newsletter
Receive our monthly newsletter by email