John Veje: Building dreams out of traditions and technical know-how
Text: Camilla Pedersen | Photos: John Veje Architects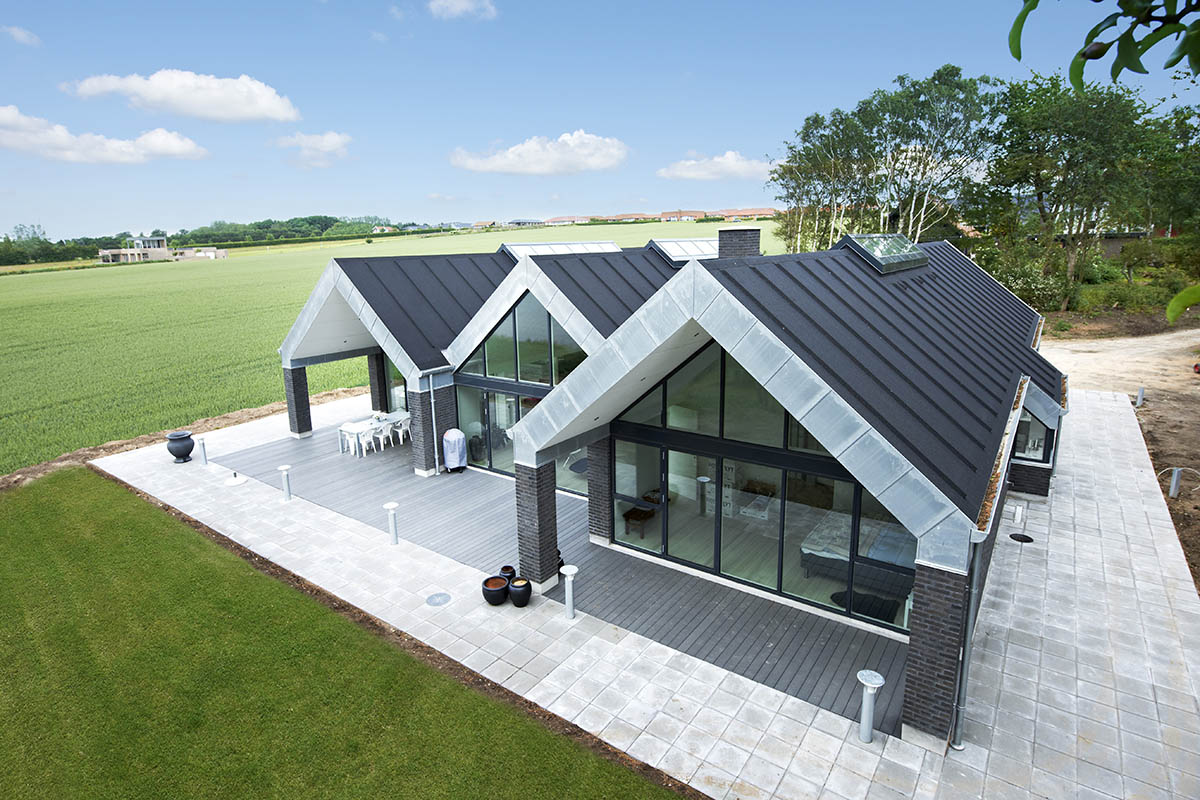 Anew home built based on a few ideas fetched from Pinterest? An extension to or renovation of your existing home? Perhaps a commercial or industrial building is on the drawing board? You name the dream, and John Veje Architects is quite likely able to turn it into reality. But how do the three partners at the architecture practice keep reinventing themselves and their work, while staying true to the legacy of technical know-how and building traditions that the founder of the architecture practice has built over the last 42 years?
"Inspiration is such a fascinating thing. It can be found anywhere and anytime, and often you don't even have to look for it. We're based in Skælskør, close to beautiful nature, with the old harbour only a stone's throw away. But in fact, Skælskør is also the Danish hub of ceramics, due in no small part to the annual ceramics festival and Guldagergaard, the International Ceramic Research Center. Being surrounded by talented and enthusiastic artists who constantly find new ways of creating is a huge source of inspiration. And while ceramics and architecture are two very different crafts, the process of creating something that is contemporary yet stands the test of time calls for a visionary mindset combined with know-how, no matter if it's ceramics or architecture," explains Martin Freeman, MAA and one of the partners at John Veje Architects.
A solid building foundation
This inspiration shapes the daily life at the architecture practice, which employs nine people, each with different skillsets to complement one another. And no two days are the same, with an architecture service offering that ranges from renovations of historical buildings and small extensions to residential and commercial projects of various sizes. "We've been fortunate to work on a great variety of projects," says Freeman. "We renovated a house designed by furniture design guru Arne Jacobsen, located in Charlottenlund; built new rooms at Dragsholm Castle; converted an old barn at Borreby Castle into a theatre; and we're creating new residential and corporate homes – no job is too big or too small, and that's the beauty of it."
While the three partners are always looking forwards and outwards for inspiration, their work is based on a solid foundation of technical knowledge and building traditions, no matter the task – a foundation that was laid by John Veje, the founder of the architecture practice, over a period of more than 42 years. "Building, renovating or restoring can be complicated processes that involve a lot of paperwork, permissions and the likes. And then there is the technical side of things. What can be achieved, and what technical limitations are there? Basically, all the things you don't see on Pinterest. We're there to guide our clients through this complicated process," Freeman explains. "Aesthetics are one thing. But we haven't done our job properly unless our work is carried out using the finest, healthiest and most sustainable materials to create a functional building that blends in with its surroundings – within the client's budget."
While the projects are very different in nature, one thing remains true to all of them: "Our clients are what's really at the heart of these projects. The clients motivate, inspire and develop us. And hopefully they would say that it's mutual. We always listen intently and open-mindedly to what the client wants and needs. Then we challenge their dreams and ideas. We trigger their curiosity. This is when the magic happens. And at the end of the day, our clients are always our biggest source of inspiration," says Freeman.
About John Veje Architects:
John Veje Arkitekter was founded by John Veje in 1977.
The company is owned by three partners, who took over the company from John Veje in 2019:
— Martin Freeman graduated as an architect MAA from the Royal Danish Academy of Fine Arts, School of Architecture, in 1998 and has more than 20 years' experience from several renowned architect practices.
— Nicolai and Michael both hold degrees in Architectural Technology and Construction Management from Haslev and Næstved respectively.
-The architecture practice employs nine specialists and offers a wide range of architecture services within building, renovation and extension projects, including:
— idea development;
— design and planning;
— construction management and delivery;
— and one- and five-year review.
Web: www.johnveje.dk
Subscribe to Our Newsletter
Receive our monthly newsletter by email