Jotunheimen Haute Route – a challenge taking you to new heights
By Julie Lindén
It has an undeniable potential of becoming a 'new Chamonix', the central Norwegian area that attracts as many tourist hikers during summer as highly skilled skiing aficionados during winter. Here, for many years, families have found their mountain paradise and wild-at-heart youths a variety of adventurous outdoor pursuits. Today, however, the magic of Jotunheimen is best sought through a combination of tradition and novelty. Thanks to the new Jotunheimen Haute Route mountaineers from around the world are discovering a true Norwegian alpine gem – and the popularity shows no sign of ending anytime soon.
"Walking or skiing from cabin to cabin is nothing new in Norwegian sports tradition, but including some of northern Europe's highest peaks on the route definitely is – at least up here," begins Bjørn Andreas Ovesen of Spiterstulen tourism lodge in Jotunheimen. It was three years ago, he explains, that seven traditional tourism lodges in the exceptionally mountainous area (Jotunheimen translates as 'home of giants' in Norwegian) joined forces to offer skilled hikers and mountaineers a new challenge.
"There is a longstanding tradition of moving between cabins in the Norwegian mountains, but these skiing trips, hikes and walks have nearly always excluded the higher peaks. There is little wrong with experiencing a variety of topography and Norway's astounding shifts between steep mountains and deep valleys, but there is a great deal to be added to said experience – if you're in good enough shape to tackle what will come your way, that is."
From northern Africa to the North
The story behind the collaboration has its beginning surprisingly far away from Norway. It was in 2012 that Johan Wildhagen and Stian Hagen, two experienced pioneers in outdoor sports, left Scandinavia to ski down northern Africa's highest mountain, Toubkal. The experience left them proud but baffled. Why had they travelled all the way to Africa to ski when their home territory provided just as striking terrains?
Throughout their lives Jotunheimen had become so obvious a destination to them that they had missed its grand potential. Drawing inspiration from the height of the Moroccan peak, via haute routes already established in the central European Alps, the pair laid the foundation for a new adventure: bringing people to Jotunheimen's very own Haute Route.
Since then, it has been a smooth, downhill slope. Hagen has seen mountaineering and ski touring become the fastest-growing skiing sport in the world, with Norway in particular enjoying rapid growth over the past five years. "We've only seen the beginning of this trend," Hagen asserts. "We've finally opened our eyes and seen the incredible opportunities here in Jotunheimen. New equipment for mountaineering has made it possible for people to find fantastic skiing in new locations here in Norway. I think Jotunheimen will become one of the most visited mountain areas in the country, as far as ski tourism is concerned."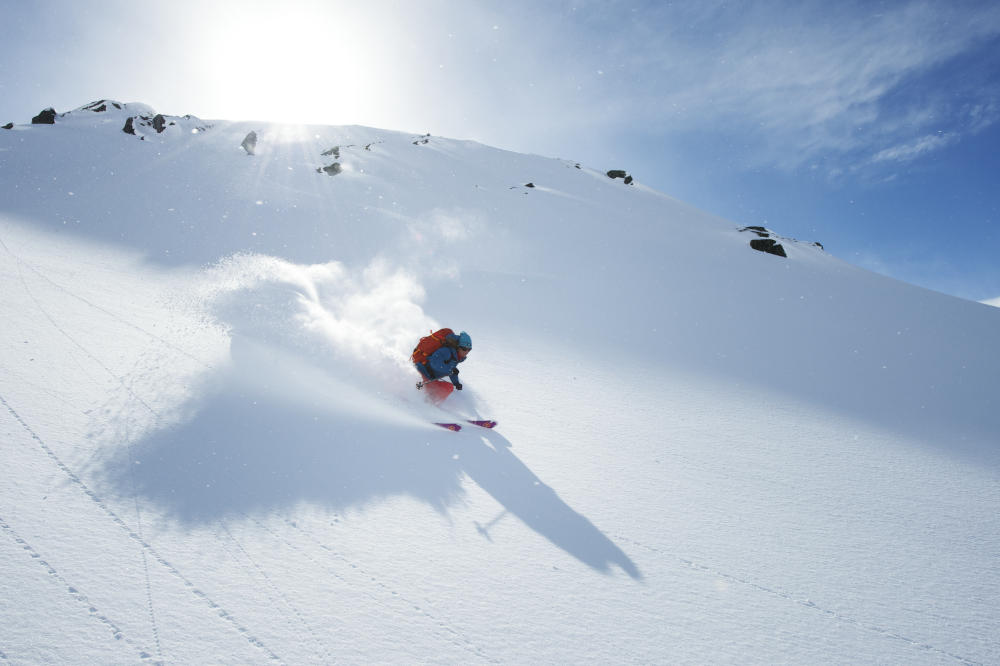 Riding the route
So what is it exactly that has attracted skiers in their hundreds to the home of giants? One answer lies in the meticulous planning and execution of the route, called 'Høgruta' in Norwegian. The suggested and carefully mapped-out six-day course begins at Bessheim or Gjendesheim lodge, leading you westward through the heart of Jotunheimen and across some of Norway's most iconic peaks. These include Glittertind and Galdhøpiggen, the latter being the highest peak in northern Europe.
Five overnight stays are included, all with cabin providers who are taking part in the collaboration, namely Memurubu, Glitterheim, Spiterstulen, Leirvassbu and Krossbu, in addition to the aforementioned Bessheim and Gjendesheim lodges. Each day consists of around 15 kilometres of skiing and between 1,000 and 1,500 metres of climbing, reason enough not to attempt the route untrained.
Halvor Dannevig, IFMGA Guide at the mountain guiding company Breogfjell, admits that the route will test the skills, willpower and tenacity of participants. "Jotunheimen Haute Route is primarily aimed at experienced skiers and those who have experience with ski touring," he says. Still, according to Breogfjell's manager Melanie Hetkamp, the interest has been "absolutely overwhelming – and the response from guests even better". She explains how skiers who have completed five or six days of strenuous activity experience a great sense of achievement. "There's an enormous sense of 'yes, I actually did it' when everyone reaches the final destination. Positivity fills the air as the guides hand out souvenir t-shirts, a piece of memorabilia that means a lot to participants after days of cresting the peaks."
Tore Bergbjørn, IFMGA Aspirant Mountain Guide with Breogfjell and one of the most experienced guides on the route, has seen participants of several different backgrounds and age groups complete the ski venture. In his view the experience provides excellent conditions not only for physical activity in itself, but also the development of great group dynamics and exceptional teamwork. "No matter if the group averages around the 30-year mark or 60-year mark, spirits are always high, and personal, lasting bonds are created. Whether the goal is to just finish, or if it's finding the best spots and opportunities to test one's skiing techniques, people help each other progress. In the end, they all share an unmatched experience pinned on nature, persistence and joy."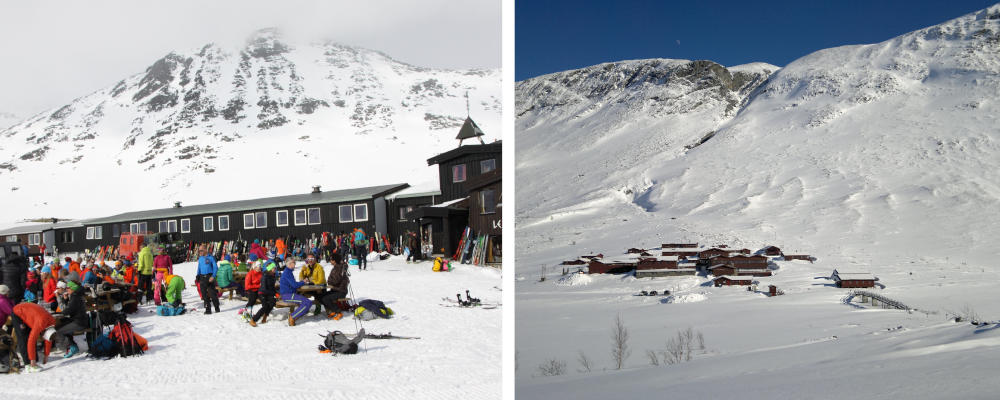 Back to basics
A German native who moved to Norway eight years ago to make the most of her love for skiing, Hetkamp has plenty of answers as to why Jotunheimen should be on every advanced skier's bucket list. "For one, the nature ensures that possibilities for skiing here are endless. The highest peaks are just a small part of what you can experience." She adds that Norway's lack of mass tourism also has a number of advantages. "You'll never experience that 'queue-style skiing' in Norway. It's much less crowded than the central European Alps; everyone gets their space. I guess you could say that people get back to basics here and enjoy the outdoors for what it really is: a de-stressor and magical experience."
Ovesen agrees, explaining that there are also weather-related benefits that come with Jotunheimen's particular placement above sea level. "You won't find yourself isolated in a cabin if the weather gets rough, which can happen in other locations. The valleys are easily accessible and participants on the Haute Route will always be able to follow marked paths to the next cabin." These 'safe escape' opportunities are not found along the route's counterparts in the Alps.
Host at Glitterheim lodge, Knut Vole, also highlights that all the safety measures are taken to make guests feel secure, a feeling heightened by a higher-than-average standard of the cabins. "These cabins provide guests with fresh, local and delicious food, good rooms fully fitted with clean sheets so they don't have to carry any around – all factors that add an extra touch and make the experience more enjoyable. This, combined with the IFMGA Mountain Guide tours of Breogfjell, means that the conditions are in place for a safe yet eventful trip. In that regard, Jotunheimen Haute Route can really become a goal for everyone – an experience to prepare for, look forward to and truly appreciate once you get here." Hetkamp laughs, adding: "There's a reason why I never went back to Germany after settling here. Jotunheimen cast its spell on me – and I don't mind that at all."
Visit these cabins along Jotunheimen Haute Route: - Bessheim: information at bessheim.no - Gjendesheim: information at gjendesheim.no - Memurubu: information at memurubu.no - Glitterheim: information at glitterheim.turistforeningen.no - Spiterstulen: information at spiterstulen.no - Leirvassbu: information at ton.no - Krossbu: information at krossbu.no For more information, please visit: jotunheimenhauteroute.no and breogfjell.no/en/tur/Jotunheimen-haute-route
Subscribe to Our Newsletter
Receive our monthly newsletter by email