Jotunheimen: Welcome to the top of Norway
Text: Ingrid Opstad | Photos: Visit Jotunheimen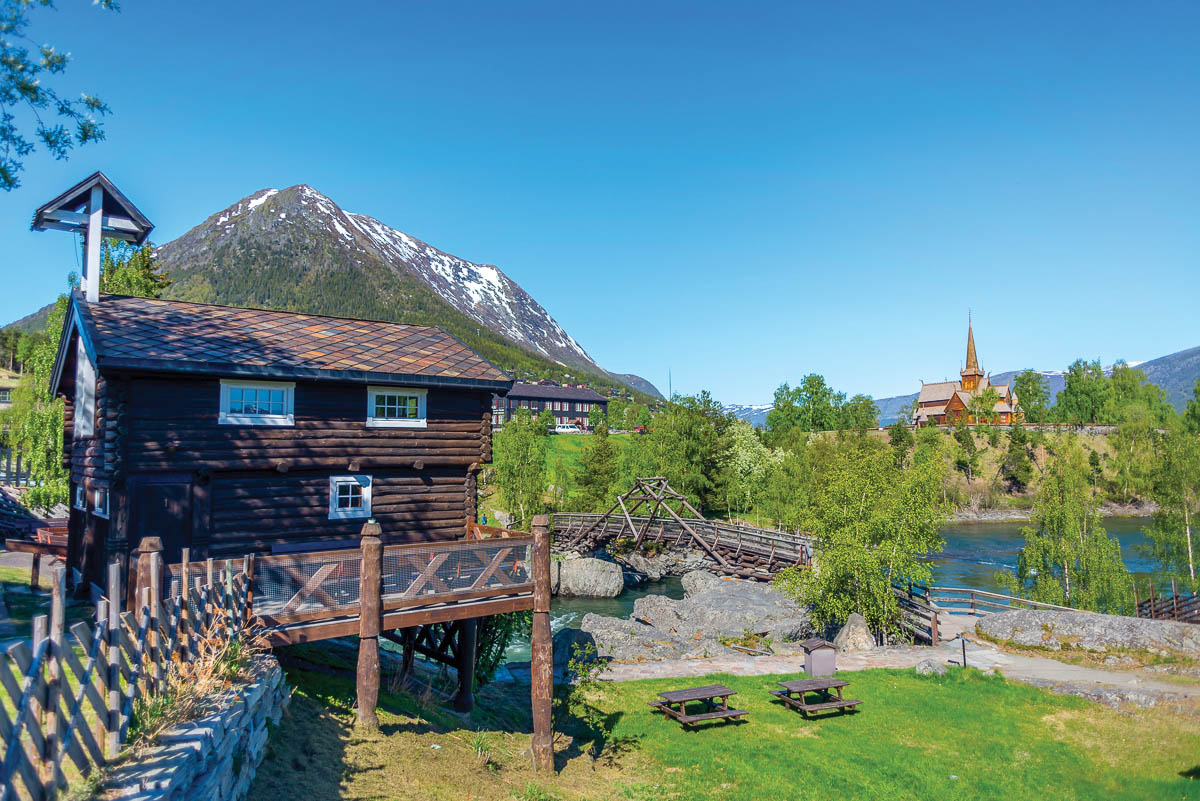 T he spectacular, untouched grounds at Jotunheimen make it a great destination for discovering Norway's finest and highest mountain areas. An excellent area for hiking in the summer and skiing during spring and wintertime, Lom National Park Village lets you explore the mighty nature, the local culture and an array of activities all year round – perfect for the whole family.
Known for its spectacular nature, delicious food and varied experiences, the majestic Jotunheimen invites you to discover everything it has to offer.
"Jotunheimen is the most mountainous landscape in Norway, the ideal location for beautiful walks through lush valleys and high peaks. You can explore everything from mighty glaciers to glittering lakes. It truly is an eldorado of nature experiences big and small," says Mari Arnøygard Wedum, manager at Visit Jotunheimen.

Spring kicks off the season
In Jotunheimen National Park, situated in the municipality of Lom, you will find some of the highest mountains in northern Europe. In fact, Norway's two highest mountains, Galdhøpiggen and Glittertind, are situated here, offering spectacular views across glaciers, rugged landscapes and surrounding peaks. "This is an excellent area that is popular not only during the summer, but which has a lot to offer during the winter, too. In fact, spring and Easter is the perfect time to visit Jotunheimen – it's when the area truly comes to life," Wedum explains. During this period, many roads and tourist cabins that have been closed throughout wintertime open again, and the ski season kicks in. The days get longer, offering beautiful, sunny outdoor days in nature, whether you are a beginner or an extreme skier.
Buzzing with life in the summer
Being surrounded by three national parks, Lom has obtained a National Park Village status. The area is well-known for its beautiful, medieval wooden church, a national park visitor centre, a climate park and a climbing park, in addition to a world-famous bakery, where you can taste fresh pastries every day.
"The village is buzzing with life during the summer months, with a lot of cosy cafés, great restaurants and shops," Wedum smiles. "Lom is the perfect place to visit, as there is something for everyone here. If you don't want to hike up to 2,000 metres, it is equally fantastic to just stay at one of the old, traditional hotels and stroll around the cosy town centre, while discovering the surroundings and enjoying great, locally made food."
Family-friendly
With its scenic location, full of beautiful valleys and lakes, Lom, Jotunheimen and the surroundings, says Wedum, are perfect for nature and outdoor lovers of all ages, with countless opportunities for activities and exciting challenges also for the young ones. "It is very family-friendly here. There are easy trails, museums and great spots for fishing, and we also have Lom Activity Park, where the kids can enjoy everything from a climbing tower, trampolines and a mini-golf course, to a bike trail and a new go-kart track," she says.
"We also have long traditions associated with hiking and climbing, and the area provides an extensive network of marked routes and pleasant mountain lodges for you to make use of," she continues. The area also offers activities such as glacier walks, cave tours and Fjelleventyret, a fantastic way to experience the mountain on horseback.
Whether you decide to walk from mountain lodge to mountain lodge or set base in one of the hotels and enjoy day trips, you will not be short of adventures. "You can experience up to ten 2,000-metre peaks during just one day trip. It is quite special that there are so many possibilities for hiking in the beautiful scenery of mighty mountains so close by," Wedum says.


Taste the local cuisine
Renowned for its cuisine based on Norwegian traditions, with a great selection of locally produced ingredients, Jotunheimen is a haven for foodies. "The area lends itself to great culinary experiences, with lots of places to taste local, home-cooked food. I can recommend visiting BrimiBue, Fossheim, Nordal or Fossberg, all of which are known for delightful food," she says. In addition, the mountain lodges located along the hiking trails have long traditions of serving hearty, delicious food to hungry tourists.
If you are planning a trip to discover this impressive area of Norway for yourself, Visit Jotunheimen can help you plan and arrange everything you need to make the most of your time here.
www.visitjotunheimen.no Facebook: visitjotunheimen Instagram: @visitjotunheimen
Subscribe to Our Newsletter
Receive our monthly newsletter by email