K. Lundqvist: Made to impress
Text: Liz Longden | Photos: Tina and Carl Nyblom
When Kristoffer Lundqvist first had the idea of creating his own fragrance, it was with the idea of making a small selection of stylish gifts for friends. Five years later, the project that started for fun has developed into one of Sweden's most sought-after luxury brands.
Today, K. Lundqvist has around 200 selected retailers worldwide, and its name is synonymous with elegance and exclusivity. However, founder and head of design Kristoffer Lundqvist says that his aim has not changed since he first began. "It started with the realisation that fragrances weren't just something in the background, that they could actually make people feel good, and with wanting to share that with other people," Lundqvist explains. "And that's still what it's all about today."
The brand comprises a series of collections, each including reed diffusers, candles and scented sachets, and while the products are undoubtedly high-end, the variety in the range has helped to establish a broad and loyal customer base. There is, Lundqvist says, something for everyone. Not only that, but the brand's classical elegance gives a versatility that has helped to attract customers beyond the typical demographic for home fragrance.
"Men perhaps haven't traditionally used home fragrance as much as women, but we've seen that our Prestige collection, in particular, has proved to be very popular with men," Lundqvist explains. "And I think that's a lot to do with the design – it's pared down, with straight lines, and that gives it a feel that is very much classically masculine, which means that more men feel comfortable using the fragrance in their homes."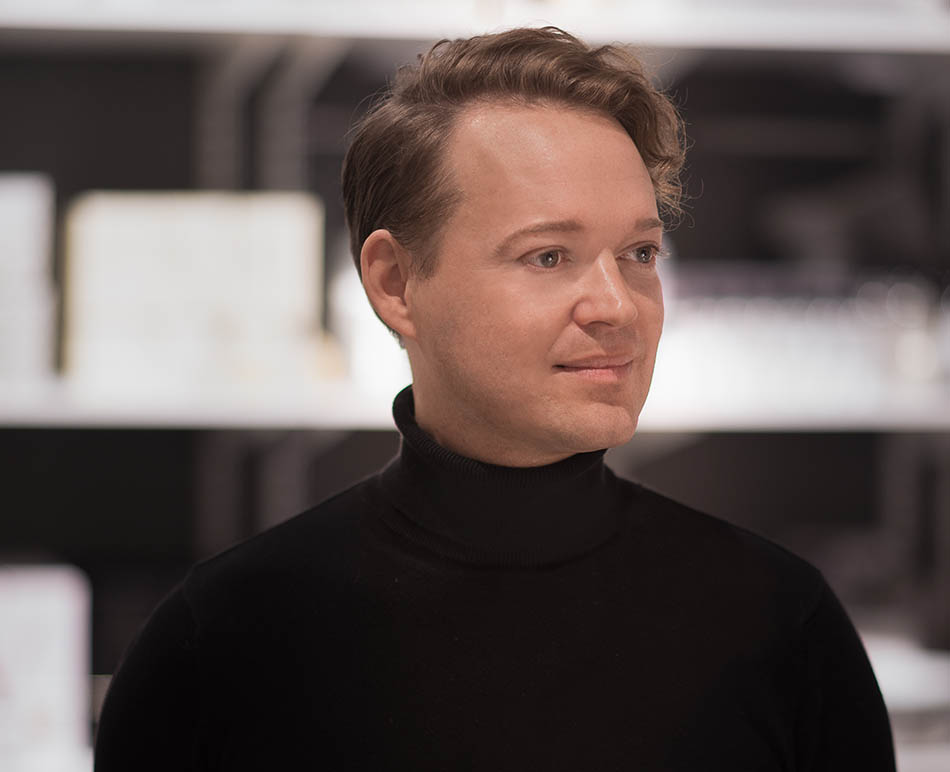 Design is, indeed, one of the pillars of the brand. On the one hand, the different fragrances have been developed both to create a feeling of wellbeing in a variety of spaces and contexts, and to complement different styles of interior design — tips and guidance on how to enhance the décor of a room through the optimal choice of scent can be found on the K. Lundqvist website. On the other, the elegance of the packaging ensures that a K. Lundqvist product is a piece of unique interior design in itself. "Lots of our customers have told us that they love the fact that these are actually beautiful objects that you can keep in their own right."
Followed, not following
One of the reasons that the brand's design stands out from the crowd is its rejection of generic trends. "I don't travel to other countries to see what other people are doing. Instead, my inspiration is very personal. It comes from my own thoughts and feelings, from the things I see and people I meet," he explains. It is, he adds with a laugh, "a little bit un-Swedish", but it has helped to ensure that the brand remains distinctive and authentic.
And maintaining the integrity of the brand is, in fact, something on which Lundqvist places great importance. While his fragrances are sold all over the world and used, for example, in Aquavit restaurant in London and in interior design shops in Dubai, and are stocked in the shops of the luxury design retailer Stockholm Limited in Hong Kong, he explains that he has also turned down the opportunity to partner up with major and prestigious department stores. Instead, he has recently begun a collaboration with IEMS, an interior design retailer based in southern and western Sweden, which Lundqvist says shares his philosophy of quality over quantity. "We're not a brand that's chasing around, trying to get attention. We're a brand that is sought out by others," he affirms. "We have our identity, we choose our partners carefully, and we never forget who our customers are."
This emphasis on innovation over imitation, as well as a desire to break new ground, is also behind K. Lundqvist's new collection, Statements, which was launched this autumn. "I wanted to do something a little bit different, something that stands out. It's nice to shock people sometimes," Lundqvist laughs.
The collection consists of a duo of exclusive, new fragrances combined with stunning, hand-blown glass vases, crafted by the glass artist Magnus Andersson, who works at Steninge glassworks. Norrsken (meaning 'northern lights') is inspired by the breathtaking natural phenomenon that is common in Lundqvist's hometown of Boden, near Luleå, and a homage of sorts to the beauty of his homeland of northern Sweden. Rebel, on the other hand, with its dramatic, dark tones, takes its inspiration not from nature, but from the soul, and symbolises the drive to be bold and unapologetically true to one's self. "You can't create a personality, you are who you are," Lundqvist argues. "That's what our brand is about, and our Statements collection in particular is an expression of that."
Web: klundqvist.se
Subscribe to Our Newsletter
Receive our monthly newsletter by email