Kidi: Furniture that will follow you from home to home
By Heidi Kokborg | Photos: Kidi ApS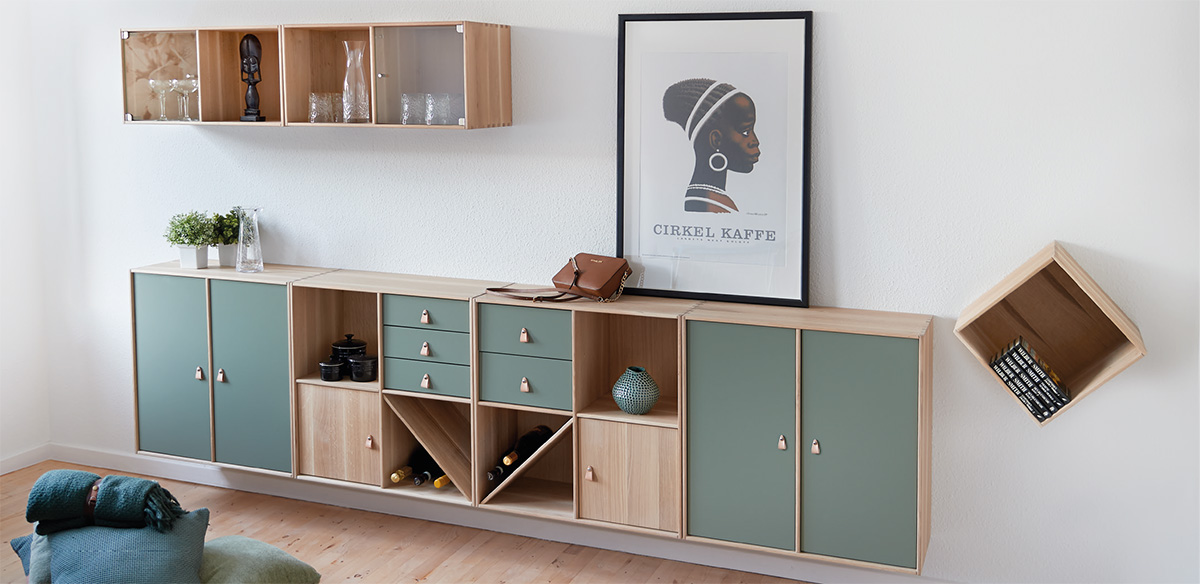 Whether you are looking for a beautiful cabinet for the living room, for a place to store your keys, purses and other essentials in the hallway, or a cabinet for your very first apartment in the city, Square Reolen is the perfect choice. The cabinets can be designed exactly to suit your specific needs and likes, and as your home grows bigger you can extend it with more cubes. Square Reolen is furniture that will follow you through life.
When the couple Flemming Didriksen and Kirsten Stilling founded Kidi more than 16 years ago, they had no idea that the company would become as wildly successful as it is today. From their signature Square Reol, they have expanded their collection to include a myriad of cabinets in different sizes and materials.
"We have two lines: Square Classic and Square Exclusive. Square Classic is a line of cabinets in both painted and solid wood, while Square Exclusive is a collection of sideboards, vitrine cabinets and high cubes in solid wood," says Kirsten Stilling, co-owner of Kidi ApS.
One of the most brilliant qualities of any Square Reolen cabinet is the fact that you can design and adjust it exactly to your liking. This means that when you grow out of your starter apartment, you can simply purchase more cubes. Tired of the colours you originally chose? No problem, you can always change the cabinet doors or drawers.
"If you get bored of the look, you can just change a few of the elements, like the doors or the handles, and the furniture is designed in such a way that you can easily do this yourself," Kirsten Stilling explains.
Bringing nature into your home
When you choose Square Reolen, you get high-quality furniture. In recent years, solid wood has become increasingly popular, and there's no wonder why. "Solid wood moves with humidity. When the humidity is high, wood absorbs moisture and swells. When humidity drops, wood shrinks. Choosing solid wood is literally like bringing a piece of nature into your home," explains Kirsten Stilling.
Kidi prides itself on an ability to always offer fast delivery and high-quality furniture. Moreover, everything from Kidi is delivered fully assembled and ready to be installed. All you have to do is decide where to put your new Square Reolen piece of furniture.
Kidi is sold in almost all furniture shops in Denmark and at the furniture chain Fagmøbler in Norway.
Web: www.kidi.dk
Subscribe to Our Newsletter
Receive our monthly newsletter by email