Klintholm Estate Lake Apartments: Immersed in beauty under the dark sky
Text: Camilla Pedersen | Photos: Klintholm Estate Lake Apartments
Visitors from all over the world are travelling to the Danish island of Møn, and with good reason. The extraordinary wildlife and the breathtakingly scenic nature now provide the backdrop to Klintholm Estate Lake Apartments – a previously historic estate that was recently transformed into a modern, minimalist apartment hotel with the purpose of bringing guests closer to nature, quite literally.
"My husband and I took over Klintholm Estate a few years ago, including this historic estate called Hunsøgaard. When we moved here from Copenhagen, we saw an opportunity to transform the worn-out building into a truly unique holiday destination immersed in nature, and with one clear vision: to bring our guests closer to nature," says Inger Marie Scavenius, co-owner and head of operations.
And that's exactly what the Lake Apartments do. Inspired by the look of a traditional Danish farmhouse, PLH Architects designed a long-winged house made of natural materials that effortlessly blend in with the surrounding landscape. The apartments are individually furnished with simple, Nordic design and a calming colour scheme, and all rooms have different works of art on the walls, inspired by themes of the surrounding nature – trees, flowers, fossils and birds.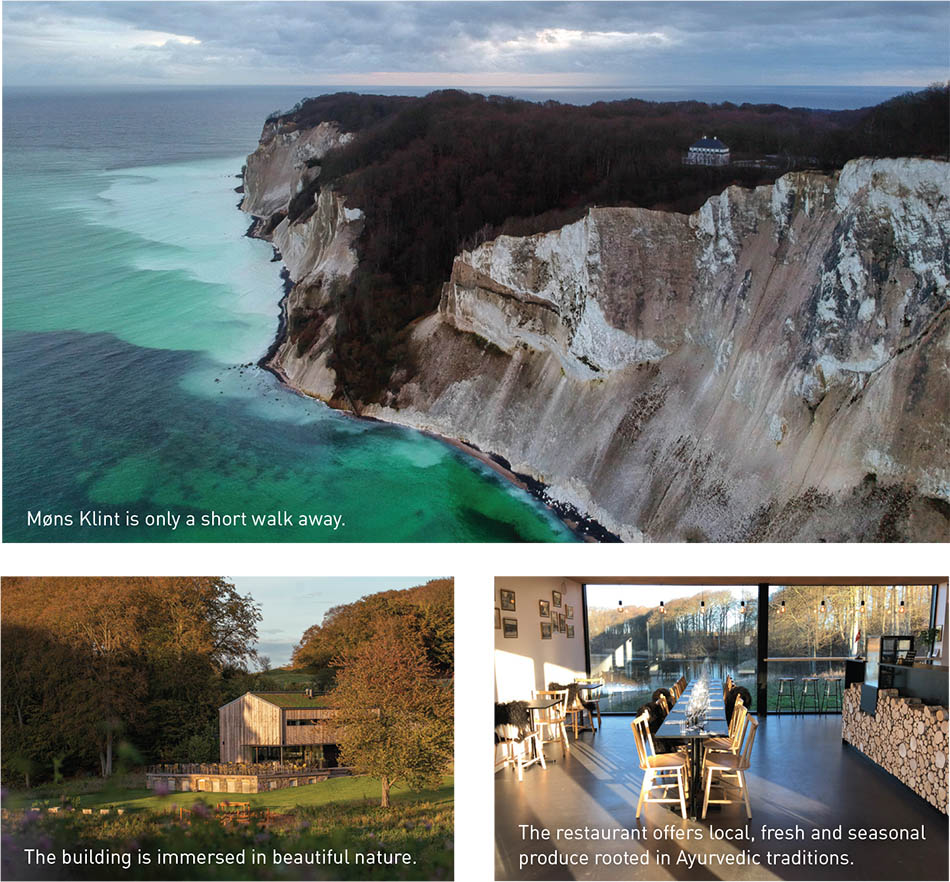 Simplicity in all its magnificence
"We want people to be immersed in the nature, even when they're in their apartment," says Scavenius. "Therefore, all the apartments have big panoramic windows that offer generous views of the night sky when it's dark – especially in winter – but also over the lake during daytime. It's such a magnificent view in all its simplicity. It demands your attention, and it's impossible to resist its magnetic and alluring effect. There are no disturbing elements, it's just the lake and the positive energy that flows into you as you take it all in."
And that is exactly what the couple behind the Lake Apartments want to achieve – they want to enrich their visitors, so that they feel recharged and inspired when they leave. "I believe this is achieved when you're surrounded by beauty. Beautiful things open you up, and that's what happens when you get inspired – you open yourself up to something new. This philosophy is inherent in everything we do and has defined the décor, colours, materials – everything. That also goes for the food, which is not only beautifully presented, but also nutritionally loaded. A healthy diet requires a lot of thought and is multi-dimensional. We treat our guests to healthy and delicious food that is rooted in Ayurvedic principles, while also incorporating the zodiac periods – an approach to food brought to life by our incredible chef, Nira Kehar, who has published a book about these exact cooking principles. It is a beautiful food experience that adds an extra dimension to our visitors' stay," Scavenius explains.
On a Dark Sky mission
The zodiac signs influence not only the menu, but also the overall concept of the Lake Apartments. "We're on a Dark Sky mission, and we try to incorporate the sky, the stars and the darkness into our concept. Møn has been a Dark Sky park since 2017, and more and more stargazers find their way here to experience the extraordinarily clear night skies and natural darkness," says Scavenius.
Another popular attraction in the area is Møns Klint, a six-kilometre-long stretch of chalk cliffs that is only a ten-minute walk away from Klintholm Estate Lake Apartments. "It's incredible to see how versatile nature is; each day offers a different look. But no matter the season, and no matter the weather, you can be sure that the beauty of it all is going to take your breath away. It's alluring, fascinating and inspiring," Scavenius enthuses. "And I'm not just talking about Møns Klint, but also the areas behind and around the cliffs. They are just as relevant, beautiful and interesting to explore. And that's what we encourage our guests to do – to go out and see, really see and take some deep breaths. If they're lucky they'll meet our grazing Hereford cattle. We take a holistic approach to grazing and rely on the cattle to care for and conserve our land. We have been able to preserve a long list of rare orchid species in our landscapes because of them, but also ants, butterflies, the list goes on. When grazing on rotation, cattle help remove carbon dioxide from the atmosphere, which makes the meat that is eventually served up in the restaurant CO2 neutral. This completes the circle – and to me, that's beautiful."
About Klintholm Estate Lake Apartments: Inger Marie and Carl Gustav Scavenius took over Klintholm Manor in 2016, an estate that has belonged to the Scavenius family since 1798. Klintholm Estate Lake Apartments offers eight fully equipped apartments, one of which is reduced-mobility friendly. The restaurant has a small farm shop with locally produced products and organic vegetables from the hotel's own garden. Klintholm Estate Lake Apartments is only a one hour and 40-minute drive from Copenhagen. Web: www.lakeapartments.dk Facebook: Klintholm Gods Lake Apartments Instagram: lakeapartments
Subscribe to Our Newsletter
Receive our monthly newsletter by email