Kosta Boda Art Hotel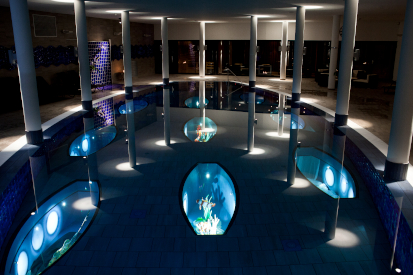 Pampered at Sweden's glass art hotel
TEXT: MALIN NORMAN | PHOTOS © KOSTA BODA ART HOTEL
Kosta Boda Art Hotel is not only an excellent hotel and award-winning spa, it also serves as a showroom for fantastic art by the designers at Kosta Boda glassworks. An explosion of colour and form awaits the guests, to stimulate both the mind and the body.
Located in Kosta Boda with its almost 300-year-old history of glass blowing, it comes as no surprise that the town's hotel also has something to do with glass. The glassworks was founded back in 1742 by Anders Koskull and Georg Bogislaus Staël von Holstein, two officers in Karl XII's army. Today, Orrefors-Kosta Boda glassworks is one of Sweden's most internationally known brands and the area is often referred to as the Kingdom of Crystal.
Kosta Boda Art Hotel opened in 2009 and is now an acclaimed showroom for glass, a successful and highly praised concept. "Glass is the common theme at the hotel, with rooms individually decorated with glass art from our fantastic designers at Kosta Boda," explains hotel manager Ulrica Olsson. "This is an exceptional environment and we are incredibly proud to carry on the tradition of the glassworks."
Unique glass art
Seven of Sweden's most famous designers from Kosta Boda glassworks, which is located just across the street, have contributed with glass art and textiles for the hotel's 102 guest rooms, corridors and meeting facilities. They can also be found throughout the hotel, including in the Glass Bar and the Art Lobby Bar, in the Linnéa Art Restaurant, and even displayed at the bottom of the swimming pool.
Clearly, the hotel is very proud of its collaboration with the artists, who have all added their own characteristic expression and created a unique environment for the guests. The list of prominent designers includes Anna Ehrner, Göran Wärff, Ulrica Hydman-Vallien, Bertil Vallien, Kjell Engman, Åsa Jungnelius, and Ludvig Löfgren.
All in all, the hotel showcases art for around 50 million SEK (around 4.2 million GBP) and everything is for sale, including artwork and furniture, and even small details such as glass tumblers. "It's easy for our guests to see how the glass and artwork can fit into their homes. And as they buy pieces, or perhaps because the designers want to include their artwork in exhibitions elsewhere, we replace them with new ones. This is a living showroom, constantly changing."
Five-star spa
A must-do at Kosta Boda Art Hotel is a visit to the five-star spa, which also showcases the fantastic glass art in its pools and facilities. Guests can get pampered from head to toe with a range of popular treatments, such as Art Glass Feeling and Art Glass Escape, with warm glass used. Both treatments have been named Best Spa Treatment at the Spa Awards. "Our signature treatments with warm glass are incredibly popular," admits Olsson. "And at the end of the treatment, you get an exclusive glass gift to take home as a memory." New this year is Hot Glass Massage, another unforgettable experience.
Kosta Boda Art Hotel has received numerous awards for its design and service. For example, TripAdvisor's Certificate of Excellence in 2016, 2017 and 2018, and thereby qualified for TripAdvisor's Hall of Fame. Amongst other prominent honours are Sweden's Best Design Hotel by Hotel Specials and the Big Tourism Prize, which is awarded in particular for innovation, internationalisation, quality and sustainability in Swedish tourism. "We have had a fantastic journey so far," says Olsson. "Our guests appreciate the individuality of the hotel and how we present the art. We have managed to put together a great mix of spa treatments, art and history from the area, in addition to excellent cuisine."
New brasserie
The hotel offers three different dining options for its guests; bistro, a la carte and fine dining. Last year, Kosta Boda Art Hotel introduced a modern brasserie with room for around 30 guests, who are welcomed to the rustic and intimate space by the crackling sound and warmth of an open fire. The brasserie also has an excellent wine cellar and an open-plan kitchen, where guests can watch the chefs at work.
Recently, Karim Khouani has been announced as head chef at Brasserie 1742. "It's exciting for us to have Karim onboard," says Olsson. "He has international experience and his two most recent restaurants have achieved one star in the Michelin Guide. Karim will continue our focus on putting Kosta on the map as a destination for good food experiences."
The entrepreneurial spirit of Kosta Boda is evident in the hotel's design, spa and innovative cuisine, but also in how the town has established itself as a destination. In addition to the famous glass-works, visitors can also explore nearby Kosta Outlet with 20,000 square metres of fantastic shopping opportunities. Kosta is a true hub for stylish glass and design, with plenty of opportunities to get pampered from head to toe.
Web: kostabodaarthotel.se
Facebook: KostaBodaArtHotel
Instagram: @kostaboda_arthotel
Subscribe to Our Newsletter
Receive our monthly newsletter by email