Kungsberget: A ski resort fit for royals
By John Sempill | Photos: Branäsgruppen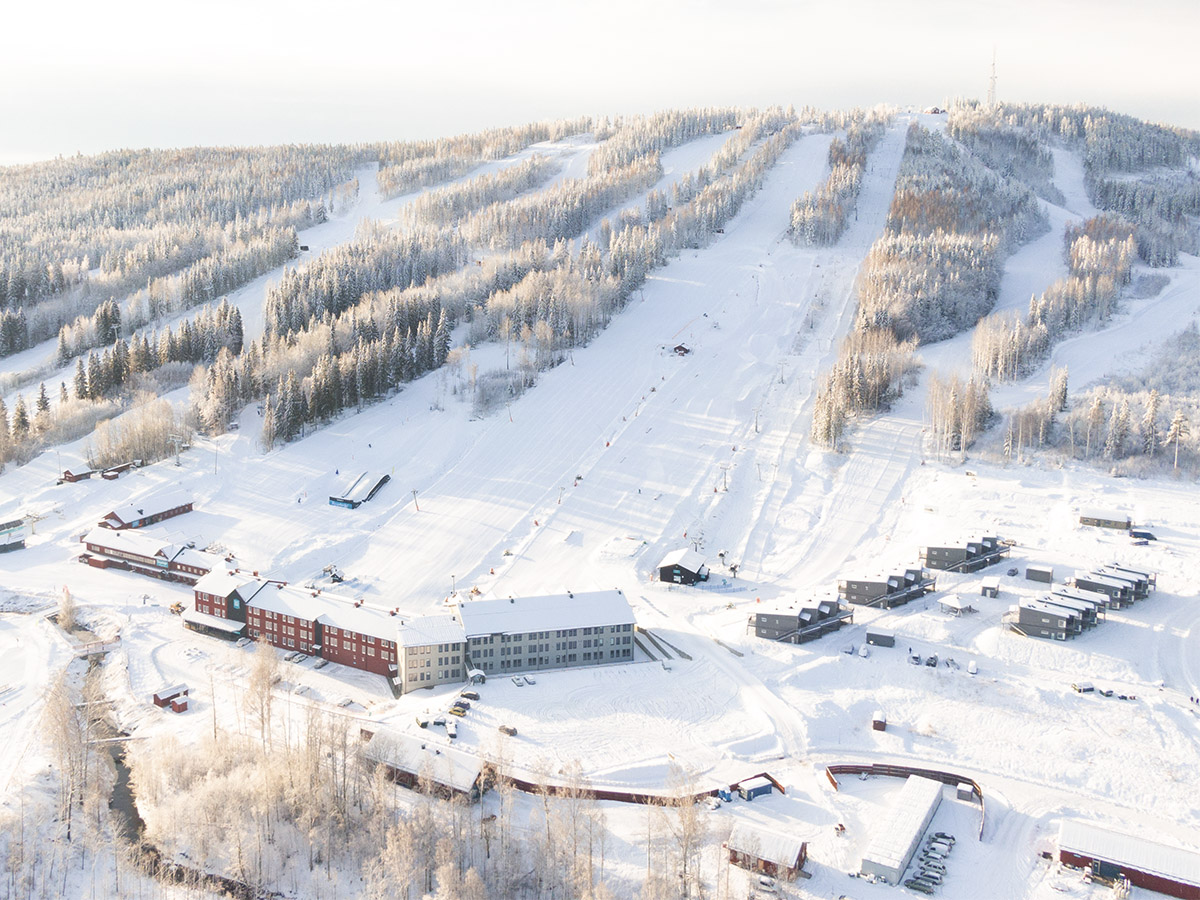 Kungsberget, Swedish for King's Mountain, is a ski resort that will meet your skiing needs several times over. And, at just forty minutes from Gävle and two hours' drive from Stockholm, this is one of the most accessible ski-getaways in the country.
Kungsberget's first slope is almost a century old. In the 1930s, a man named Johan Larsson embarked on a lone mission, cutting down trees and preparing the slope by foot, for his own skiing pleasure. That slope is still part of the resort and is fittingly named Johans Backe, Swedish for Johan's Slope. "His daughter still skis at Kungsberget and she is 82!" says Mikael Elford, head of sales and marketing at Branäsgruppen, the group that runs Kungsberget. "She keeps telling us each year it's time to stop, but then says, 'one more year'. She is a true ambassador."
The slope grew with the installation of the first lifts in the 1970s during the Ingemar Stenmark wave, when the famous World Cup Alpine skier stole the hearts of the Swedes – and the rest of the world. Kungsberget was run by the local community until 2007, when it was acquired by Branäsgruppen, who turned it into a modern ski resort. It received a total makeover with several slopes for everyone from beginners to experts, almost 3,500 beds, a supermarket, four restaurants and an eight-seat express lift. If that isn't enough for your Instagram stories, we don't know what is!
Slopes for every level
The resort is open from December to Easter and has something to offer all ages. "Our resort is perfect for families. We have something for beginners, but we also have great black pistes for those looking for a challenge. All the slopes land in the same area and the centre is relatively small where all the slopes join – it's basically impossible to lose one another," says Elford.
This gives a sense of closeness and security – ski on your own terms and meet up at the bottom and stay together, no matter the slope or time of day. "This is perfect for the family because you won't end up in another village altogether," adds Elford. "I was skiing abroad once and this happened to me!"
Swift and smooth rental service
Do you remember the long queues for the ski rental area? Thankfully, they are only bad memories now. At Kungsberget, you won't need to waste a minute standing in line for a set of skis. "Our ski rental service is run through a prebooking system," Elford explains. "You prebook and simply pick up your gear – it's not like in the old days when you would queue all morning. This system doesn't take longer than putting on a pair of skiing boots. It's all done on your phone beforehand, so you can spend more time on the slopes. We don't want our visitors queuing, we want them to enjoy their time skiing or eating at our restaurants."
Après-ski, done right
Speaking of restaurants, Kungsberget's dining spots have seen a complete overhaul in order to offer the best food and service. The culinary delights at the four restaurants make the perfect complement to a weekend getaway with the family, or business trip. "We have a new restaurant manager with several years' experience, and the kitchen and seating areas have been totally redone," says Elford.
After the food comes après-ski revelry. "It starts with a show for the kids with our mascots, Björnbusarna," Elford says. "They sing and dance for our youngest guests, and later, the après-ski starts for our adult guests." Plus, depending where you stay, you can unwind in a gym, sauna and brand-new spa.
When it's time to head back to your cabin, you might be lucky enough to see the Northern lights or spot a trail of footprints from the Swedish wildlife. If that doesn't tickle your fancy, you might enjoy seeing a star or two; rumour has it that the crown princess and her family often ski here. "We do have a lot of celebrities here, simply because we are not that far from Stockholm," says Elford. "It's become sort of a celebrity spot."
But most important is Kungsberget's service and facilities – where the focus is on making your stay as smooth as possible. "The time between checking in and getting onto the slopes is easy and quick," says Elford. "And all the living areas are right by the slopes. You never need to get in your car, everything is a stone's throw away. Time is expensive today – let's stop wasting it!"
Web: www.kungsberget.se
Subscribe to Our Newsletter
Receive our monthly newsletter by email