Kungsberget ski resort: Skiing holidays made easy at a modern resort
TEXT: MALIN NORMAN | PHOTOS: KUNGSBERGET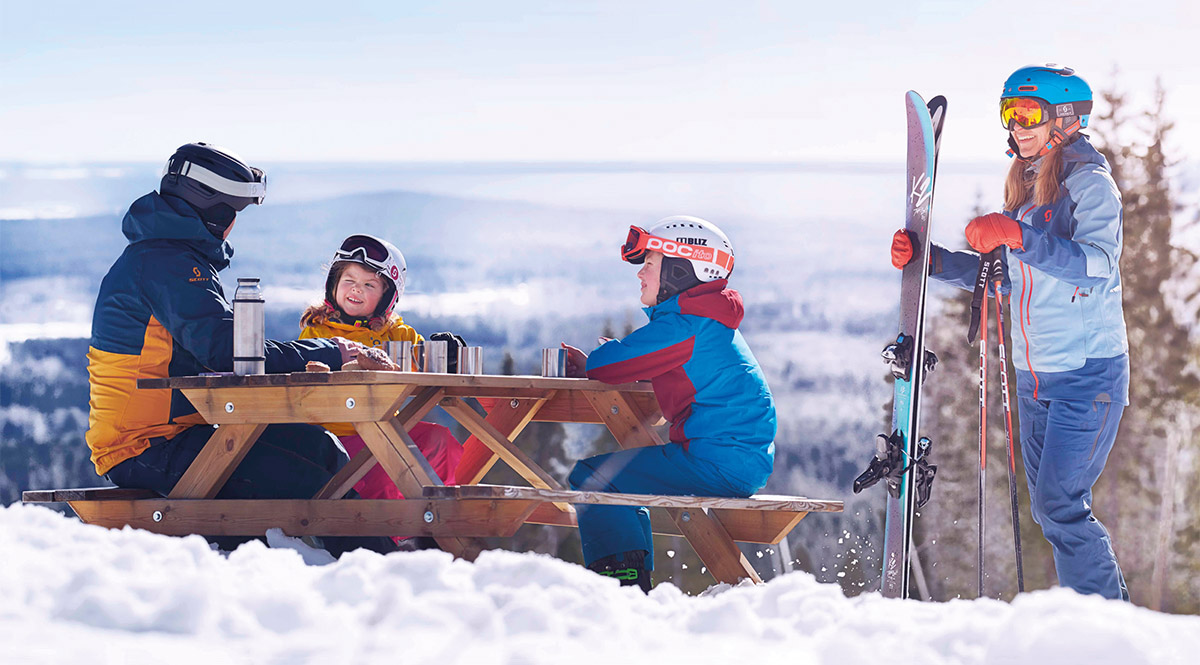 Located just two hours north of Stockholm, the modern Kungsberget ski resort offers everything to make skiing holidays easy and uncomplicated.
Kungsberget resort was previously a daytime facility but has been re-developed to boast modern, comfortable accommodation with nearly 3,000 beds, a sports shop and supermarket, ski rentals and activities, high-quality restaurants and take-away, and plenty of places to warm up and rest after a day on the slopes.
"Everything is easily accessible, also for the little ones," says Mikael Elford, head of sales and marketing at Branäsgruppen, the group that owns and runs Kungsberget. "It's a family-friendly and uncomplicated place, with everything you expect from a modern ski resort. You can take your car here, leave it by your chosen accommodation, and the slopes are really close by. We're just a short journey away and once you arrive, you can maximise your time here."
Great facilities and down-time
Kungsberget opens on 4 December and stays open until after Easter. The resort has 23 slopes and 14 lifts, including an eight-chair express lift – one of the most effective ski lifts in Sweden, which became a huge success when introduced a few years ago. Other popular spots are Kungsberget Snow Park and Big Air Bag, which is the perfect place for practising jumps and stunts with guaranteed soft landings.
Thanks to digitalisation and apps, with free Wi-Fi pretty much everywhere, there are few, if any queues, and also great places to sit for those who want to work remotely on their laptops. Above all, Kungsberget is hassle-free. "Life can be stressful these days, and when people go on holiday, we want to ensure that they have plenty of precious down-time with their family or friends."
An additional benefit of how close and handy everything is, Elford suggests, is that you can go skiing no matter how cold it is – because it is always easy to take a break and warm up with a hot drink. Saying that, his favourite time of year for skiing is towards the end of the season, after the mid-term break, called the 'sports break' in Sweden. "It's usually warm and sunny – skiing then is just wonderful."
Tasty food and magic carpet
There are great culinary options, too, including à la carte restaurant Fröken Filipssons, with a menu based on Swedish produce. At Karins, you can enjoy classic hamburgers and at Sofias, there are fabulously tasty pizzas. Ski Lodge is open for lunch and 'fika' – a perfect spot for chilling out by a warming open fire – and new this year is Fröjds Bar & Balkong, with a nice view of the resort. There are also convenient take-aways, and you can get food delivered straight to your cabin – all easily booked with the app Kungsberget Mat & Dryck.
Also new this year is a green slope, and the beginners' area has a new lift in the form of a magic carpet, where skiers stand on a moving belt. And as of this year, Kungsberget is also open during the summer months, with fantastic mountain bike tracks. More exciting plans are in the pipeline, reveals Elford. "We're building new accommodation, including around 100 cabins, and will have 10,000 beds in the future. There will also be a new slope going all the way down to the cabins and a lift on the southern side of the mountain."
Facts about Kungsberget ski resort: - Open 4 December 2021 to 18 April 2022 - 23 slopes and 14 lifts - Skiing on up to 1,700-metre-long slopes - 2,750 beds, ski-in/ski-out - Located 40 minutes from Gävle, one of Sweden's biggest cities Web: www.kungsberget.se Facebook: kungsberget Instagram: @kungsbergetskidort
Subscribe to Our Newsletter
Receive our monthly newsletter by email