Lalandia: An all-year tropical holiday close to home
By Thomas Bech Hansen | Photos: Lalandia
The Lalandia water parks in the Danish towns Rødby and Billund guarantee fun-filled family adventures all year round – and it feels just like the Caribbean.
The Aquadome, as Lalandia brands its indoor world of water fun, offers plenty of tropical atmosphere all year round and is a paradise for the whole family. In fact, the Aquadomes in Rødby and Billund are Scandinavia's two largest waterparks. "We offer a warm holiday close to home but far from everyday life. Our aim is to offer the best experience to families that Scandinavia has to offer," explains Jan Harrit, Lalandia's Executive Director.
Visitors can move freely between the indoor and outdoor pools, and even in the winter months it is a great experience to swim outdoors. The pool remains at the same pleasant temperature even when it is freezing outside. At Lalandia in Rødby the outdoor pool is 140 cm deep and is heated in an environmentally-friendly way using the excess heat from the ice skating rink.
"Town under a roof"
"It is great to be able to offer the warm holiday experience year-round, not least here in our region where the winter is long and dark. We want to give families the chance to enjoy a bit of quality time together," says Harrit.
When visiting Lalandia you stay in a holiday house, each with its own patio, with access to the Aquadome plus lots of activities nearby, like a sports hall, a gym, trampolines, climbing walls and a skiing slope – as well as many shops and themed restaurants. According to Harrit, it is "like a town under a roof".
"When families come to Lalandia, they often seek an active holiday where togetherness is achieved through shared, fun events. The Aquadome is a large indoor water world. It features just about everything you can think of in terms of water fun."
News for 2015: fun inventions
Both of the two Lalandia locations are constantly looking for ways to create new and exciting possibilities for their guests. This spring, for instance, Lalandia in Rødby will be expanding with the new "Aquasplash" – an indoor water playground. "It is right near the slides and the waterguns, and basically, it is a very big bucket that splashes water over you. There is a lot of playfulness in our ideas," says Harrit.
At Lalandia in Billund, guests can experience the new Wild River water slide, which is open year round and offers 167 metres of rushing water and scintillating twists and turns. Jan Harrit explains how it works: "The tour starts in the Aquadome and then takes you out into the open. Midway on the journey you can either float across a new outdoor pool or continue back into the Aquadome." The new Wild River will open in May 2015.
At that time, visitors can also look forward to more bathing fun under open skies. The popular outdoor area with sun loungers and a spa pool at the Aquadome will be extended to create even more room to sunbathe and relax outdoors, weather permitting. Here you can enjoy the warm waters of the large spa pool, or swim and play in a brand new outdoor pool – also heated year round.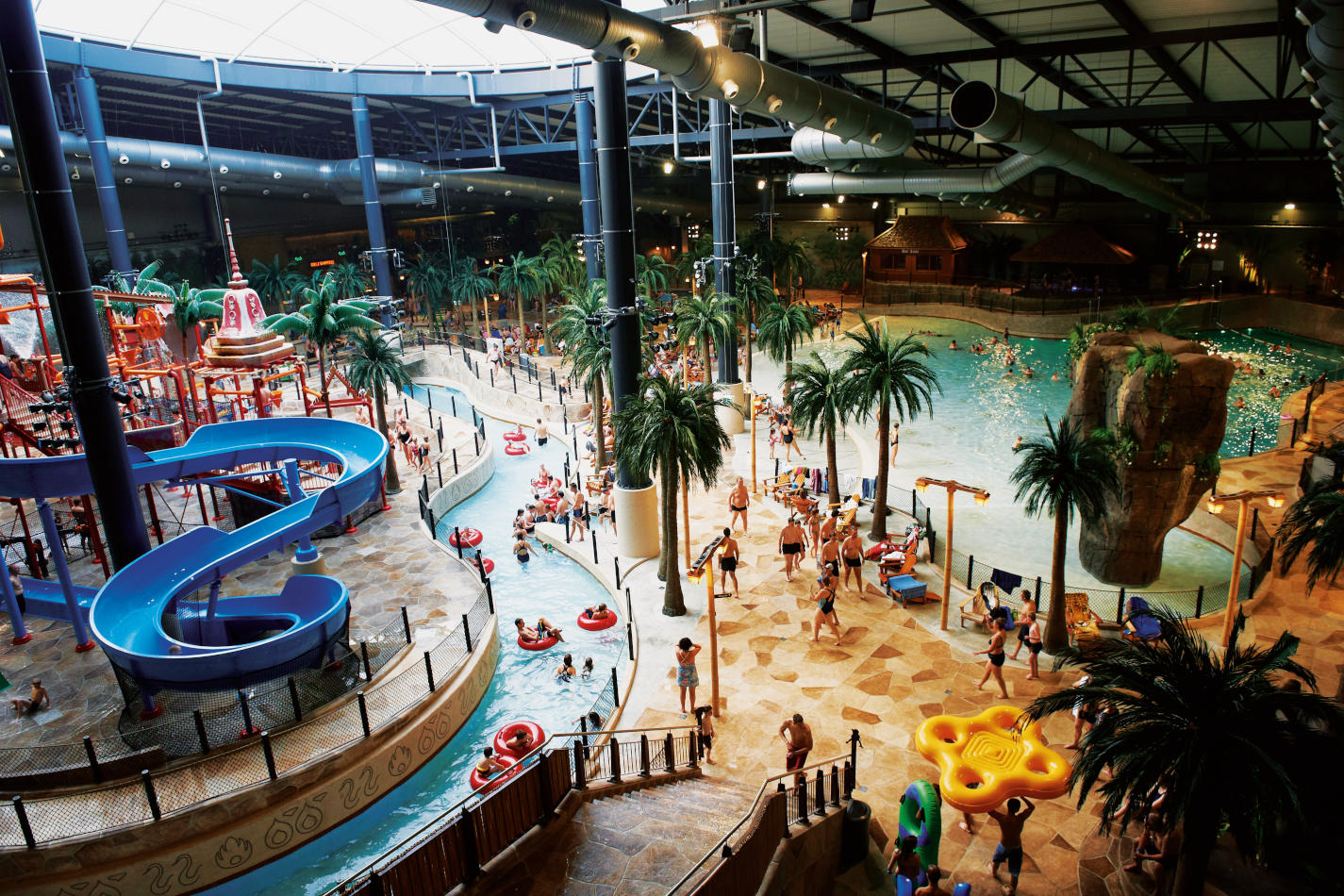 Free access
Once you have ordered your holiday at Lalandia, you do not need to worry about how much money you have in your pocket when visiting the Aquadome, which is the hub of the tropical holiday centre. Free access to this huge waterpark is available to all members of the party booked in your holiday home. And to the Lalandia centre itself there is free access for the public.
What is included in the price? Your Lalandia package includes: - A stay in a holiday home with your own terrace - Entry to the Lalandia Aquadome - Entry to the Monky Tonky playland - Various entertainment shows on the stage - Final cleaning in the holiday homes For more information please visit: www.lalandia.dk
Subscribe to Our Newsletter
Receive our monthly newsletter by email