Lapland Resorts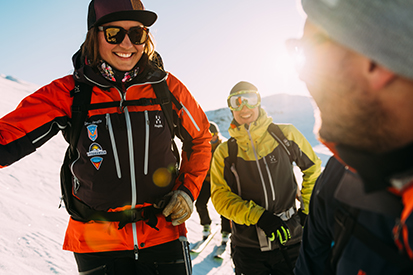 On the doorstep to wilderness
TEXT: MALIN NORMAN | PHOTO © LAPLAND RESORTS
Two of Sweden's most well-known and spectacular winter destinations belong to the same family. Lapland Resorts offers great variety for the upcoming ski season, for families as well as more adventurous skiers.
Lapland Resorts runs two of Sweden's best ski destinations, Björkliden and Riksgränsen, as well as the country's highest mountain station, Låktatjåkko. According to marketing manager Per Jonsson, "with our variety, you will get a winter holiday out of the ordinary. People come here to see the mountains and their magnitude, for real and without the crowds."
Björkliden is a beautiful resort located amongst mighty mountains, a true winter wonderland literally on the doorstep to wilderness. It offers great skiing for the whole family, with some 23 pistes of varying difficulty, a range of other exciting activities, and good food. For young skiers, there is a kids' ski school and a popular mascot entertaining them on the slopes, and only nine kilometres away, is Låktatjåkko mountain station, which is accessible with Cat ski. Here you can also check out Sweden's highest-located restaurant and bar.
Riksgränsen is the northernmost ski resort in the country, and with a long tradition of skiing, in particular off-piste, it attracts skiers from all over the world. It constantly offers new challenges and is ideal for the more advanced skier. With heli-skiing and similar activities, you can add even more adrenaline to your holiday.
"Travel in an eco-friendly way by train from Stockholm, which brings you to the centre of both villages," says Jonsson. "And stay in one of our ski-in/ski-out accommodation alternatives right next to the ski slopes, so that you can step outside in the morning and hit the slopes straight away."
Subscribe to Our Newsletter
Receive our monthly newsletter by email