Las Brasas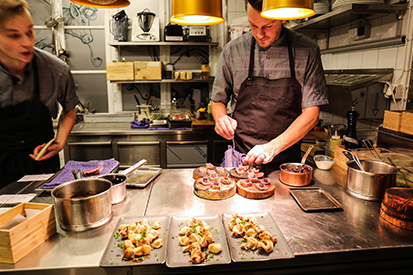 Tapas with a different beat
TEXT: LIZ LONGDEN | PHOTOS © WWW.POST-MORTEM.SE
Offering innovative flavour combinations, a combination of seasonal Swedish ingredients and global influences, and a grill serving world-class meat, Stockholm's Las Brasas, which opened its doors in September last year, is a long way from your typical tapas restaurant.
Whatever comes to mind when you think of the word 'tapas', it probably is not frogs' legs with chimichurri and grated cauliflower, or Wagyu sliders with truffles and Comté cheese. How about tartare of Swedish calf, with baked egg yolk and avruga caviar? Yet these are just a small selection of the dishes that can be sampled by visitors to Las Brasas, the Stockholm restaurant with a new take on the classic Spanish appetiser. "It's tapas, but without limitations," explains Andreas Johansson, co-owner and head chef. "We want to push the boundaries and create new combinations that surprise and maybe challenge a little bit."
In addition to Las Brasas's next generation of tapas, the restaurant also has a grill and prides itself on serving up the highest-quality meat. "Most people come for the tapas, but we're incredibly proud of the meat we serve too. It's pretty unique," Johansson says. "We serve a Swedish entrecote, for example, that no one else in Sweden has."
Las Brasas is an exciting new venture for Johansson and his co-owners, but the team are no dilettantes when it comes to Spanish and Latin American cuisine. They cut their teeth a decade ago with the restaurant El Diablo, which established itself as one of Stockholm's hottest hang-outs, and the adventure has continued with the Spanish-inspired Bar Nombre, which lies just around the corner from Las Brasas.
So what is it about Iberian and South American dining that fires Johansson's imagination? "We love the flavours, and the possibility of being able to experiment, of course, but we also really like the culture of tapas — the whole idea of sharing food between friends just feels really nice. It's a bit more accessible than traditional fine dining." Accordingly, in place of white tablecloths, Las Brasas' dark and intimate décor is accented by splashes of colour and atmospheric lighting. Loud music and a lively bar — which caters for drop-in guests as well as diners — also help to create a unique, laid-back atmosphere. "Our aim is to create a place where the focus is on simply enjoying great food with friends, without the formalities," says Johansson. Judging by Las Brasas' full tables, it sounds like a recipe for success.
Subscribe to Our Newsletter
Receive our monthly newsletter by email