Lillagunga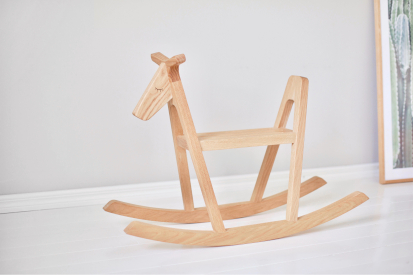 Reinvented classic toys, made in Finland
TEXT: SOFIA SCRATTON | PHOTOS © LILLAGUNGA
Lillagunga started from something broken. Founder Anton Stenfors wanted a swing for his two sons and bought them a standard plastic swing, as that was the only type he could find. Unfortunately, in no time, it broke.
Stenfors returned to the shops to look for a practical wooden swing with longer durability, but the wooden swings he knew from his own childhood were just not available anymore. He went home empty-handed and decided to build his own swing, using a piece of wood and the rope that was left from the broken plastic swing. That is how the idea of Lillagunga (meaning 'little swing') was born.
Lillagunga launched in 2013 with their classic wooden swing and a vision of bringing reinvented wooden activity toys to the market. The Classic swing is suitable for both indoor and outdoor use and has a patented mechanism for adjusting the height of the seat.
Since its launch, Lillagunga has developed a collection of high-quality, beautifully designed products for all the family, which has since been shipped to happy customers all over the world: swings for adults, children and toddlers, as well as gymnastic rings and a rocking horse. All the products are made in Finland and made to last.
"Our products will be used by our customers' children and maybe even their grandchildren," says Stenfors, explaining that the company's mission is to encourage children to be more physically active, something he believes is increasingly important at a time when children are spending so much time on gadgets.
Lillagunga's wooden swing and other toys can be purchased from the web shop as well as listed retailers.

Web: lillagunga.com
Facebook: Lillagunga
Instagam: @lillagunga
Subscribe to Our Newsletter
Receive our monthly newsletter by email