LPO architects: Lilleakerbyen – a new, vibrant and sustainable district in Oslo
By Hanna Andersson and Alyssa Nilsen | Photos: LPO and A-lab
The construction industry is behind 40 per cent of greenhouse gas emissions, waste, and the use of energy and material resources. At a time when we know how important sustainability is to preserve our planet for the future, LPO architects aims to change the game through new ways of reusing old materials, turning old into new.
The Oslo-based architecture firm has already transformed large spaces such as Vervet in Tromsø, and Vulkan and Sørenga in Oslo. From old, run-down and unfriendly areas filled with traffic, storage containers and very little to offer visitors, LPO architecture has turned them into vibrant spaces filled with people, culture, restaurants, arts and life. They've become tourist destinations and sought-after residential and social areas – places people want to live in and visit.
The vibrant Lilleakerbyen
One of the firm's current projects is at Lilleaker, a part of greater Oslo, right on the border between Oslo and Bærum. This area has an old industrial history, but today it's defined by offices and a dark shopping centre completely disconnected from its surroundings. The project, dubbed Lilleakerbyen, aims to tie the two suburban parts of the city together and create a lively district for both living and working.
"The project was commissioned by family-owned company Mustad Eiendom and developed in collaboration with Civitas, A-Lab and Leonard Design. The intention is to cultivate the identity and distinctiveness of the area, turning it into a lively, welcoming and accessible place filled with residential housing, commercial trade, working spaces, sports and culture – a community with great living spaces and social arenas."
"Lilleakerbyen will be a destination, a place people would like to visit. We want to create a district of Oslo that is vibrant and full of life both day and night," says Hilde Lillejord, communications advisor at LPO.
Part of the project vision is about opening up the shopping centre, moving the shops outside and into classic pedestrian streets with restaurants, cosy cafés and parks. To achieve this, traffic and deliveries to the shops are moved underground, leaving the green pedestrian zones completely car-free.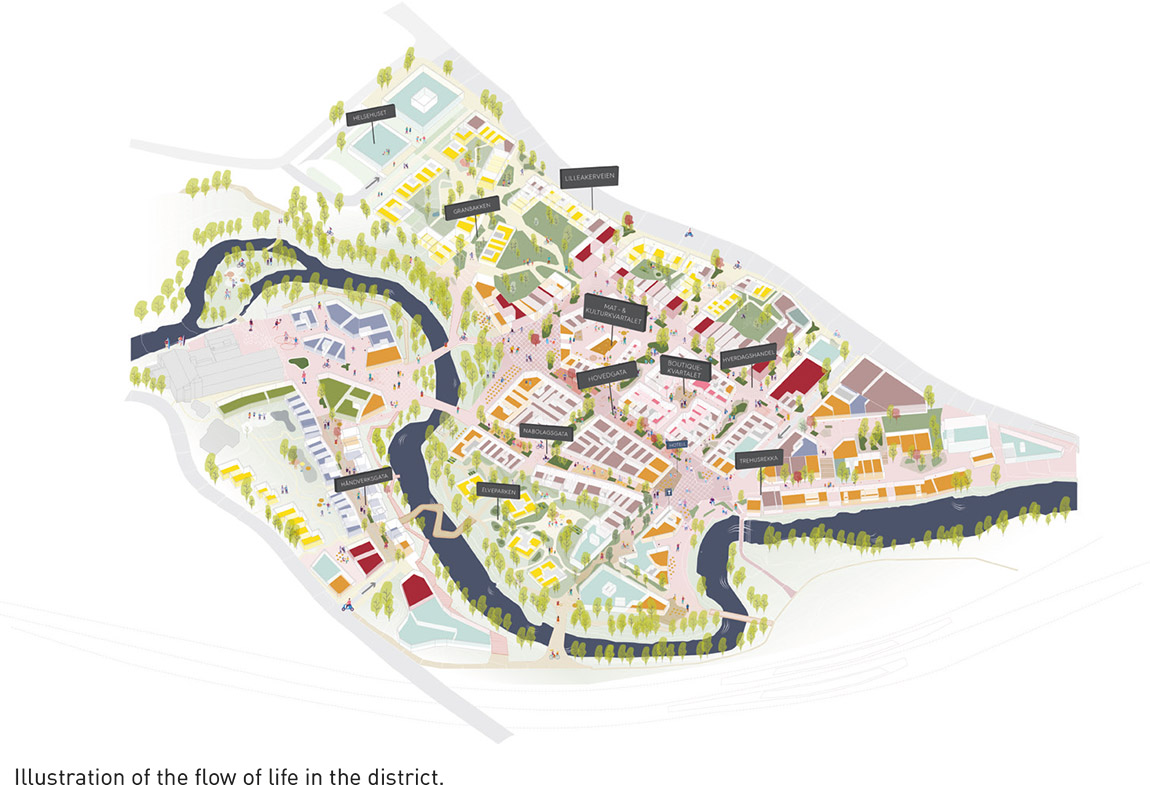 Making sustainability a priority
For the project team, the environmental sustainability of the building process is the top priority, along with limiting the level of CO2 emissions. As much of the original building material as possible is kept and reused, whether a building is being demolished, rebuilt or otherwise transformed.
"If brand-new materials are necessary, we seek to use sustainable sources and materials with a low environmental footprint, low maintenance and high durability," says Lillejord.
Another key priority has been that any new building mass should consist of materials that can be reused in future reconstruction. In addition, the project team is continually researching, exploring and utilising new methods and materials to reduce their impact on the climate. The aim is a 50 per cent cut in energy emissions, focusing on new solutions in materials, transport and ways to produce energy.
The architectural solution will be based on the area's industrial history and will bridge the past and the future. "The team was inspired by the industrial history, but the main goal is to create architecture that has a long life span. This will highlight the historical heritage, yet the architecture will always reflect the era in which it was created," says Lillejord.
Lilleaker is located near the transport hub of Lysaker train and bus station, providing easy access from the surrounding areas. A new subway line out of central Oslo, Fornebubanen, is under construction and a subway station at Lilleakerbyen is part of the plan. "This way, the project can facilitate an area where the preferred method of arrival will be public transport, walking and cycling, rather than by car," Lillejord adds.
The project aims to facilitate social interaction between people of different aspects of society, with lots of accessible social arenas such as the river bank of Lysakerelven as well as new public squares. Buildings will actively define the streets, and the ground floors will feature functions that bring vibrant city life to the area.
As such, Lilleakerbyen is sustainably creating a vibrant and colourful district, boosting people's quality of life – a good place both to live and to spend time in.
Location: Oslo, Norway Team: LPO architects, Civitas, A-laband Leonard Design Client: Mustad Eiendom Number of new apartments: 2,300 Total gross area: 430,000 square metres Construction start: 2022 Read more about Lilleakerbyen at: Web: www.lilleakerbyen.no/livet-ililleakerbyen/ Web: lpo.no/prosjekter/lilleakerbyen
Subscribe to Our Newsletter
Receive our monthly newsletter by email