Luleå: magically magnificent winter splendour
By Astrid Eriksson | Photos: Fredrik Broman
To most of us, ice is nothing new, but you have never seen it like this before. Dressed in a white robe made of ice and snow, Luleå is a magnificent landscape of crystal glittering splendour. The winter delights are many and astonishing as the city invites visitors to take part in what can only be described as frozen magic.
Wintertime tends to make all of Scandinavia a little more magical. The snow and frost light up the dark season while outdoor activities are at your disposal at (almost) any time. But Luleå goes the extra mile to really highlight the beauty of the winter.
"There is something special with ice," says Karin Åberg, Communications Manager at Visit Luleå, "and frozen water like this is not something everyone can take for granted."
Surrounded by water, Luleå in the north of Sweden is annually turned into a grand arena for winter activities. Every year since 1986 the City Park has been decorated with enormous ice animals from the local fauna. Part decorations and part slides, the animals are an addition to the park appreciated by both young and old. This is a good example of how ice is incorporated into the everyday of the Luleå winter. "We are a bit spoiled by it," Åberg admits. "The frozen lakes and the winter forests are merely a stone's throw away from the city's wide range of shopping, events, hotels and restaurants."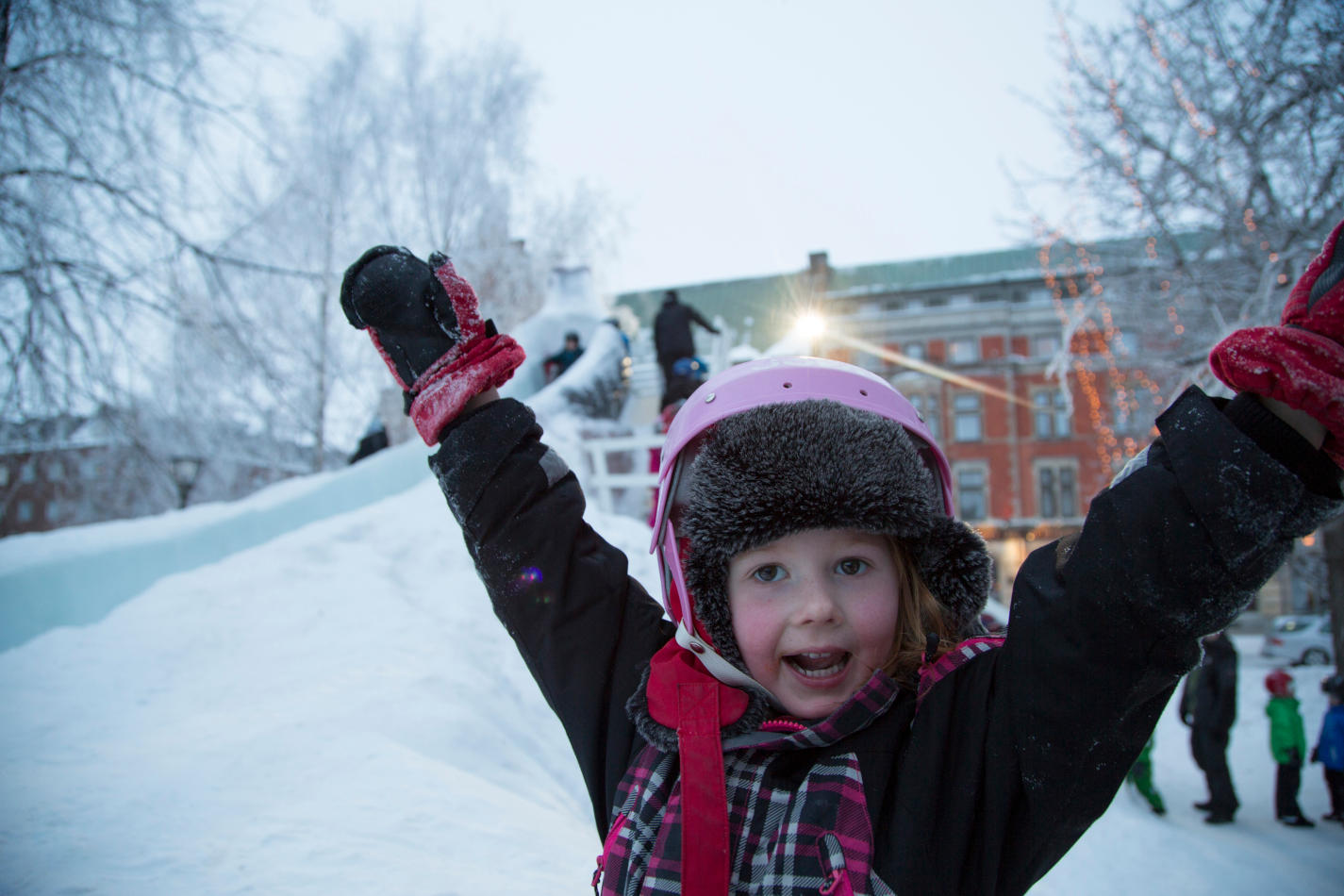 Ice music and ice driving at its most extreme
Indeed, Luleå offers a lot of unique and exciting activities for those inclined to experience culture and other activities a bit differently. In the nature-rich park Gültzaudden you'll find a specially made concert hall built out of ice and snow. Inside, instruments of the same material are played on to the delight and fascination of the many visitors. "There is only one way to find out what an ice-violin sounds like, and that's here," Åberg says proudly. So fragile and delicate due to the material, they hang in safety strings from the ceiling. "Should one of the musicians drop them, the instruments would shatter into thousands of irreparable pieces." This special concert event has been gaining Luleå a lot of international attention. The sheer idea of making music out of ice is captivating – and the vast repertoire of the musicians is a never-ending feast of entertainments. Here, you are welcome to enjoy rock, folk and classical music in different and beautiful arrangements.
The ice is a big part in everyday Arctic life. In the frozen archipelago, roads are ploughed and prepared to serve both visitors and residents. Driving, walking, skating, cross-country skiing or making your way on a snow mobile or behind husky dogs – the possibilities for joyous transport are many and the roads are sure to be a good place to meet other people, socialise, and relish the beautiful winter land. Ice makes Luleå shine and the residents come to live like nowhere else.
If you are in the mood for something more daring and speedy, Luleå offers an extraordinary experience along with Ice Driving Institute by Tinseau. A racing track, an exact replica of the legendary French Le Mans, offers you the chance to drive a fully fitted and specially equipped Porsche and get a special course in how to manoeuvre the vehicle in these extreme weather conditions. A professional instructor is at your side every step of the way. If you are more into experiencing the speed rather than creating it, a passenger ride is an easy fix.
For the culture vultures a UNESCO World Heritage site is to be found in Gammelstads Kyrkstad just 15 km from the city centre. This is where Luleå was once founded.
One of the fastest developing cities in Scandinavia
Luleå is a city with a high competence and a knack for attracting a wide range of national and international businesses. In recent four years the city has seen an astonishing increase in restaurants and hotels. Local businesses are growing, expanding and flourishing. When social media giant Facebook decided to open the first server room outside the USA they decided to do so – that's right – in Luleå, thanks to the cold climate, low energy costs and highly educated residents. This Nordic city, known for its high standards in education and technological advancements continues to grow its presence on the international arena. With the airport a mere 15 minutes from the city centre and an increase in hotels and conference facilities, Luleå is quickly becoming a favourite for businesses looking to spend some company time away from home.
Luleå is a grand city, ready and able to provide you with whatever your heart desires. And, with the beautiful winter scenery located literally just around the corner, the uniqueness of your stay will be undisputable.
For more information, please visit: www.lulea.nu
Subscribe to Our Newsletter
Receive our monthly newsletter by email