Malling Living: Setting the table à la New Nordic
By Miriam Gradel | Photos: Claes Bech Poulsen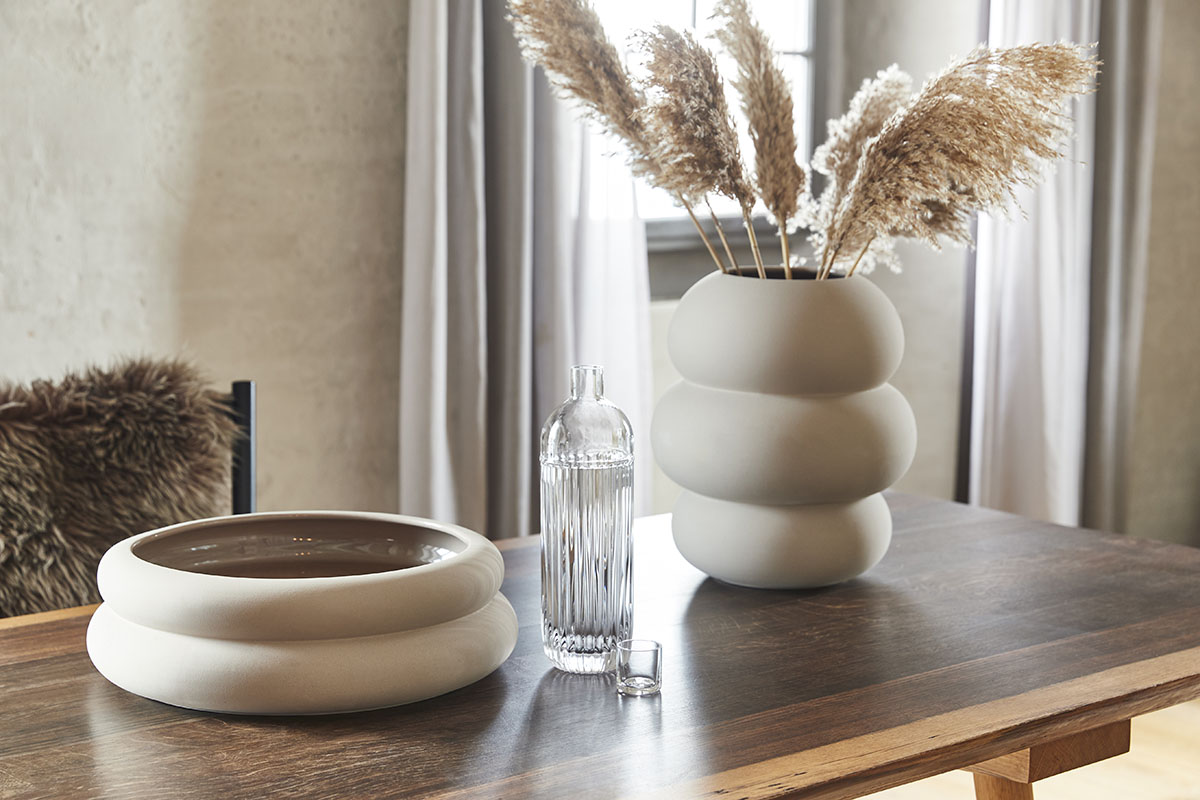 At Malling Living, lenient and functional designs allow for purpose and personality to be combined in the living space. Born out of the Danish hospitality scene, Malling Living aims to create timeless and highly durable designs that can easily be mixed with other items to match desires, needs and individualism.
Rather than being a creative expression, Danish design is a mindset; an idea of form, function and simplicity that can be found in numerous contexts throughout public and private life in Denmark.
It is also a mindset that, over the past two decades, has shaped the Danish food scene, transforming an undefined restaurant and kitchen industry into a global trendsetter. "We've improved a lot within gastronomy in Denmark, and the interior design is part of that," says Rikke Malling, professionally trained waiter and sommelier, and the owner of Malling Living.
A glass that can stand the test of time
When Rikke, together with her husband and chef, Thorsten Schmidt, opened Malling & Schmidt restaurant in 2005, "all Danish restaurants were getting their interior and utensils from the same two companies," she recalls. Back then, the New Nordic culinary movement was still in its infant years. No matter where you dined in Denmark, white plates and tablecloths complemented the classics of the French kitchen that made the foundation for culinary training and table setting at the time.
But at Malling & Schmidt, Rikke wanted to do something different. Having grown up in a family of architects, it made sense for Rikke to take the creative ideas from her mind and simply manifest them herself. "I started drawing and designing the interior. My husband also loved designing the plates, and if he came up with a new dish, he would create a plate for it. As such, it was always different at our restaurant," says Rikke. "Designing the inside of the restaurant was always a big part of what I loved about my work," she recalls. "Our guests used to say it felt like they were invited 'home' to us for dinner."
Today, Malling & Schmidt is no more. But at Malling Living design studio, Rikke remains inspired by the hospitality industry, creating multifunctional and durable designs. Some have organically made their way into acclaimed venues across Denmark, such as the 50 Best Discoveries restaurant Iluka. Others have been custom designed for Restaurant Barr in Copenhagen, owned and run by Rikke's husband. This is also where the Malling Living Bar Glass came to be. Originally designed to withstand the temperature of the perfect espresso, the organic shape and neat size of the glass makes it an equally appropriate vessel for a Gin Sour cocktail.
Timeless functionality
Like many Danes, Rikke grew up with the timeless Danish design classics adorning her family home – furniture that is still in the family's possession today. "In Denmark, we take it close to heart that our homes present themselves neatly and decluttered, yet personal. That is 'hygge', and that's also why we don't replace items so often," says Rikke.
That is also the case with Malling Living products. "It's important to me that there is quality in the design so that the piece endures and can stay with you for a long time," says Rikke. "90 per cent of our retail takes place online, where you can't feel the quality. That's why we make sure that everything we make is first tested in the restaurant, before we release it out. It's our stamp of quality."
But hospitality is not the only industry Malling Living gets its inspiration from. Rather than releasing seasonal product lines, Rikke likes to turn creative ideas and requests into multifunctional designs. Take, for example, the 170-centimetre-tall clothes rack designed for a friend's apartment in collaboration with a fashion PR agency. Besides having a simple and easy-to-match design for the home, the clothes rack can also fit a small podium for use in retail. According to Rikke, "designing with, rather than for, the customer makes the creative process even more interesting".
A canvas for your own personal expression
Focusing on a neutral expression with materials such as steel, clay, glass and brass, Rikke aims to design pieces that can be incorporated into any setting, regardless of the colour palate, prior décor or existing mood. "When something is minimalistic, I find that it is easier to mix and match and play around with your home's interior expression," says Rikke.
There is also an aspect of wellness in design. And according to Rikke, just like the time and effort put into personal well-being, "design should be an investment; not a one-off purchase".
Web: mallingliving.dk Facebook: MallingLiving Instagram: @mallingliving Pinterest: @mallingliving/_created
Subscribe to Our Newsletter
Receive our monthly newsletter by email