MAP Arkitektar: 'We're but a mere footnote'
Text: Signe Hansen | Photos © Map Arkitektar
Inspired by the powerful nature and distinct culture of the Faroe Islands, MAP Arkitektar is behind a number of noteworthy projects in its home country. While working to mitigate the unique challenges of the small, remote island nation, the firm keeps the people and communities at the heart of what it does.
Founded in 2002, MAP Arkitektar is today headed uby two of its founding partners, Rúni Abrahamsen and Heidi Hjalgimsdóttir Poulsen. Educated in Denmark and with experience from design studios abroad, the two architects shared a desire to create a Faroese architectural design company with the capacity to take on projects of major scale and complexity. But despite the founders' experience from abroad, it is the Faroese nature, weather and culture that serve as the never-ending source of inspiration for designs, says Poulsen. "The powerful forces of nature around us are a constant reminder that we are but a mere footnote in a much grander design, which demands a humble approach to the footprint we as humans attempt to leave behind."
Nonetheless, as it has succeeded in the founding ambition of taking on projects of all scales, the firm has undeniably left a footprint worth noting. Among recent projects are the renovation and expansion of Løgtingið, the Faroese Parliament, as well as the expansion and modernisation of the national football stadium.
Special challenges
Working in the small and remote island nation not only provides exceptional inspiration but also a number of practical and logistical challenges. To ensure that none of these become hindrances in the realisation of a design, the basis for all MAP Arkitektar projects not only includes a complete analysis of the purpose of the building, but also of the topography of the site, and the sun and wind conditions. "We also conduct background research to reveal any relevant material or immaterial issues that might impact the project. One persistent challenge is to adapt the construction to existing Faroese building expertise. We have to match our construction methods to local competence and knowledge," explains Poulsen. "Generally speaking, Faroese craftsmen are generalists, not specialists. Moreover, all the building materials must be shipped in from afar. Therefore, a more conventional solution, such as the on-site pouring of concrete, is often cheaper and more expedient than bringing in pre-fabricated building elements."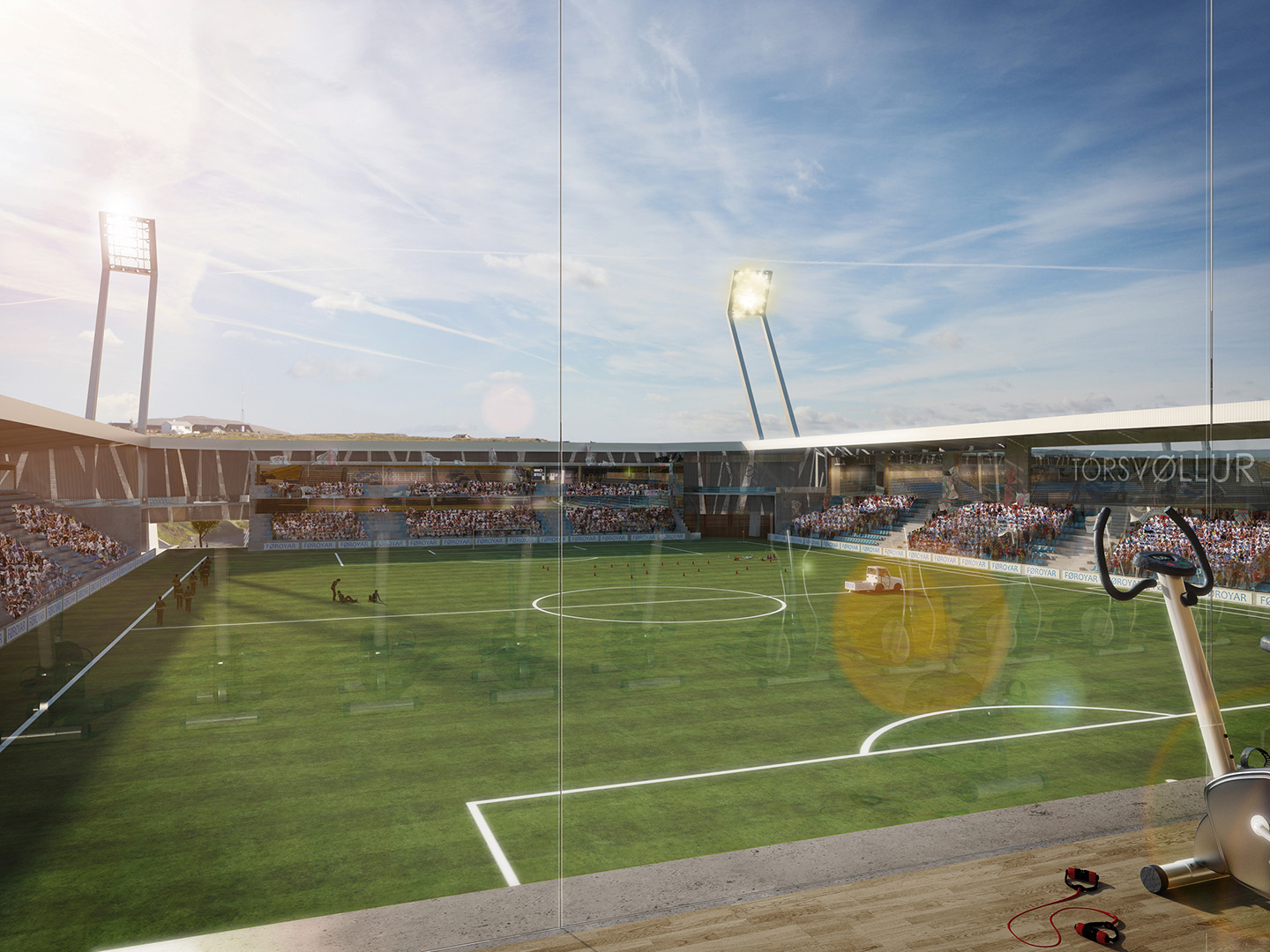 Materiality and people
The focus on using local materials for both practical and aesthetic reasons is also evident in two of the firm's recent renovation and expansions projects: the Faroese Parliament and the Tórsvøllur national football stadium. In both projects, the choice of materials and the use of daylight have been major factors in determining the design.
In the case of the parliament, a building dating back to 1856, two renovations, a repurposing and a new extension are connected through the use of light and local materials. "The elements defining the project are the use of Faroese basalt as the main building material and the integration of the natural daylight as part of the experience of the space," explains Poulsen. "At the football stadium, we have used light wood as far as possible – both to create an intimate atmosphere, and to mark our Nordic connection. On the roof and facades of the tribunes, we have used polycarbonate slates to create a light and pleasant environment in the audience tribunes."
Indeed, one of the major concerns for MAP Arkitektar, when it comes to the use of materials, is the people who will be living their daily life in and around the buildings. "It is extremely important to us that people thrive, both physically and socially, in the encircling framework we create," says Poulsen, and rounds off: "Consequently, we want to choose the best possible quality building and finishing materials for our projects."
Facts: MAP Arkitektar was founded in 2002. Today, the firm is headed up by Rúni Abrahamsen and Heidi Hjalgimsdóttir Poulsen. The firm works with restorations, repurposing, expansions and newbuilds, including offices, schools, sports institutions and residential projects. map.fo
Subscribe to Our Newsletter
Receive our monthly newsletter by email