Marienlyst Strandhotel
Award-winning recreation
TEXT: SIGNE HANSEN | PHOTOS: MARIENLYST STRANDHOTEL
As one of Denmark's oldest beach hotels, Marienlyst Strandhotel has been known as a frontrunner in the Danish hospitality industry for more than a century. Its award-winning beach spa is the latest initiative to ensure it remains so. With a beautiful décor, unique treatments, and views of Øresund, it offers a blissful break for both leisure and business guests.
Opened in 1861, Marienlyst has, with its beachside beauty and attractive closeness to Kronborg (Elsinore) Castle, managed to charm several generations of seaside guests. But though the beach and historic site remain the same, a lot has changed. Today, the hotel serves not just as a destination for wellness and pampering, but also for business and inspiration, and many new facilities have been added on to the original experience. Most recently, the hotel has expanded with a 1,600-square-metre beach-themed spa, which was this year named Spa of the Year by the Danish Beauty Awards. The spa is an example of how the historic hotel has kept developing to stay at the forefront of the Danish hospitality industry. "Marienlyst has been a functioning hotel more or less since it opened in 1861 – there's never been anything else here. In the past, it was very much known as the pearl of the Danish Rivera – the north coast – somewhere where the higher layers of society would go to dine, enjoy the sea, and relax," says marketing manager Charlotte Frederiksen. "But it's also been managed by some very ambitious hotel directors, who have pushed the limits of what was perceived as possible in Danish hotels."
A treat for body and soul
Just like the hotel, Marienlyst's beach spa offers a combination of traditional recreational treats, beautiful views and innovative treatments and features. Among the classic spa experiences are steam baths, a warm outdoor infinity pool, salt therapy and saunas, including two on the beach, allowing guests to combine a saunaGus (aromatherapy in the sauna) experience with a refreshing dip in the sea. Among the more distinct treatments and experiences is the one-of-a-kind cobber spa. "We wanted to create a spa with a number of distinct experiences and treatments that aren't available anywhere else," explains Frederiksen. "One of them is the cobber spa, which is developed by our spa manager Gita Grauslund; it's the only one of its kind in all of the world. It's an experience that takes about an hour, during which the guest is guided through different facilities combining the healing benefits of cobber, clay and heat."
Among other distinct experiences is the Kraxenofen Massage, which consists of a 20-minute steam treatment in a chair padded with hay – releasing the restoring effects of the hay's coumarin oil – followed by a relaxing massage.
Award-winning facilities
With its many facilities, the hotel is also a popular venue for business meetings and conferences and was this year awarded two of the industry's most significant awards – one for Best Meeting Concept, and one for Best Facilities. And it is not just the Danish award bodies that are impressed by the historic beach hotel. "Over the last six months, we have won four very prestigious awards – three in Denmark and one in the UK," explains Frederiksen. "The Best International Hotel award was given to us by the Best Loved Hotels site, which chose Marienlyst out of the 15 hotels nominated outside the UK. It was the first year they gave a prize to a hotel outside of the UK, and we're incredibly proud to have had that international recognition."
Among Marienlyst's many facilities are also two sea-view restaurants and an informal and cosy bar and lounge area – also with sea views, of course. But it is not primarily the facilities that are at the core of the hotel's success, stresses Frederiksen. "We have a very high culinary level, and that's something that is appreciated by all our guests, whether they're here for business or for a private stay. But it is not just about the food, facilities and location – our employees are the most important piece of the puzzle when it comes to our guests' experience; they're the ones who make the difference, who make all our guests feel welcome and at ease."
Facts:
Marienlyst was established in 1861
The hotel includes:
•19 different meeting and conference spaces with a capacity of 300 guests.
•227 hotel rooms, suites and junior suites.
•Large outdoor facilities including eight large terraces, one rooftop, and several with sea views.
•Marienlyst Casino.
•A 1,600-square-metre spa.
•Two restaurants, a wine bar, and a bar and lounge area.
The hotel is located a five-minute walk from the town of Elsinore and Kronborg Castle.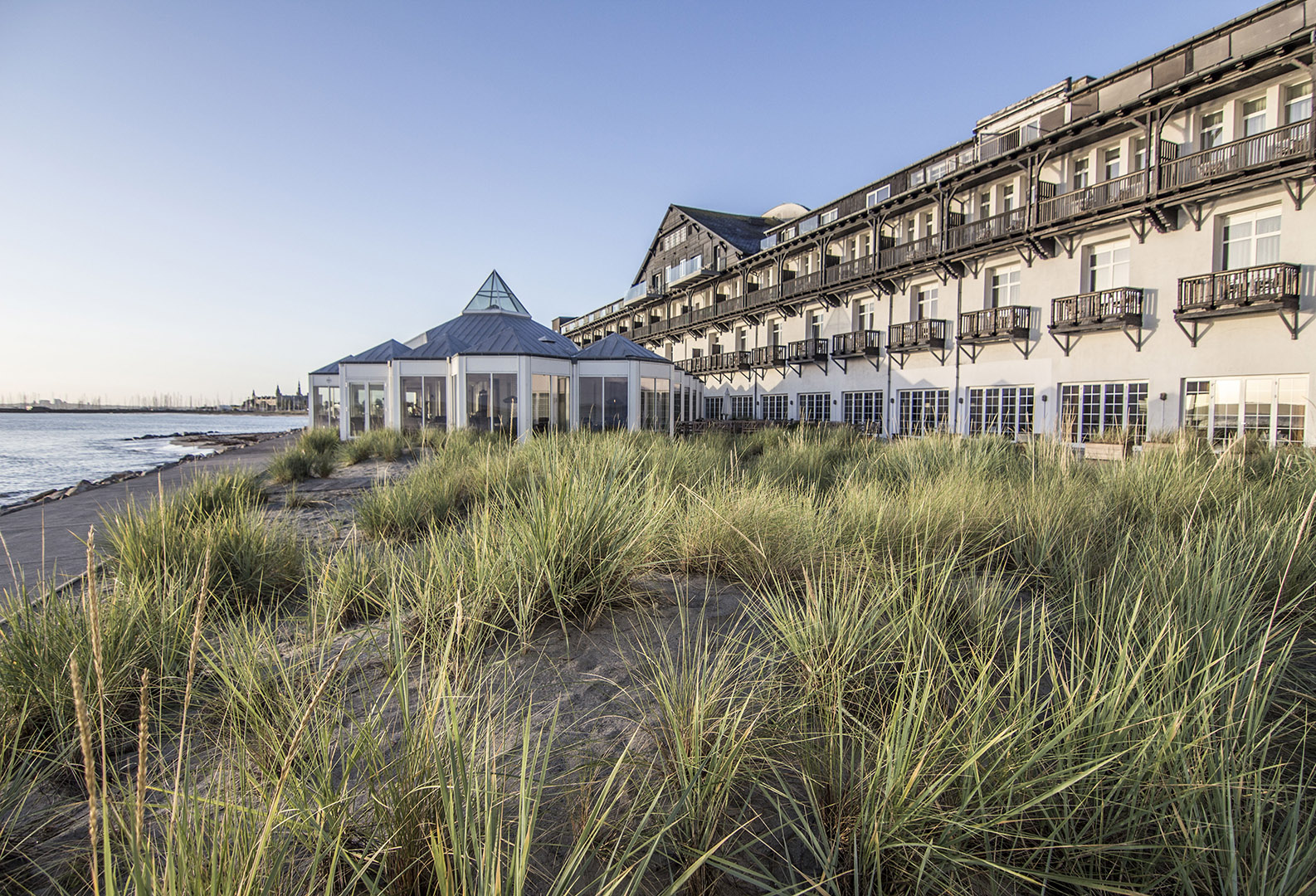 Subscribe to Our Newsletter
Receive our monthly newsletter by email