Mary-Ann's Polarrigg: Dreams of the very north
By Julie Lindén | Photos: Mary-Ann's Polarrigg
Situated just outside of Svalbard's largest settlement of Longyearbyen, at nearly 79 degrees north, is Mary-Ann's Polarrigg – the place where dreams of the very north come true in grand fashion. Have you ever wondered what it would be like to see a polar bear in its natural habitat, or perhaps go boating from glacier to glacier? Maybe you've dreamed of experiencing the midnight sun, or the enthralling Northern Lights as they dance across the sky during the winter? Offering a base for your stay closer to the North Pole than most people go, Mary-Ann Dahle is just the right host for all your northern adventures.
These are busy days for Dahle, as she is wrapping up yet another successful conference at the grand accommodation that is her Polarrigg. "I'm busy all the time," she laughs charmingly, "it seems I never have a quiet moment." However, she assures us she is anything but tired: "No, of course not! This is what I do – it's what I love." Indeed, Dahle has founded her extremely successful business on doing what she loves the most: inviting guests to one of the coldest, most remote locations on earth with the warmest welcome you could possibly imagine.
Something new – and different
She explains that she thrives when she can tell international visitors authentic stories of old Svalbard, when the vast majority of the island's inhabitants were miners, and guests from other parts of the country were rarely encountered. "I love walking guests through the different rooms at the rig, telling stories about the archipelago and how people went about their lives back in the day," she says, continuing: "These stories are reflected in the décor throughout the rig. I've collected memorabilia and items from the old coalmines, and integrated them with the rest of the interior. Guests seem to appreciate this – travellers today are looking for something new, something different, when they come to these kinds of destinations. This rig may not be part of a large international hotel chain, but it has spirit and soul. I think that matters to people today."
Treat yourself at the world's northernmost spa
Everything at Mary-Ann's Polarrigg is the result of meticulous attention to detail, and a desire to create experiences out of the ordinary. For instance, the rig boasts a newly renovated state-of-the-art spa, which is globally recognised as the world's northernmost spa facility. Guests for whom the chilly northern climate is too harsh can warm themselves in a steaming sauna, while those who want a touch-up before dinner can indulge in various beauty treatments. Furthermore, couples and singles can enjoy a range of massages – from exotic hot stone massages to softening oil massages. "We've really made an effort to make the spa a place you want to spend a good amount of time at," says Dahle proudly. "Few people expect the high standard they encounter at our spa, which we have named the Aurora Spa. Our accomplished therapists do their utmost to make you feel comforted and will have you feeling just like new in no time."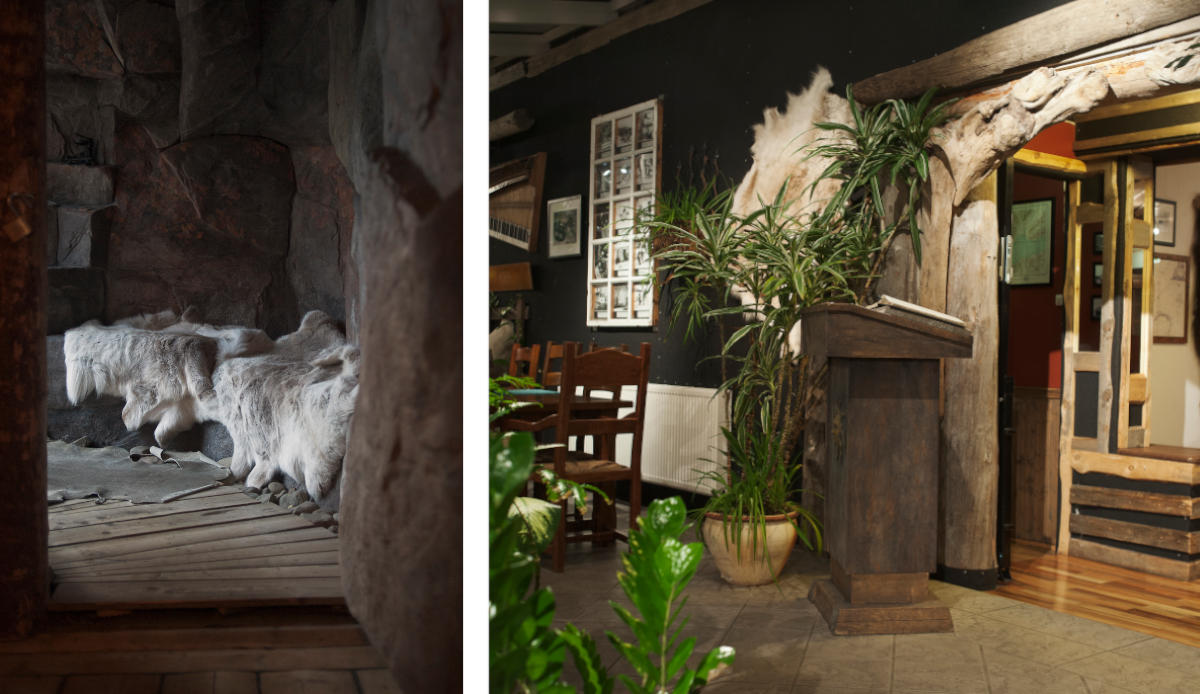 Enjoy a polar night
And, as the rig offers rooms of all standards and prices, you will be able to retreat from the spa to a room perfectly suited to your needs. Whether you wish to make your accommodation the luxurious centre of your stay, or simply want an affordable place to rest between your outings into Svalbard's stunning landscapes, Mary-Ann's Polarrigg has just the place for you. Seventeen cosy single rooms and ten homey double rooms welcome you at the rig's main building, while the 'Luxury Rig' house offers rooms of a slightly higher standard with larger, en-suite bathrooms and minibars. All rooms have recently been fitted with brand new, wonderfully cosy beds to make those dreams come just a little bit easier. For those really looking to jazz up their stay, the 'Polar Night' suite has everything you could ever wish for. Next door to this grand room you will find the Aurora Spa – need we say more?
Meet, mingle, dine and exchange experiences
Fully pampered, well-slept and bursting with impressions from the Arctic Archipelago, all that's missing is a grand meal. Great for you, then, that Dahle is as great a cook as she is a storyteller. "I make much of the food myself, and find it extremely important to only source high-quality produce from free-range animals," says Dahle. Offering guests traditional, mouth-watering Norwegian dishes (many of these including exotic meats such as whale and seal), your options for diving into authentic Norwegian culinary delights are endless. Furthermore, for those looking to kick back and relax with a beer or two, the Polarrigg has its very own bar. "It's a lovely addition to the dining rooms," says Dahle. "It's a place for guests to meet, mingle and exchange experiences."
With such an array of exotic experiences to be enjoyed, there is no reason why Mary-Ann's Polarrigg shouldn't be at the top of your Svalbard travel agenda.
For more information, please visit www.polarriggen.com
Subscribe to Our Newsletter
Receive our monthly newsletter by email