Materflow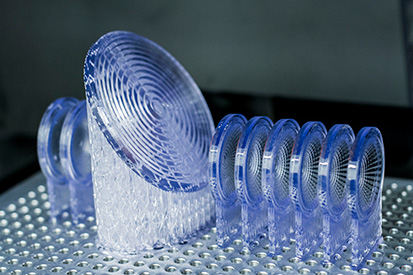 3D printing is changing manufacturing
TEXT: MARI KOSKINEN | PHOTOS © MATERFLOW OY
By now, most of us have seen images of desktop 3D-printers extruding and sculpting a small object. However, at Materflow, 3D printing happens on a different scale. In their 300-square-metre work space, the huge 3D-printers can mass-produce objects at a steady rate.
Mark Poutanen, one of the founders of Materflow, has been intrigued by computers and technology since he was a toddler. He studied media technology at Lahti University of Applied Sciences, and there he was introduced to 3D graphics and 3D printing. He and his fellow students saw the opportunity in 3D printing, and they started the company in 2013.
Today, Poutanen is the CEO and co-owner of the company. "Our customers are both small and medium-sized companies, as well as large production factories and shipyards," he says. A regular consumer can have seen 3D-printed products, for example, at dentists' or on a shelf in a furniture shop. IKEA, for example, recently launched its first ever mass-produced 3D-printed product, the hand-shaped OMEDELBAR wall decoration.
"We offer new manufacturing choices for companies in many industries; localised printing on demand helps to minimise stock and the risk of unsold products," explains Poutanen. "Cost-efficiency is also key, and we try to maximise the number of products printed simultaneously". It is also possible to print one-off objects, like spare parts, for example, for industrial machines. "With on-demand spare-part printing, the customer can shorten the maintenance period and get the machines back up and running more quickly."
Materflow is also participating in research projects with Aalto University and the VTT Technical Research Centre of Finland. In the past decades, the materials used for printing have changed considerably. "Plastics and nylons specifically designed for 3D printing are suitable for many objects, but we can also print metals such as stainless steel, or even superalloys like cobalt-chrome," says Poutanen.
The company's future looks very bright indeed. They have landed big business deals and plan to make large-scale investments in machinery to upscale the production. "The goal is to increase our production capacity tenfold with these new investments, and we are currently looking for new investors," says Poutanen. This will certainly give Materflow a real boost for the future.
Subscribe to Our Newsletter
Receive our monthly newsletter by email