'Every time they go to bed or tuck their child in, they'll think of you'
TEXT: SIGNE HANSEN | PHOTOS © MICHALA
The average person sleeps almost 3,000 hours in a year – approximately one third of a lifetime – and how you sleep has a significant effect on the rest of your life. That is why the Danish bedding brand MICHALA has developed an aesthetically pleasing and ultra-luxurious range of tailor-made bedding for duvets and pillows of all sizes. Sold in beautiful, handmade boxes – no plastic – the bedding makes the perfect present for someone who deserves a touch of luxury every night – also if that someone is you.
Most people realise how much a good night's sleep affects their mood and wellbeing. But for Michala Stigkjær, settling for good just does not do it; it has to be first class, and that is why the Dane has created her own line of Italian jacquard bedding, tailor-made in Denmark. "You need to prioritise good quality, not just of the bed and the duvet, but also of the bedding, which is in constant contact with your skin," she stresses. "I have also chosen my bedding because I find it very beautiful. It makes it a beautiful experience to go to bed and beautiful to wake up, and tucking yourself into something luxuriously comfortable and visually appealing gives you that nurturing feeling of wellbeing and self-care."
MICHALA's bedding is available in three different colours and four different patterns, which, when the colour is chosen, can be mixed and matched as preferred by the buyer.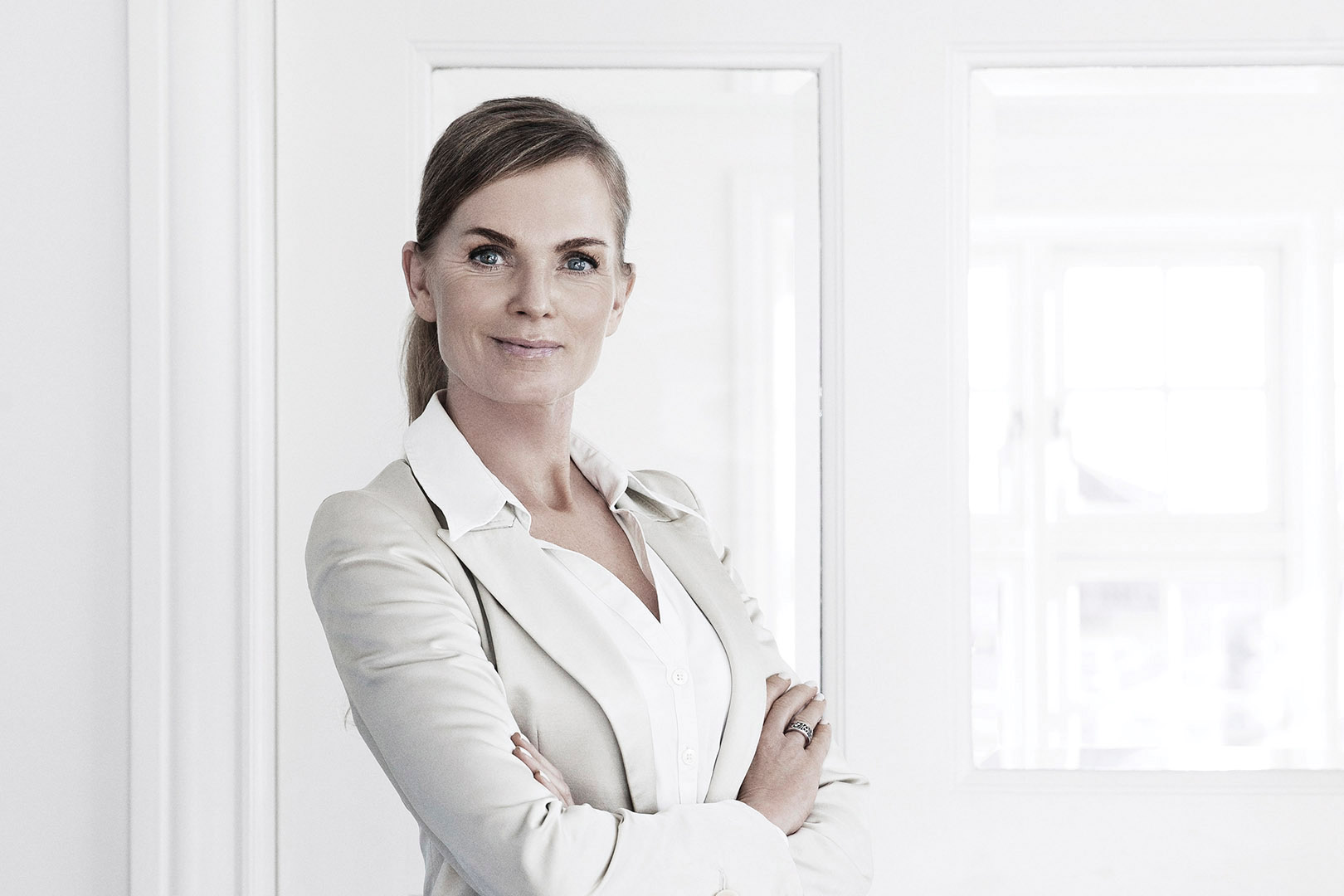 Giving the buyers of her bedding a good night's sleep is not enough for Michala Stigkjær; everything has to be first class.
Uncompromising quality
When Stigkjær decided to start her own business venture in 2017, she was determined to do one thing – she was going to create a compromise-free product for what is many people's favourite place, the bed. That is why she chose to use the best-quality woven Italian jacquard fabric, to have everything quality tested at the Danish Technological Institute, and then tailor-made to the buyer's specification by Danish seamstresses. "If something irritates you when you go to bed, it affects your sub-conscious while you're sleeping; it might be a small thing, like the fact that the pillow cases are not matching the duvet, because you couldn't get them in the right size or shape, or that the seams have twisted and stretched out of shape – but it disturbs the impression you go to bed with, and it might mean you wake up in a bad mood or feeling stressed," says Stigkjær. "This is also why our seamstresses work with a technical drawing, ensuring that patterns are always identical."

MICHALA's bedding comes in four carefully-selected patterns: The Rhombus, The Elephant by Ole Flensted, The circle and The Stripe.
Going to bed with a bad conscience might also affect your sleep, and that is why Stigkjær has not just aimed to make her bedding as comfortable and beautiful as possible, but also as sustainable as it can be. Hence, the choice to have the bedding tailor-made in Denmark does not just stem from the wish to allow every buyer to get the bedding in the colour and size they wish, but also from a wish to limit transport and storage to make the bedding as sustainable as possible. "Everything used in the bedding, from labels to zippers and fabric, is OEKO-TEX ISO100 Product Class 1 certified [the highest certification ensuring that products are suitable for even babies' skin], which guarantees that no harmful chemicals have been used in any part of the production. Everything has been rigorously tested, and the certification must be renewed annually," explains Stigkjær. "A top-quality product like this will also last for much longer, which, of course, also means less overall consumption."

They will think of you
The made-to-order concept carries through from production to the beautiful, plastic-free packaging the bedding arrives in, serving both to limit waste and to create a product that exudes luxury and thoughtfulness. The elegant, handmade boxes can be reused for storage and are, at the same time, perfect for gifts, says Stigkjær. "It's a beautiful box: once, I met up with my seamstress, who was driving an elderly lady – a friend of hers – to a Christening. I met with them to give her friend the bedding, which was to be a gift for her great-grandchild, and when I gave her the white box with a ribbon and a rose from my garden attached to it, it was just so moving – the way she held that box and how excited she was to present it to her family," Stigkjær says with pure passion, rounding off: "And when you give someone a gift like that, you know that every time they tuck that little baby in, they'll think of grandma. It's a present you'll be remembered for every time the receiver goes to bed."
Facts:
MICHALA makes bedding in sizes ranging from baby bedding all the way up to a California King, in four different designs and three colours, which you can combine as you like.
The bedding can also be embroidered for a more personal touch.
The bedding can be delivered to all parts of the world.
Web: michala.dk
Facebook: michala.dk
Instagram: @michala.dk