Mockberg: The perfect women's watch to complete your outfit
By Malin Norman | Photos: Natacha Uljanic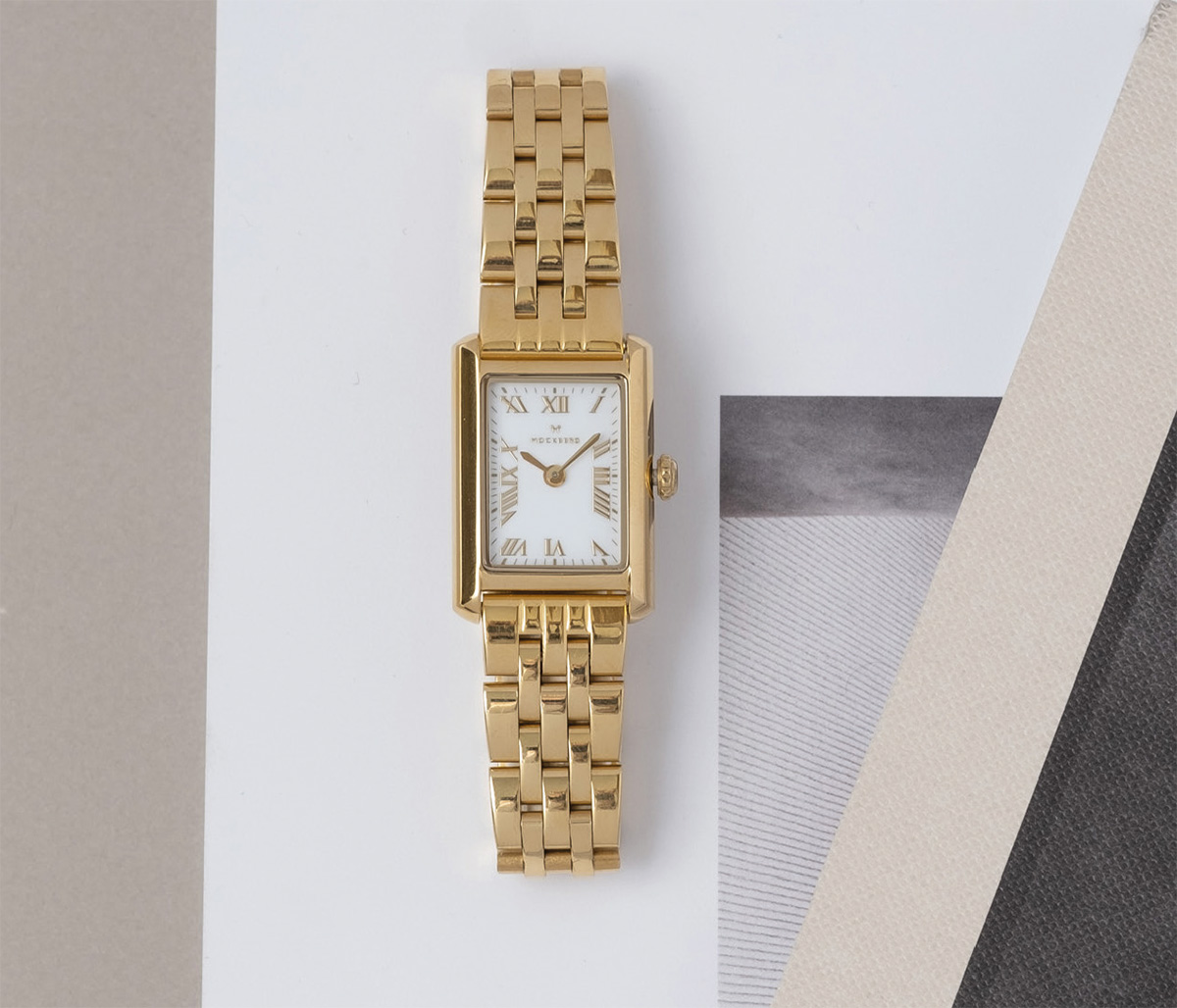 Mockberg's beautiful handmade watches for women perfectly suit the female wrist. On her journey from emerging designer to social media hit and international success, award-winning founder Elvira Eriksson has kept the focus on creating watches and jewellery in precisely that perfect fit.
Swedish brand Mockberg was established in 2014 by Elvira Eriksson. She wanted to expand the Scandinavian fashion aesthetic to classic and timeless watches – in particular watches for women. Since then, Eriksson's collections have been named in Vogue, Elle and Kinfolk, and the company has grown steadily every year.
Only 20 years old at the time, Eriksson was looking for a classic, feminine watch for herself – but couldn't find anything on the market. She decided to take matters into her own hands and design a watch herself. "At that time, watches were boring and old-fashioned, especially watches for women, which were just a version of a male watch but with a different face. The whole industry felt outdated, actually; nobody had made an effort to design great women's watches."
With a keen interest in US fashion, Eriksson had an eye for design and the watch that she intended just for herself created a bit of a stir. The watch was designed like a bracelet to fit comfortably on the wrist, and ultimately to complete an outfit. "People literally stopped me on the street and asked me where I got the watch from. So, I decided to set up a brand, contacted potential suppliers and started selling my watches to others."
The first watch becomes a viral success
Eriksson's vision was to create the first watch brand for women and to challenge an otherwise traditionally male-dominated industry. The first collection of 100 watches sold out instantly, and people were enthusiastically sharing images on social media. "It's really fascinating how Mockberg's first watch became viral on social media, without any PR or marketing from our side," says Eriksson. In the first year, Mockberg achieved an impressive ten million in sales online – without marketing. It was all down to social media.
Together with her brother as co-owner, Eriksson expanded the successful business. A few intense years followed with launches in many markets around the world. Today, Mockberg focuses mainly on Scandinavia, with its range of watches in different designs, and beautiful jewellery. The idea is to offer feminine designs that feel luxurious but at an affordable price. "We want to help women find elegant watches that fit comfortably on the wrist, and that can easily work with different outfits and jewellery."
Awards and collaboration with Lars Wallin
Despite its massive growth, the pandemic hit retailers hard and Eriksson had to rethink the strategy for her brand. She also had a serious horse-riding accident and broke her neck in late 2020. "I was incredibly lucky, my doctor was amazed and told me to buy a lottery ticket." Eriksson has thankfully recovered and so too has her brand; in fact, Mockberg is stronger than ever.
Eriksson certainly has an entrepreneurial spirit. In 2020, she was named the winner of Young Founder of the Year by Founders Alliance. The jury's motivation: "The winner saw a need in a mature market and has built an international brand without external capital. The founder has shown that she is prepared to do what is necessary to take her company forward in times of adversity."
One of Mockberg's recent collaborations is with internationally renowned fashion designer Lars Wallin. Together, they have designed an exclusive watch for a limited run. "It is an honour to have been able to create a watch together with Lars and follow the whole process from idea to reality," says Eriksson. "I am sure that together we have created something completely unique, where high couture meets Scandinavian minimalism in a unique and sophisticated way."
Upcoming news from Mockberg includes a collection of waterproof jewellery, that you can wear when swimming, and designs made with recycled silver.
Mockberg designs, manufactures and sells high-quality watches and jewellery for women through its own e-commerce retailers and shops across Scandinavia. Web: www.mockberg.com Facebook: Mockberg Instagram: @mockberg
Subscribe to Our Newsletter
Receive our monthly newsletter by email