Mumbaistockholm: If you want to, you should put a ring on it
By Signe Hansen and Nina Bressler | Photos: Mumbaistockholm
Once upon a time, a precious ring on a woman's finger was instinctually perceived as a symbol of her being loved by a man. But, today, it can be so much more than that – actually, it can be quite the opposite. It can be a sign that a woman feels independent and confident enough to buy herself her dream ring, and that is exactly what Swedish fine jewellery studio Mumbaistockholm wants.
If you want fine jewellery, do you need to wait for a man to gift it to you? This question, or rather the answer – no you absolutely don't – is what has motivated jewellery designer Cecilia Kores since she founded Mumbaistockholm. Nine years and a successful jewellery studio later, Kores is still on a mission to make women comfortable investing in fine jewellery for themselves.
"Two months after I started Mumbaistockholm, I broke up with my boyfriend. It was around that time that I also realised that most jewellery is simply love gifts from a man to a woman. But do you need a man to wear fine jewellery? At that time, I myself didn't even want a man in my life! I was tired of relationships. But I wanted to wear fine jewellery. So it has almost become political," she explains. "I wanted to create fun, delicate, sensual jewellery that women wanted and could buy for themselves! It's about confidence and independence."
Inspired by an eight-month-long visit to India when Kores was 24 years old (she is now 34), the jewellery from Mumbaistockholm fuses Scandinavian minimalism with the intricate and colourful details characteristic of the jewellery you find in India, Sri Lanka and even countries near the Mediterranean Sea. Today, the studio's collection includes every piece of jewellery you can possibly dream of, but it is still best known for its signature "everyday" diamond rings. Noteworthily, the rings are not always made with diamonds but all kinds of gemstones. "A fun thing that we have realised is that when women buy jewellery for themselves, they often choose colour: coloured gemstones and brown or black diamonds," says Kores, and adds pointedly: "When men buy jewellery for women, they almost always choose white diamonds!"
No guilt, no stress
While we are, hopefully, long past the societal notion that a piece of jewellery needs to be gifted from a man to a woman, or from one partner to another, recently, a new hindrance has popped up causing some people to feel guilty when buying fine jewellery. It is the much more meaningful question of the social and environmental sustainability of their new treasure. Making all parts of its jewellery in Sweden and using only recycled gold and natural gemstones that have undergone as little treatment as possible, Mumbaistockholm is also dedicated to eliminating this concern. Moreover, all pieces are made to last for generations, and thus come with a lifetime warranty and include a yearly jewellery cleaning and a biannual general service. "If you want to, fine jewellery should be a natural part of your everyday life, and that is why we do not only want to make fine jewellery available to everyone but also want to make women comfortable buying fine jewellery," says Kores. "And, one of the ways to do that is through education. We want to educate people about what fine jewellery is and what makes it different from ordinary non-precious jewellery (so-called custom jewellery)."
As part of her quest to do so, Kores has also created Smyckespodden (Eng: The Jewelry Podcast), where she and invited guests educate the listeners about anything related to the intricate science of fine jewellery.
Indeed, the vision of Kores is diamond clear – she wants women to know that they don't have to wait for someone to make them feel special.
Mumbaistockholm ships its jewellery worldwide.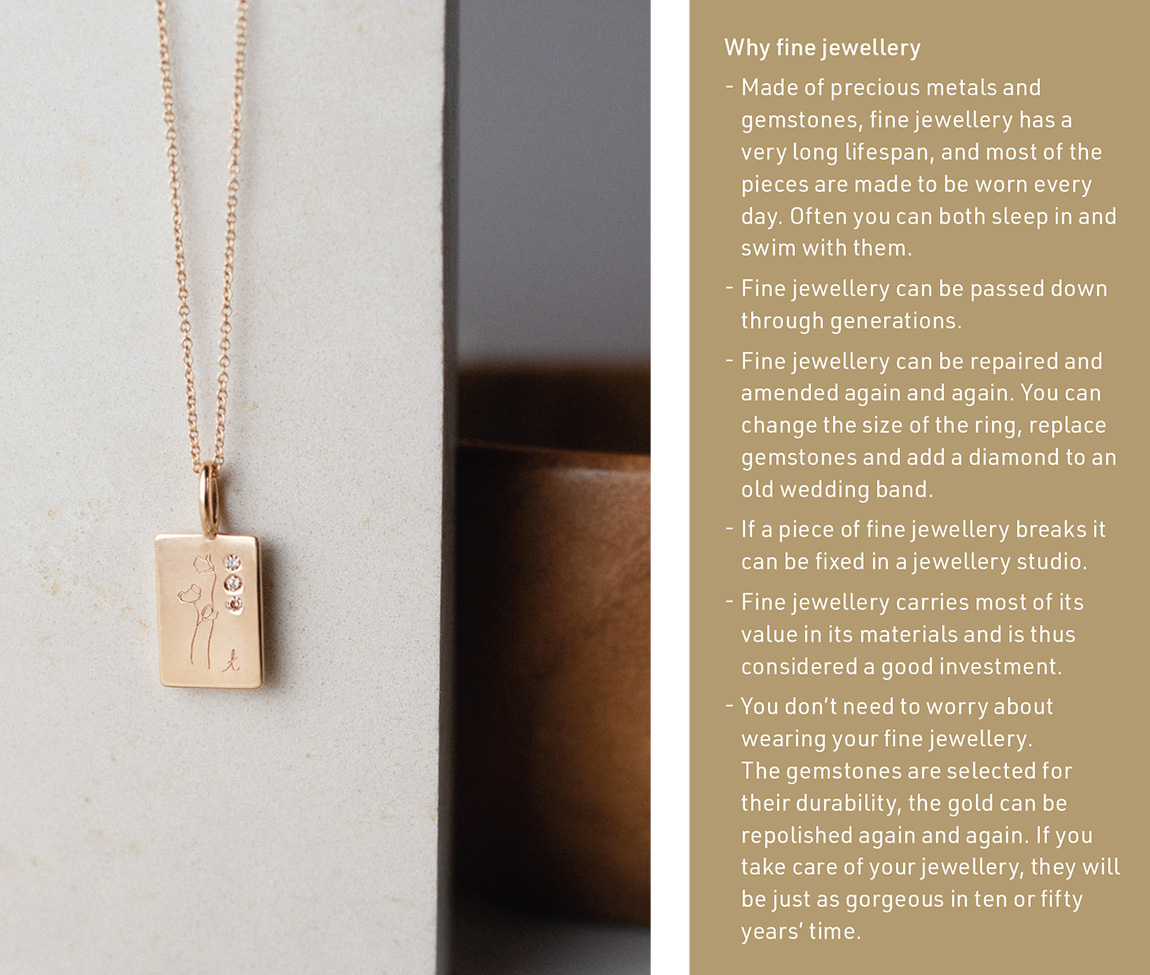 Web: www.mumbaistockholm.com Instagram: @mumbaistockholm Podcast: https://shows.acast.com/smyckespodden
https://shows.acast.com/the-jewelrypodcast
Subscribe to Our Newsletter
Receive our monthly newsletter by email