Musik i Lejet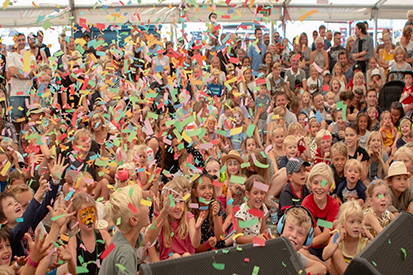 The sound of Musik i Lejet
TEXT: LOUISE OLDER STEFFENSEN | PHOTOS © MUSIK I LEJET
In 2018, Musik i Lejet became one of the fastest-selling festivals ever in Denmark: in just half an hour, all tickets were gone – and that was before the line-up had even been revealed. Not bad for an event that will celebrate its ten-year anniversary in 2019. The summer festival in Tisvildeleje has hit a sweet spot of good food, great company and beautiful surroundings. "No matter what age you are, you go on full summer holiday mode here," says Musik i Lejet's co-founder, Andreas Grauengaard.
As part of Denmark's northern Sealand Riviera, the little town of Tisvildeleje has been a popular summer destination for centuries. Nowadays, the town swells in size in the summer when the former fishing village welcomes Copenhageners and many others to its beaches, forests and colourful streets. "It's a great place to go to get away from the humdrum of daily life," says Grauengaard, who is born and bred in Tisvildeleje. "We're like those lazy, dreamy beachside holidays of your childhood, but we're a modern and just utterly comfortable version of that."
Rosé and lager
In 2009, Grauengaard and his twin brother, Kristian, hit upon the idea to gather a large group of friends for some food and good music to celebrate their hometown. "We wanted people to come together and just have a good, chilled out time with each other. Clearly, as it turns out, that was something that a lot of other people were looking for too."
Nowadays, Musik i Lejet joins together the locals, Tisvildeleje's seasonal inhabitants, and anyone else who fancies a break in some of Denmark's loveliest summer surroundings. "We're sometimes seen as something of a 'rosé' event," Grauengaard acknowledges. "And I like rosé, but I like a cold lager just as much. There's space for all of that here. We want there to be all types; that's what creates the lovely buzz of people chatting across groups; it promotes Tisvildeleje in a way that's really healthy for the local region, and it gives the local community and visitors a reason and opportunity to get to know one another."
For three days in July, more than 10,000 visitors and 1,500 volunteers come together for the festival (the town's off-peak population roughly equals that of the volunteers). "It's a lot of people, but we're spread over a large area by the forest and beach. Though we had to move the growing festival away from the town centre a few years ago, its proximity to nature and to the town means we've retained the lovely, intimate summer holiday feel that makes Musik i Lejet special," Grauengaard says. "People get their ticket wristband, and then they can dip in and out of the festival zone, so they can go shopping or bathing in the middle of the event if they wish. People don't have to be tied to a leaking tent and a dusty field for a week. That can be fun as well, but this is more like a big street party."
Fancy festival flavours
During Musik i Lejet, 40 Danish and international artists play a wide range of music across three stages, but even those who are not too keen on music festivals will find something to enjoy. "We're proud to have been named the best festival for food by Gastromand," he adds. "Food and drinks are an integral part of any get-together, and there are a lot of really exciting things you can do with grab'n'go food, which is proven time and time again by our excellent and varied vendors."
Hungry festival-goers can hunt down anything from traditional hot dogs or Cock's & Cows burgers to the Michelin-starred restaurant Kiin Kiin's Thai dishes. "It's also a really important way for us to showcase all the excellent local shops and specialities we have here in Tisvildeleje, like the local butcher Kødsnedkeren and our excellent flæskestegssandwiches," Grauengaard adds.
Back in the summer of 09
Apart from the dulcet tunes, plentiful food and ample relaxation that Musik i Lejet provides, the festival plays host to a range of activities that can give your pulse a bit of a workout, from skinny-dipping in the morning to ball games in the afternoons. One of the highlights is the five-kilometre 'Devil's run' through the forest and across the beach, though others may choose to partake in the communal lunches instead.
A lot has happened since 2009. "We were students at the time, so we didn't really have any experience with event management," Grauengaard says. "It went from a summer project to a long-term thing relatively quickly. The first year, 100 people came, all in all. Then over the next few years, we suddenly had to care for and lead an army of volunteers. It became a full-time job, which we'd never imagined, but it became my brother's and my career. The festival has grown and changed along with us, but crucially, it retains that social, laid-back atmosphere where people help clean up and just get along and soak up the sun."
Subscribe to Our Newsletter
Receive our monthly newsletter by email