Nääsgränsgården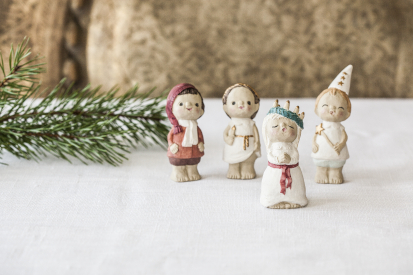 Add some Nordic magic to your Christmas
TEXT: LIZ LONGDEN | PHOTOS © NÄÄSGRÄNSGÅRDEN
With its exclusive, characterful designs, guaranteed to appeal to adults and children alike, there are few brands that capture the cosiness of a Nordic Christmas quite like Swedish design company Nääsgränsgården.
According to Nordic folklore, the 'tomte' is the elf-like creature who looks after a home and its inhabitants. It is an essential part of the Swedish Christmas tradition, but if your house or flat does not happen to have its own live-in elf, there is no need to despair: Nääsgränsgården has created a range of different 'tomtar' to suit all tastes, each guaranteed to bring a touch of festive cheer and magic to any home.
Nääsgränsgården has been producing interior design products for over 25 years. Its designs cater for every season and occasion, but the brand is particularly well-known for its Christmas range. This not only includes decorations and ornaments, which can transform a tree or table setting, but also functional items such as lanterns, bowls and mugs for drinking 'glögg' — everything, in short, to create the perfect Christmas ambiance, not to mention great ideas for presents.
Owner and CEO Per-Anders Elled explains that, while some Nääsgränsgården products are classics, which continue to be in demand year after year, new items and collections are introduced every year. He and his colleagues visit craft fairs all over Sweden to seek out and commission new designers, many of whom are craftsmen and craftswomen operating on a small scale. This network of independent collaborators ensures not only that the Nääsgränsgården range always contains fresh ideas and inspiration but also that its products are unique. "We work with our designers throughout the design process, so that the end product is something that we have developed together," Elled explains. "Because of that, our products are exclusive to us. There is no one else who makes or sells them."
This strong, personal relationship with its designers is also integral to the quality of Nääsgränsgården's production. "For us, it's very important that our production is of the highest standard, and that has to be taken into account even at the design stage," says Elled. "So the fact that we have this process of dialogue and discussion ensures that we can guarantee the quality of the final product."
It is not only Swedish homes that have fallen for Nääsgränsgården's playful designs. The brand currently has 2,000 stockists in over 20 countries, with large markets in Norway, Germany, Denmark and, increasingly, the UK. "There is something a bit special about the Nordic Christmas, which seems to appeal beyond the Scandinavian countries, a fascination almost," Elled notes. When you consider the charm of Nääsgränsgården's Christmas range, it is not hard to see why.

Website: naasgransgarden.se/en
Subscribe to Our Newsletter
Receive our monthly newsletter by email