Naskali Leather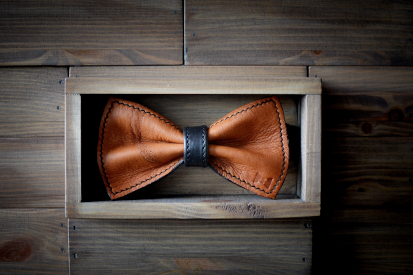 The perfect present with a twist
TEXT: MARIA PIRKKALAINEN | PHOTOS © JYRI NASKALI – NASKALI LEATHER & JUKKA SALMINEN – TIIKERIKUVA
Handmade by former Finnish boxer Jyri Naskali, these timeless leather bow ties bring a touch of style to any occasion – and have even been favoured by an NHL hockey player, the greatest honour among Finns. Using only unique materials such as recycled boxing gloves or reindeer leather in its products, Naskali Leather makes a range that makes your choice of purchase a win-win every time.
Known for its famous glass factory, the small Finnish town of Iittala now bears a new artisanal talent in Jyri Naskali, whose handmade leather bow ties have been making waves in Finnish design circles since 2016. "Starting my own brand came from wanting to create something beautiful and unique with my own hands," Naskali explains. The result was a collection of bow ties that feel powerful, timeless and elegant.
"After representing Finland for nearly a decade as a boxer, I'm excited to continue putting Finland on the world map with Naskali Leather," the former three-time Finnish champion says. Otherwise best-known for being made using recycled materials such as boxing gloves and punch bags, his new line of reversible bow ties is made from the traditional material of reindeer leather. "You can see the marks of a good life in the leather's little imperfections," Naskali explains. "Nothing has been wasted."
The product is also sustainable in itself, as it being double sided means you get two looks for the price of one. But the level of attention does not stop with the packaging: all the bow ties come in beautiful, handcrafted boxes made from Finnish wood, making them the perfect gift.
But what made the designer focus on bow ties? "I always felt a bow tie is a very playful accessory.
It can bring a touch of glamour to either bigger celebrations such as weddings or just a
weekend brunch with friends," says Naskali.

Web: naskalileather.com
Facebook: naskalileather
Instagram: @naskalileather
Subscribe to Our Newsletter
Receive our monthly newsletter by email