Nationalpark Thy: A stepping stone to nature
By Heidi Kokborg | Photos: Rasmus Hjortshøj
Back in June, Thy National Park opened the doors to its brand-new Thy National Park Centre, located in Nr. Vorupør. The purpose of the centre is to connect the coastal village with nature and inspire guests to go for a hike in Denmark's greatest wilderness.
Thy National Park Centre is a stepping stone to vast coastal dunes and heathlands, limestone slopes, the Atlantic Wall, deserted villages and clear lakes – quite literally. "We purposefully created two doors when building Thy National Park Centre: one that connects the centre to the village, and one that connects the centre to nature," explains Else Østergaard Andersen, head of Thy National Park.
Thy National Park covers 244 square kilometres and stretches along the coast of north-west Jutland. Here, you can experience some of Denmark's wildest and most unspoilt nature. If you are lucky, you might spot some red deer, cranes and otters while exploring the wilderness.
"The forces of nature are strong here, and humans have been unable to control nature in this part of the country. Everything you see in the park is shaped by sand, salt, the wind and the ocean," says Østergaard Andersen.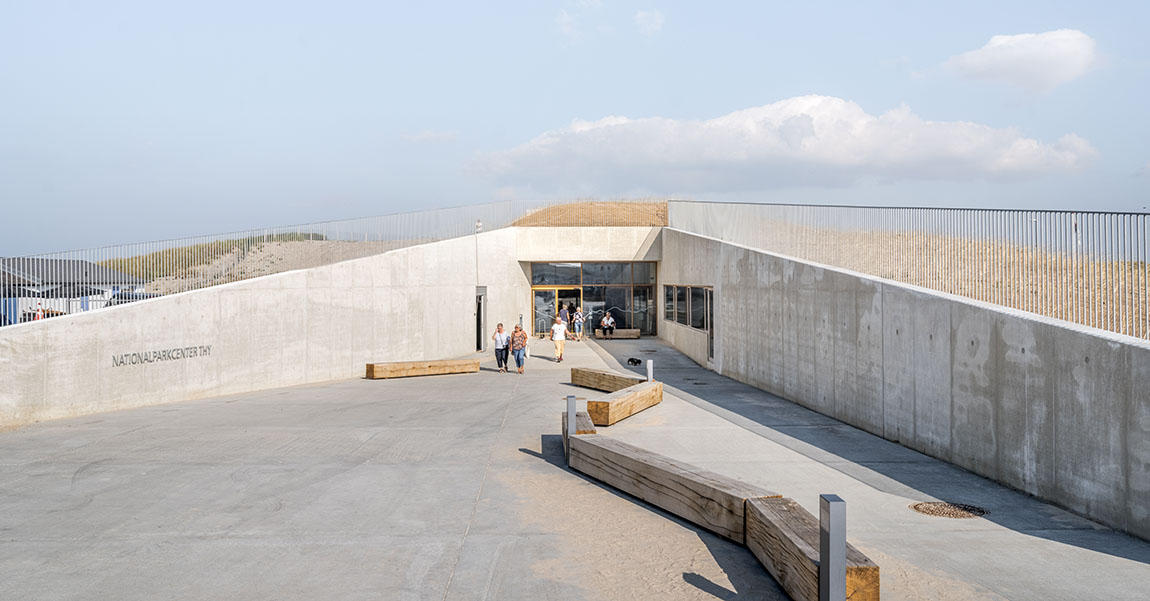 A royal urge to explore
The centre opened on 15 June and, since then, 60,000 guests have visited the centre, including Her Majesty Queen Margrethe II, who visited the centre in August. The purpose of the centre is to get more people to explore the surrounding nature.
"Many guests are unfamiliar with what the park has to offer and what you can experience here. The centre is a place to get information, ask questions and learn what Thy National Park has to offer," explains Østergaard Andersen.
In the newly built centre, you will find a 12.5-metre-long reconstruction of the national park. This gives a good impression of the park, and you will without a doubt then get an urge to explore the wilderness. Furthermore, a film plays above the reconstruction so that you can listen to short stories about the park. On the back wall, you'll find information about the kinds of plants and the wildlife you can expect to encounter in the park: heathlands, unspoilt dunes, small lakes and much more.
Finally, when visiting Thy National Park Centre, you'll always be able to meet the passionate local volunteers who can tell you everything you need to know about their beloved Thy National Park, making your trip there one to remember.
Opening hours: February to April: 12-4pm daily May to September: 10am to 5pm daily October to 22 December: 12-4pm daily 23 December to January: Closed Admission is free, but donations are greatly appreciated. Web: www.nationalparkthy.dk Facebook: Nationalpark Thy
Subscribe to Our Newsletter
Receive our monthly newsletter by email