Nidaros Blues Festival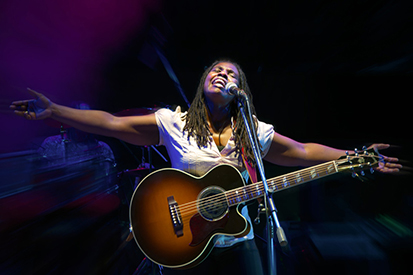 Welcome to an intimate and unique blues festival
TEXT: INGRID OPSTAD | PHOTOS © NIDAROS BLUES FESTIVAL
Local heroes, top Norwegian names and international stars – Nidaros Bluesfestival has it all. With an intimate setting at a hotel in Trondheim, a fantastic atmosphere, and the chance to bump into your favourite artists at any moment of the day, the popular Norwegian festival has become the place to be for music enthusiasts of all ages who want to see old favourites and dis-cover new artists.
Two of the distinctive features of the festival are its location and its intimate concept. Held at the Radisson Blue Royal Garden Hotel, the concerts are being held in the same place where guests are staying, and most of the artists are also based at the same hotel. "There is something unique and thrilling about staying in the same place as the festival itself. You can suddenly meet the big stars in the elevator or at breakfast, or you can have a glass with them in the bar. It creates an intimate and special atmosphere for everyone," says festival manager Jan Engen. He started the festival in 1999 together with his wife and has seen it become an important part of the Norwegian blues scene.
"It is great to see how the festival has grown into the significant, annual event it is today, slowly but surely. Now, we are pretty much sold out every year," Engen explains proudly. As a blues enthusi-ast, it was a natural choice when he decided to start a festival. The diversity in terms of genre, rang-ing from soul, rock, gospel and country to pure blues, makes for a much-loved happening for all ag-es, no matter what music they prefer.
20th anniversary
The international blues festival in Trondheim is now in its 20th year, which will be marked with yet another almost sold-out event. With a number of exciting artists on the programme, the festival manager is excited to have so many great names on board. "The biggest draw this year is the amaz-ing blues star Booker T Jones. He has been a central figure on the soul music scene since the '60s and is considered a legend, who has worked with Aretha Franklin among others," he says.
The festival also boasts other big name in the blues world, such as Andy Fairweather Low, Chicago-born Mud Morganfield, and Ruthie Foster. The latter, an impressive woman with a big, soulful voice, is a rare treasure regardless of musical genre. "We guarantee an experience you will never for-get," Engen enthuses.
Local, national and international artists
In addition, there are a number of other great local, national and international artists on stage from 24 to 28 April, making Nidaros Bluesfestival a great place to see old favourites and discover new artists. The audience can buy a day pass, a weekend pass or a hotel package and walk around freely while enjoying the music they like.
"Since our four different stages are so close together, it makes it easy to walk from one room to an-other and see as much as possible during the weekend," says Engen, adding: "If you are in, you have access to it all! And our aim is that you can discover new, inspiring bands along the way."
Children's blues
When it comes to entertainment for the kids, the festival puts as much emphasis on quality for the younger generation as for the older crowd. As well as local children's choirs and theatre groups, this year, the sensational front-figure of the original Blues Brothers Band, Rob Paparozzi, will be per-forming on the family evening as a guest vocalist along with the Trondheim Big Band.
"To be able to experience Rob Paparozzi together with these 20 musicians performing their popular Blues Brothers Show in front of a large crowd of blues kids cannot be anything but amazing," Engen smiles. "We take the kids seriously and believe they need to experience great music just as much as the grown-ups do."
Subscribe to Our Newsletter
Receive our monthly newsletter by email