Nikkotakko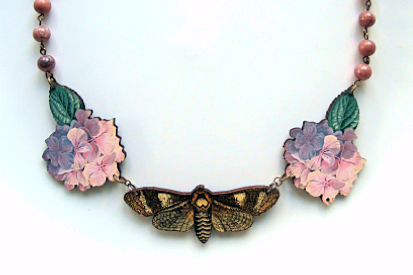 Imbued with meaning
TEXT: JOHANNA IIVONEN | PHOTO: NIKKOTAKKO
Nature's treasures, mythical tales and the beauty of asymmetry are all sources of inspiration for Finnish jewellery label Nikkotakko. The handmade pieces created by founder Katri Juva range from mala beads to collections that weave in the story of life, as told by wildflowers and butterflies.
A design studio based in Finland's Turku is the home of jewellery brand Nikkotakko, but its founder, Katri Juva, sources inspiration from far and wide. The Nordic interplay of darkness and light is one driving force, as are the colours of India and Buddhist beliefs. The stories behind each collection have proven popular. "Some clients turn up saying they don't wear much jewellery, yet they find something," Juva says. "I believe it's the meaning behind each piece that appeals."
After a career spanning marketing management and healthcare, Juva rediscovered her creative roots after her son was born. "I just had to start creating," Juva says. That desire to create led to the birth of Nikkotakko in 2013. The business takes its name from a word Juva's young son made up for train tracks and, five years later, it has evolved into a playful line of handmade jewellery. "I like the idea of continuity, going from one place to another," Juva explains.
An element of continuity is also present in the label's best-selling product, the Nikkotakko Mala Beads. According to Buddhist tradition, the 108 beads found in prayer beads are used in meditation. Juva believes that the popularity of her designs stems from the wide-ranging wellness trend. "Making the beads is like meditation for me," she says. "I like the thought that they will later serve others in the same way."
The wildflowers of Finland's meadows have inspired Juva to experiment with colour combinations, including with implanted petals. Butterflies are another source of inspiration. "If I were to name one species, it would be death's-head hawkmoth," Juva says. The skull-theme adds connotations of endings as another part of life. Part of the proceeds from the Nikkotakko Butterfly collection, which is currently in the works, will go towards wildlife preservation.
Giving and receiving is a recurrent theme for the business. Juva's experience with hiring a recent immigrant as trainee was a success on many levels. "The trainee and I didn't share a verbal language, but we shared the language of creating," she explains. "We all learn from each other, different ways of doing things."
Subscribe to Our Newsletter
Receive our monthly newsletter by email