Nivaagaards Malerisamling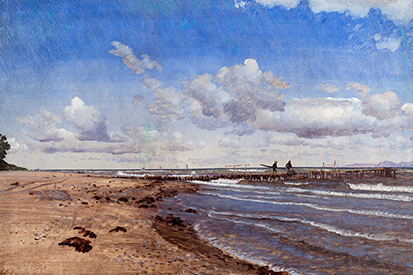 Northern Zealand's best-kept art secret
TEXT: SIGNE HANSEN | PHOTO © NIVAAGAARDS MALERISAMLING
Five centuries of art masterpieces gathered in an intimate exhibition space set by the coast – Nivaagaards Malerisamling (The Nivaagaard Collection) is arguably northern Zealand's best-kept art secret. Surrounded by a beautiful garden, the museum presents work from the Italian Renaissance, Dutch Baroque and Danish Golden Age, as well as modern and contemporary special exhibitions.
Founded by Johannes Hage (1842-1923) in 1908, The Nivaagaard Collection is based on the impressive private art collection of Hage, a politician, landowner and local entrepreneur. The collection includes pieces by Danish and international masters such as Rembrandt and P.C. Skovgaard, but it is not just the impressive collection of art that surprises visitors, but also the museum's beautiful setting, large romantic garden and special atmosphere, says museum director Andrea Rygg Karberg. "Our museum is still up and coming – it's a bit of a secret, especially to tourists, and many are quite taken aback by the experience. It's 500 years of art presented in an easily accessible manner and surrounded by beautiful settings, but it's the special atmosphere of the place that people really love."
The museum is set by the coastline of Nivaa, a 30-minute drive from Copenhagen, and surrounded by a large garden full of old trees and beautifully abundant rhododendron.
A gift to the people
In 1903, Hage asked the architect Johan Schrøder to erect a small temple for his beloved art collection. In 1908, he converted the art collection into an independent institution open to the public, and today, two extensions later, the temple is still part of the building of The Nivaagaard Collection. "Hage was a socially enlightened man; he created health insurance for his workers and built a school, a hospital, a nursing home, a church and a harbour for the town. He was very aware of his privilege and the responsibility that came with that, and that's also why he wanted everyone to be able to enjoy his art collection," says Karberg. "That's part of what makes the place special – that you can sense the person behind it and the significance he has had in this town. It's an intimate and private atmosphere, and a place where you can find the time to relax and immerse yourself in the beauty of art."
The Nivaagaard Collection has expanded continuously over the years. Today, visitors are presented with a changing exhibition of 100 artworks from the museum's own collection as well as two or three special exhibitions a year. On top of the exhibitions, the museum also comprises an inviting café and museum shop as well as a packed programme of talks, concerts, tours and more. Together with the special exhibitions, the many events have brought about an explosive rise in visitor numbers, with almost 60,000 people visiting this year. "We have more than 300 special events drawing in new crowds every year, and everyone who visits comes back," says Karberg. "We're still a bit of a secret to most foreign visitors, but those who do discover us fall completely in love with the charm of the place."
The Danish Golden Age
Especially interesting to foreign visitors is the impressive collection of Danish Golden Age art. Adding to the experience is the fact that many of the works portray landscapes just like the one surrounding the museum. "A lot of the Danish landscape paintings resemble the museum's surroundings very much, and that gives a wonderful feeling of connection between the inside and the outside of the museum," says Karberg. "On top of that, it's a wonderful drive up along the coastline to get here, and when you arrive, you are greeted by the rhododendron garden, which is just amazing. When it's in bloom, we have several buses stopping by every day just for that."
While the museum's own collection covers art from 1500 to 1900, the special exhibitions often present art by modern and contemporary artists. Currently, the museum is presenting a large collection of political cartoons by Danish caricaturist Jens Hage, giving visitors a humorous interpretation of the major political events of the last 40 years. In 2019, this will be followed by an exhibition of works by the British designer and artist William Morris. Known for his nature-inspired, patterned fabrics and colourful wallpapers, Morris was also one of England's first socialists and through his work aimed to make the world a better place by putting beauty front and centre. "The Morris exhibition will be one of the most prestigious special exhibitions we have had to date," says Karberg. "It's very exciting, because Morris is still very relevant today – H&M, for instance, just released a collection based on his prints. He's a highly significant artist, designer, philosopher and poet."
Subscribe to Our Newsletter
Receive our monthly newsletter by email